The Merchant Marine Memorial at Massachusetts Maritime Academy was created to honor those who served in the U.S. Merchant Marine. The Unknown Seaman statue, installed in 1989, is dedicated to the officers and men who sailed the ships of the Merchant Marine during World War II, especially to the 6700 unsung heroes — many of whom were Academy graduates — who lost their lives.
The nameplates represent mariners from that war and other events that followed - including those lost in the sinking of the PanOceanic Faith and the El Faro - as well as other shipmates who have been memorialized by friends and family.
Placing a nameplate on the memorial is a fairly simple process: if the person you are honoring was an Academy alumnus, you will not need documentation. For all others, you will need to show documentation of their service (see below). Plaques are $500.
For further information or to purchase a nameplate, please contact Linda Noonan at lnoonan@maritime.edu or 508-830-5038.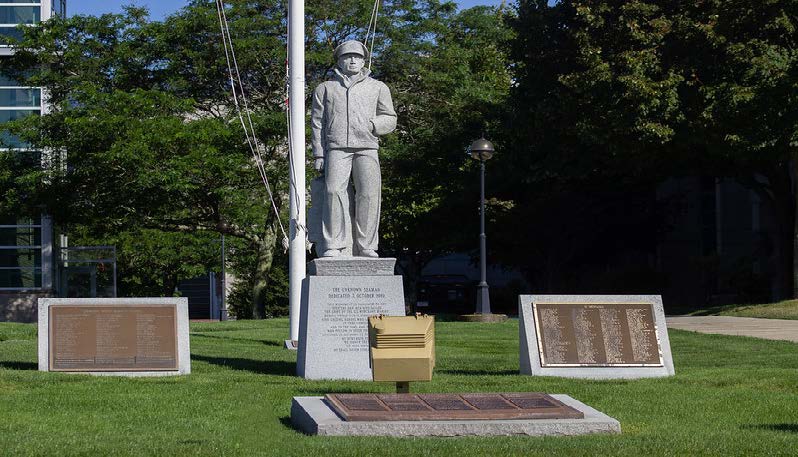 The National Maritime Center (NMC) maintains records for United States Merchant Mariners.
These records are protected under the Privacy Act of 1974.
We recommend that you complete the Record Request Form and submit it using one of the following methods:
Email
OSC-SMB-NMC-4-Correspondence@uscg.mil.
Mail
National Maritime Center
Attn.: Correspondence (NMC-41)
100 Forbes Drive Martinsburg, WV
25404
Fax
304-433-3417
Attn.: Correspondence (NMC-41)