Spring 2021 Sea Term
Arrival
FRIENDS AND FAMILY ARE INVITED TO CAMPUS AS WE WELCOME THE TRAINING SHIP KENNEDY FOR ARRIVAL DAY ON WEDNESDAY JUNE 23, AT APPROXIMATELY 0915HRS (9:15AM). THE ACADEMY is HONORED TO WELCOME GOVERNOR BAKER, LT GOVERNOR POLITO, MASSACHUSETTS SECRETARY OF HEALTH AND HUMAN SERVICES SUTTERS, AND MASSACHUSETTS SECRETARY OF EDUCATION PEYSER, ALONG WITH OTHER STATE AND LOCAL DIGNITARIES FOR THE EVENT. 
Sea Term 2021 begins immediately after spring semester final examinations and includes a 26 day underway period, including alongside time which precede and follow the cruise. Sea Term is not a pleasure cruise, but rather assists CG licensure candidates in reaching their required 180 day sea day accrual.  During their time onboard, cadets will rotate through class and laboratory training at sea, ship operations including deck and engine watches, ship's maintenance and emergency drills along with various watch standing responsibilities. Training Ship Kennedy departs Buzzards Bay at approximately 1300hrs (1:00PM) on Saturday, May 29th and returns to her berth at roughly 0915hrs (9:15AM) on Wednesday, June 23rd. If you are looking to view the ship from the Cape Cod Canal, it is set to begin it's journey to the Academy from the bay at 0730hrs (7:30AM).


Ensuring Safety During Sea Term 2021
Because COVID-19 continues to pose a significant risk to the successful execution of Sea Term, we have established the pre-Sea Term protocols, including vaccines and pre-Sea Term testing and quarantine to ensure a healthy and safe environment during cruise. Presently, all Massachusetts Maritime Academy cadets who registered for Sea Term have received the COVID-19 vaccine. On Sunday May 16th, all cadets scheduled to participate in Sea Term 2021, including license track regimental commuters, must report to campus and remain on campus until the ship's departure on May 29th. 
We feel confident in our ability to conduct a safe cruise, but the potency and changing nature of the virus, combined with the breakthrough cases even in cases of vaccination, require the support of our entire community to make Sea Term 2021 a success. While we fully anticipate the completion of our Sea Term, we are prepared should an outbreak occur while underway.  The Master, supported by a robust team of health care professionals, will assess any positive cases, take appropriate steps and ultimately decide if it is safe to continue training.  If an outbreak causes a disruption to our training or a return-to-port mandate, we would notify our community immediately and begin planning to address the loss of sea day accrual time for our soon-to-be graduating seniors and all cadets onboard. The Academy requests the entire community's support for our protocols to ensure non-interruptions and that Sea Term 2021 occurs successfully as planned.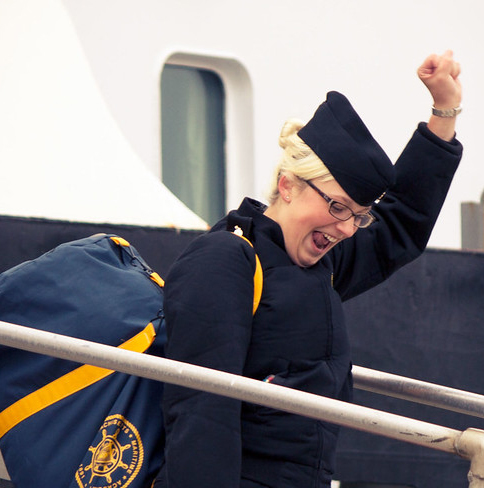 Visitor Policy
We expect and strongly encourage all campus visitors to be fully vaccinated. Visitors who have not been fully vaccinated, must wear a surgical style facemask at all times. If a potential visitor has COVID-19 consistent symptoms without a negative test in the 10 days prior to the campus visit, they must refrain from visiting campus.
Virtual Ship Arrival and Public Viewing Sites 
The morning of arrival the Kennedy will transit the Cape Cod Canal from the east end (Sandwich/Plymouth) and make her approach to Taylor's Point. 
The ship arrival can be viewed from the Massachusetts Maritime Academy web parade field camera:
The Academy is also coordinating a Facebook Live stream. Streaming is expected to begin once the ship is alongside the Flanagan Building. 
Family and friends are encouraged to line both sides of the Cape Cod Canal with signs to welcome our cadets and loved ones home. The ship will depart the bay around 0730hrs (7:30AM) to begin its journey to the Academy.  Along with Taylor's Point, here are some locations to consider cheering from: 
Cape Cod Canal
Army Corps of Engineers, Sandwich Boat Basin
Scusset Beach, Bourne
Herring Run, Bourne
Buzzards Bay Park, Buzzards Bay
Academy Drive, MMA
Length and Planned Route for Sea Term
The KENNEDY will be at sea for 26-days.

Ship Departure
Saturday May 29, approximately 1300hrs (1:00pm)

Ship Arrival
Wednesday June 23, approximately 0915hrs (9:15am)
Upon departing Taylor's Point, the vessel will head south to Mayaguez, Puerto Rico for anchoring drills, then back north coming into New York City up the East River and out Long Island sound. The arrival approach will be from the east end of the Cape Cod Canal (Sandwich) and pull forward into her berth.
For arrival day, family and friends are encouraged to line both sides of the Cape Cod Canal with signs to welcome our cadets and loved ones home.
During sea term there will be no liberty ports, however a southern stop for fresh provisions will be made.
Ship Tracking
The KENNEDY's call sign is KVMU and can be tracked via several marine tracking sites.

Follow the Voyage
MMA's K-12 Educational Follow the Voyage program is scheduled to have daily blogs and activities for educational partners. To sign up and follow, contact: FTV@maritime.edu. The website for educators is:
Cadet Family Emergencies
For cadet family emergencies that may arise while the ship is underway, please contact LT Erin Medeiros at emederios@maritime.edu and Michael Ortiz at mortiz@maritime.edu