Office Location
Kurz Hall, 1st Floor
101 Academy Drive
Buzzards Bay, MA 02532
Office Hours 
8:00 a.m. - 4:00 p.m. Monday - Friday
Contact Information
508-830-6410
careerservices@maritime.edu
Mailing Address
Career Services
101 Academy Dr. 
Buzzards Bay, MA 02532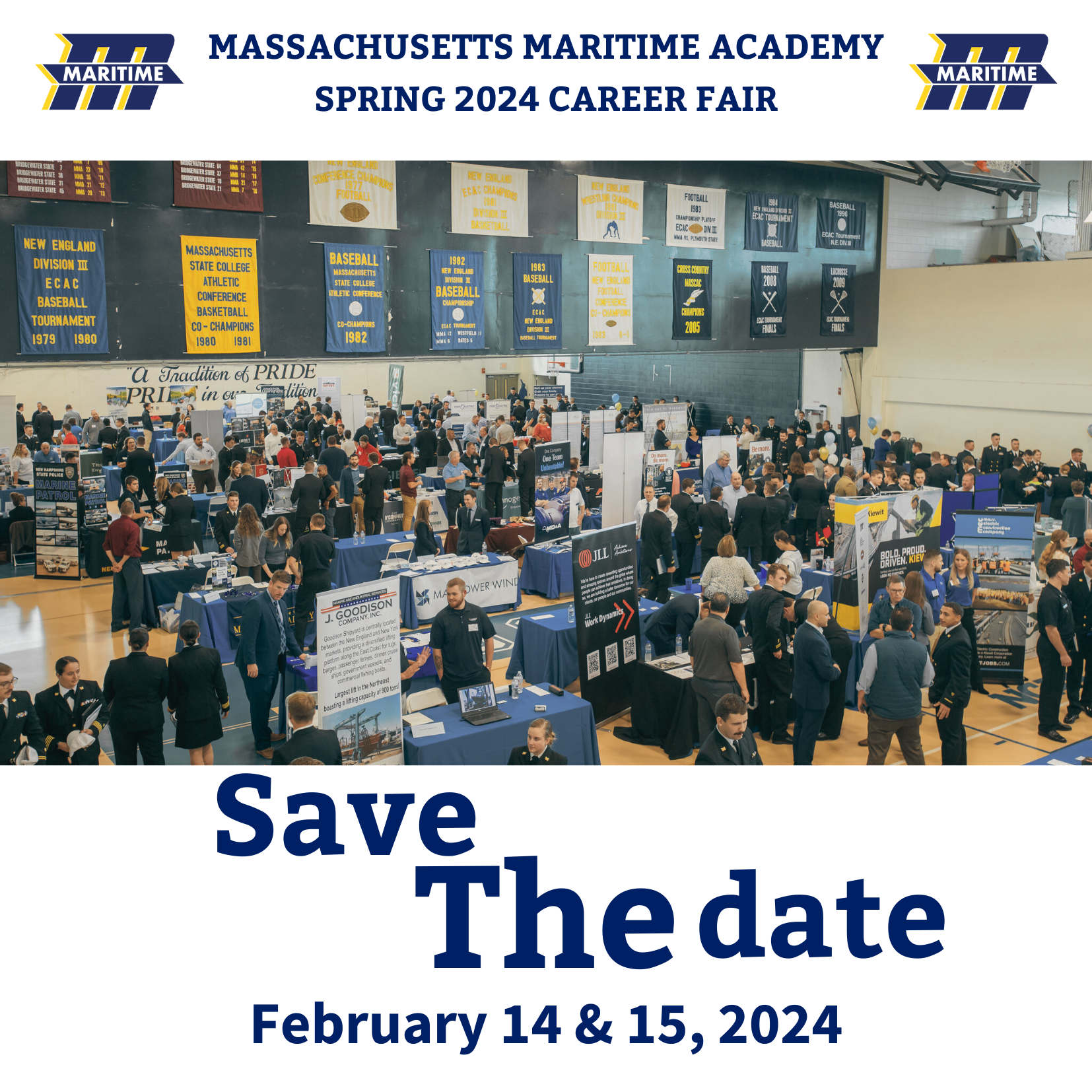 Career + Professional Services
explore your opportunities

We're here to help you explore different career paths, discover career aspirations, and connect you with networking opportunities. Now more than ever, the job market requires new college graduates to be prepared. Not only are new grads competing with their peers for jobs, but in many cases with individuals who already have workforce experience. Our undergraduate students, graduate students, and alumni have access to: 
Career Fairs
Career Advising 
Resume Reviewing 
Internships/Co-ops
Interview Preparation 
Networking opportunities
Graduate school and post-graduate advising
Emergency Management Career Paths
A Bachelor of Science degree in Emergency Management affords graduates a broad array of professional opportunities upon graduation. Our recent graduates have joined state and local emergency management agencies, hospital emergency preparedness programs, and fire and law enforcement departments. Others have joined the military services as commissioned officers and enlisted members. Many graduates join private companies and non-governmental agencies as emergency preparedness specialists, planners, humanitarian aid workers, and more. Areas in which our graduates work include:
Local, State, and Federal Emergency Management
Homeland Security
Public Safety sector, including Fire, Police, EMS
Military
Humanitarian Aid/NGOs 
Environmental Health & Safety 
Public Health Emergency Management 
Consulting
Communications 
Cyber Security
Business Continuity
Hazardous Materials/Safety
Energy Systems Engineering Career Paths
This is what makes this major so unique because our graduates pursue work in every engineering field they have a strong passion for. The limits are self imposed. Renewable energy firms are always reaching out to our graduates
Possible positions for an Energy Systems Engineering major include:
Design engineer
Energy Analyst
Professional Engineer
Test engineer
Facilities Engineering Career Paths
The Facilities Engineering (FENG) program prepares graduates for careers in facilities engineering, management, and operations. Facilities engineers are responsible for the safe, economical, compliant and sustainable operation of various equipment and systems in large facilities such as manufacturing plants, office buildings, hospitals, and power plants. 
MMA Facilities Engineers can be found in every business sector, in every level of   management throughout industry all across the globe. 
Possible positions for a Facilities Engineering major include:
Director of Facilities

Vice President of Operations

President of their own start-up company

Senior Executive Management 

Engineering Systems Specialist
International Maritime Business Career Paths
This program prepares graduates in the foundation of general business, with a focus on the maritime sector, and prepares them for careers in the fields of management, logistics, transportation, operations, shipping, chartering, and maritime business. These unique skills provide cadets with an edge in the increasingly global marketplace. Many of our graduates go on to work in the following fields:
General Business

Shipping & Operations

Vessel Chartering & Brokerage

Port & Terminal Operations

Maritime Law & Insurance

Supply Chain Management
Marine Engineering Career Paths
 The Marine Engineering (MENG) program prepares graduates for careers as licensed engineering officers in the United States Merchant Marine and for engineering positions in associated shoreside industries. Many graduates later go on to become senior management executives throughout industry.
Possible positions for a Marine Engineering major include:
Chief Engineer on a merchant ship
Port Engineer for an marine related company
Executive management for major corporations 
Field service engineers throughout industry  
Marine Science, Safety, and Environmental Protection Career Paths
Careers as environmental and safety officers at sea (on cruise ships, drilling ships, oil rigs, NOAA Corps, Coast Guard,) and on land with numerous companies and institutions; environmental consultants and remediation specialists, environmental managers, scientific research technicians, law enforcement, GIS professionals, and educators. Some of the careers of our graduates include:
US Environmental Protection Agency or State Department of Environmental Protection Department scientists and safety specialists.
NOAA Fisheries or State Division of Marine Fisheries scientists and safety specialists.
Environmental managers
Scientific research technicians
Law enforcement
GIS professionals
Educators
Marine Transportation Career Paths
Career Paths are numerous. Many of our majors go on to work in the civilian maritime industry both afloat and ashore. Graduating with an Unlimited Tonnage, any Oceans License allows you to work on any type of vessel as a navigation watch officer and in charge of cargo loading and deck operations.
You could choose to work on the largest container vessel or cruise ship sailing the world's oceans or stay closer to home aboard a tugboat, yacht, or ferry. Choosing to stay ashore your B.S. of Marine Transportation degree and shipboard knowledge prepares you for management and operations positions within the transportation, intermodal and petroleum industries.
 Possible positions for a Marine Transportation major include:
Third Mate or navigation officer on oceangoing ships
Mate on a tugboat
Many of our graduates have gone on to work for organizations such Military Sealift Command, Maersk, American Maritime Officers, Kirby Corporation, Moran Towing or McDonough Marine.