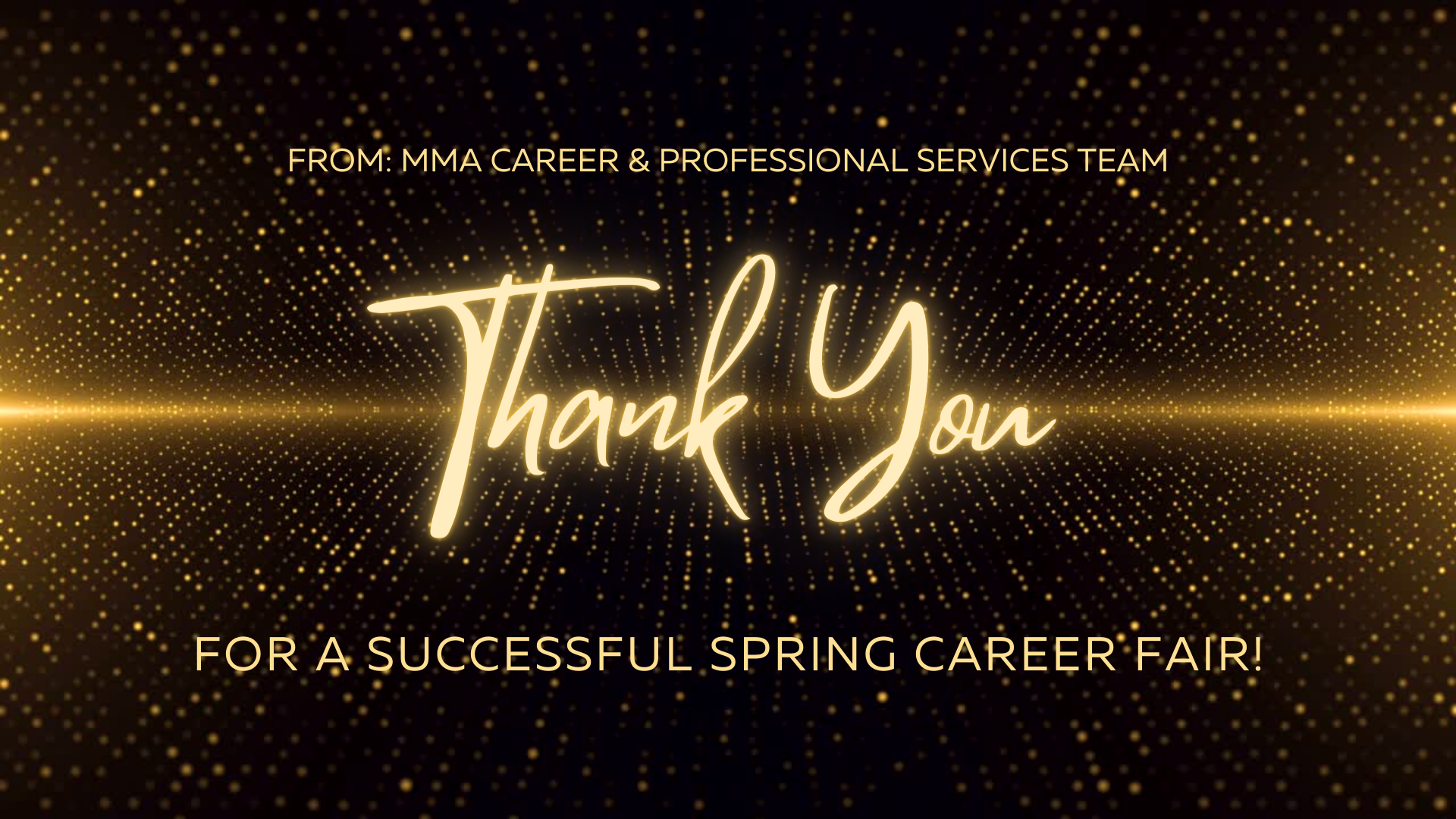 Career Fair
discover the possibilities
Each fall and spring, the Academy hosts a Career Fair on campus. With an average of 125 organizations in attendance, it is an excellent opportunity for students to discover career paths and opportunities, to learn about employers that hire our students and graduates, and to become educated about the many different industries in which our alumni work. We encourage all students of all years to participate. We thank employers for their ongoing support and partnerships of our students.
The event is an excellent opportunity that allows employers an avenue to learn about our academic programs and to discover the skills and talents of our student body. Employers often stay a second day to interview students for co-op, commercial shipping and full-time openings. The fair is a perfect forum for employers and students to meet!
Important information about the Career Fair:
Save the date: Fall Career Fair : Thursday, October 13, 2022 (tentative date) 

Cost: $350, includes a 6' table with a tablecloth and one chair

Fee is waived for military, government agencies and non-profit organizations

For the health and safety of our campus community, all visitors must comply with the Campus Visitor Policy. 
If you need additional information or have any questions, please contact Career Services at careerservices@maritime.edu
The Fall 2022 Career Fair is tentatively scheduled for Thursday, October 13, 2022. More details available soon. 
Spring 2022 Career Fair
List of Employers, as of April 5, 2022
42 North Solutions, LLC

A/Z Corporation

ABM Industries

ACV Enviro

Alpha Lab (Analytical)

Amazon Fulfillment

American Cruise Lines

American Energy Management

American Maritime Officers Union

American Queen Voyages

AMP United LLC

ANP Bellingham

APM Terminals

Applied Physical Sciences Corp

Arden Engineering Constructors

Arranta Bio

Association of Continuity Professionals (ACP) Greater Boston Chapter

Bard, Rao & Athanas Consulting Engineers

BCM Controls Corporation

Bond Brothers

Bridgeport and Port Jefferson Steamboat Company

C&W Services

Campbell Transportation Company, Inc.

Canaveral Port Authority

Cape & Islands Transport

Carver Companies

CBRE Group Inc.

Chem-Aqua

City Experiences (Boston)

Clean Harbors

Consigli Construction Company, Inc.

Covanta Corporation

CR Environmental Inc.

Cross Sound Ferry

Crowley Maritime Corporation

CSA Ocean Sciences

CSL Group

DEME Offshore US

Disney Cruise Line

DNV-GI

DPS Group Global

Edison Chouest

Engie

Environmental Health & Engineering

Eversource

Fathom5

Federal Bureau of Investigation (FBI)

Federal Emergency Management Agency (FEMA)

Federal Reserve Bank of Boston

Fincantieri Marine Group

First Electric Motor Service Inc.

Fischbach & Moore Electric Group, LLC

Fiserv

Foss Maritime Company

G2 Ocean US, Inc

Garmin

General Dynamics Bath Iron Works

General Dynamics Electric Boat

Genesis Marine

Harvey Gulf International Marine, LLC

HCG Associates

Homeland Security Investigations

Hornbeck Offshore Services

Hy-Line Cruises

Interlake Steamship Company

International Organization of Masters, Mates and Pilots (IOMMP)

Interstate Navigation Company/Block Island Ferry

Intracoastal Marine, Inc.

J Goodison Company, Inc.

Jay Cashman, Inc.

Jones Lang Lasalle

Jones Lang Lasalle (Life Sciences)

Kirby Inland Marine Transportation

Kirby Offshore Marine (formerly K-Sea Tranportation)

L.C. Anderson Inc.

Lahey Health Network

Lake Champlain Transportation Company

Lincoln Property Company (LPC)

LotusWorks

Marine Engineers' Beneficial Association (MEBA) (AFL-CIO)

Marriott International

Marriott Vacations Worldwide

Mass Coastal Railroad

Mass Life Sciences Center

Massachusetts Air National Guard

Massachusetts Department of Transportation (massdot)

Massachusetts Emergency Management Agency (MEMA)

Massachusetts Environmental Police

Massachusetts Maritime Academy Graduate School

Massachusetts State Police

McAllister Towing & Transportation

Mediterranean Shipping Company (MSC)

Middlesex Sheriff's Office

Military Sealift Command (MSC)

Moran Environmental Recovery

Moran Towing Corporation

Munters Corporation

National Grid

National Oceanic and Atmospheric Administration (NOAA)

New England and Carolina Bow Thruster LLC

New England Coastal Wildlife Alliance (NECWA)

New Hampshire State Police

New York City Department of Transportation  (NYCDOT)

Newmark Property Management

NH Dept of Safety/Homeland Security and EM

NH Fish and Game, Law Enforcement Division

Nitto Avecia

NRG Services, LLC

Orsted

Palo Verde Generating Station (Nuclear)

Phigenics

Plumber's Supply Company

Plymouth Yacht Club

Portland Police Department

PSEG Nuclear LLC

Radius International

Resource Lighting & Energy

Resource Options, Inc. (ROI)

Riley Power

Rolls-Royce Marine North America, Inc.

Royal Caribbean Cruises, Ltd.

Safe Harbor Marinas

Schneider Electric

Seekonk Police Department

Shipco Transport, Inc.

Siemens Corporation

South Coast Improvement Company

South Shore Health

Southeastern New England Defense Industry Alliance (SENEDIA)

St. Anthony Shrine

Steamship Authority

Strategic Environmental Services

Suffolk Construction

Sunbelt Rentals

SUNY Maritime College

SynQor

Takeda Pharmaceutical Company Limited

TG Gallagher

The Kraft Group

The TJX Companies, Inc. (Marshalls, TJ Max etc.)

The Vane Brothers Company

Thermo Fisher Scientific

Thielsch Engineering, Inc.

Tidal Basin

Town of Bourne

Town of Plymouth

TradeWinds Towing

Travelers Insurance Company

Trident Seafoods Corporation

Triumvirate Environmental

UMass Medical School

UMass School of Law

Uncruise Adventures

United Alliance Services Corporation

United Civil, Inc.

United States Air Force

United States Army

United States Coast Guard (USCG)

United States Marine Corp

United States Navy

Valaris PLC

Vantage Builders, Inc.

Vicinity Energy

Washington State Ferries

Weeks Marine

Weston & Sampson Engineers

Wheelabrator Technologies

Wide Effect Talent Solutions

WindServe Marine

Winstanley Enterprises, LLC

Woods Hole Oceanographic Institution (WHOI)

Wrist Ship Supply
Spring Career Fair, Thursday April 7, 2022
12:00-1:30 pm          Luncheon (on campus)
1:30 pm                     Information Session | Bay State Conference Room
2:00 pm                     Campus Tours
3:00 pm                     Booth setup | Clean Harbors Athletic Center
4:00 - 7:00 pm          Career Fair
                                    4-5 pm: Seniors Only
                                    5-7 pm: All Students and Alumni
7:00 pm                     Employer Reception
For a list of Accommodations within 30-minutes from campus, please click here:
Contact hotels directly to find out about rates and discounts for MMA friends & family.