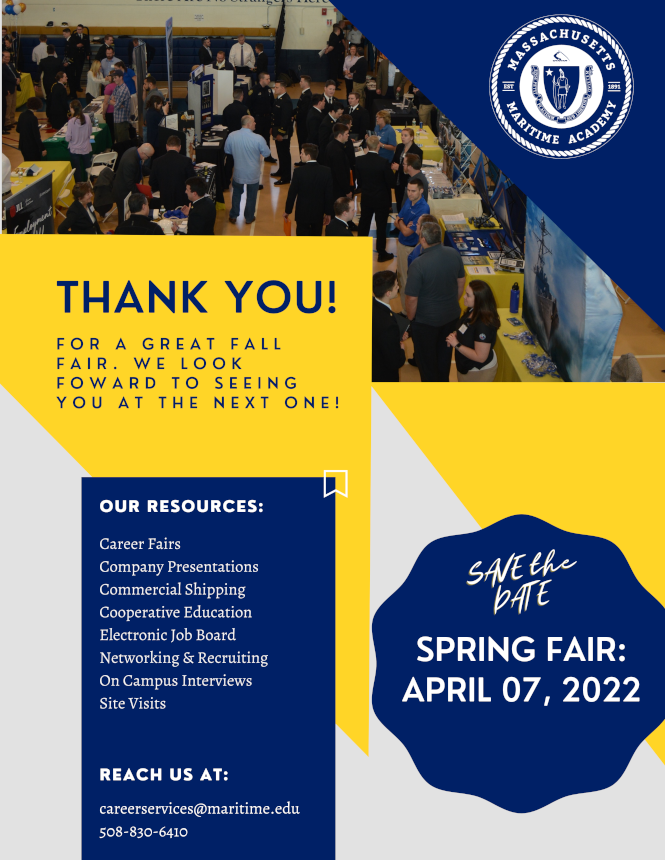 Career Fair
discover the possibilities
Each fall and spring, the Academy hosts a Career Fair on campus. With an average of 125 organizations in attendance, it is an excellent opportunity for students to discover career paths and opportunities, learn about employers that hire our students and graduates, and become educated about the many different industries in which our alumni work. We encourage all students of all years to participate. 
The event is an excellent opportunity that allows employers an avenue to learn about our academic programs and to discover the skills and talents of our student body. Employers often stay a second day to interview students for co-op, commercial shipping and full-time openings.  
The fair is a perfect forum for Employers and Students to meet!
Thank you for your ongoing support and partnerships. If you need additional information please contact us: careerservices@maritime.edu
Thank you for your interest in participating in the Fall 2021 Career Fair. At this time, registration is closed. Please contact Kelly DeMello at kdemello@maritime.edu with any questions.
The Spring 2022 Career Fair is scheduled to take place on Thursday, April 7. Registration will open after the first of the year. We hope to see you there!
The Career Services Team
Fall 2021 Career Fair
List of Employers, as of September 29, 2021
42 North Solutions, LLC

A/Z Corporation

Able Services

ACV Enviro

Ameresco

American Bureau of Shipping (ABS)

American Cruise Lines

American Maritime Officers Union

American Plant Maintenance (APM)

AMEX, Inc.

APL Maritime, Ltd.

Aramark

Bard, Rao & Athanas Consulting Engineers

Barton & Gray Mariners Club

BCM Controls Corporation

Beta Group, Inc.

Blue Harvest Fisheries, LLC

Bond Brothers

Brookfield Renewable Energy Group

Cape Cod Healthcare

Cashman Dredging and Marine Contracting Co. LLC

CBRE Group Inc.

City Experiences (Boston)

Clean Harbors

Commissioning Agents, Inc. (CAI)

Commonwealth of Massachusetts/Executive Office of Health and Human Services

Control Technologies Inc.

Covanta Corporation

CRB Group

Crowley Maritime Corporation

Dellbrook|JKS

Dimerco

Disney Cruise Line

DPS Group Global

Edison Chouest

ENE Systems, Inc.

Expeditors

Fairfield Chemical Carriers

Feeney Brothers Utility Services

Fieldcore Service Solutions

Fulton

G&H Towing Company

General Dynamics Bath Iron Works

General Dynamics Electric Boat

General Dynamics NASSCO

Genesis Marine

Grand River Navigation Company

Great Lakes Dredge & Dock Company

Guice Offshore LLC

HCG Associates

Hornbeck Offshore Services

Interlake Steamship Company

International Organization of Masters, Mates and Pilots (IOMMP)

J Goodison Company, Inc.

Jones Lang Lasalle

Kiewit

Kirby Inland Marine Transportation

L.C. Anderson Inc.

LotusWorks

Marine Biological Laboratory (MBL)

Marine Engineers' Beneficial Association (MEBA) (AFL-CIO)

Marriott International

Marriott Vacations Worldwide

Massachusetts Army National Guard

Mayflower Wind

Mechanical Dynamics & Analysis, Ltd. (MD&A)

Military Sealift Command (MSC)

Moran Environmental Recovery

Munters Corporation

My Generation Energy

National Oceanic and Atmospheric Administration (NOAA)

New England Coastal Wildlife Alliance (NECWA)

New Hampshire State Police

NextEra Energy, Inc.

NH Dept of Safety/Homeland Security and EM

NHSP – Marine Patrol

NRG Services, LLC

O'Connor Corporation

Organogenesis, Inc.

Penn Power Group

Plumber's Supply Company

PSEG Nuclear LLC

Radius International

Resource Lighting & Energy

Robert B. Our Co. Inc.

Sanborn Head & Associates, Inc.

Schuyler Line Navigation Company

Seadrill Americas, Inc.

Seafarers International Union (SIU)

SENEDIA

Shawmut Design & Construction

Siemens Corporation

State Electric Corporation

Steamship Authority

Sunbelt Rentals - Pump & Power

SUNY Maritime College

Takeda Pharmaceutical Company Limited

TC Controls

TG Gallagher

The Dennis Group

The Vane Brothers Company

Thermo Fisher Scientific

Town of Hanover

Transocean

Trident Seafoods Corporation

Triumvirate Environmental

Tufts Medical Center

Turner Construction Company

UMass Medical School

UMass School of Law

United States Coast Guard (USCG)

United State Marine Corp

Veolia North America

Vicinity Energy

Washington State Ferries

Wellfleet Harbormaster

Weston & Sampson Engineers

Wheelabrator Technologies

Wide Effect Talent Solutions

Williams College

Winstanley Enterprises, LLC

Woodard & Curran

Woods Hole Oceanographic Institution (WHOI)

Wrist Ship Supply
 

12:00 pm
Luncheon (on campus)
1:00 pm
 Information Session ABS-104
1:30 pm
Campus Tours
3:00 pm
Booth setup Clean Harbors Athletic Center
4:00 pm
Career Fair
7:00 pm
Employer Reception
For a list of Accommodations within 30-minutes from campus, please click here:
Contact hotels directly to find out about rates and discounts for MMA friends & family.