President + Leadership
A message from admiral mcdonald
As you explore Massachusetts Maritime Academy to determine if it's the right choice for you, I would like to share some of the reasons I decided to come here: as a cadet (Class of 1985), as an employee, and as president.
Most importantly, the world needs talented people to serve as global leaders with diversified experiences, strong discipline, and unwavering work ethic. Leading the Academy allows me to help prepare you to become one of those leaders. 
The Academy is known for specialized STEM (Science, Technology, Engineering and Math) and business academic programs and majors that are in high demand. But what happens outside of the classroom makes the education even more valuable to you. Our "Learn-Do-Learn" experiences get  you out in the field long before you need to look for a full-time job. Many cadets complete sea terms aboard the T.S. Kennedy; others do co-ops: sustainability in St. John, USVI;  emergency management at Habitat for Humanity in Florida; international business in Singapore. This is your opportunity to show people what you can do. The Academy's strengths ultimately become your strengths.
The Regiment of Cadets is also a core part of your education. As an alumnus, I know first-hand how challenging it can be. I also know how far discipline and hard work can take you. I learned what it takes to become a leader and an advocate, not only for others, but for myself.
Exploring choices for your next educational venture is exciting. Our goal is to provide you with a glimpse into Academy life so you can make the right choice, and walk away with the tools to make your mark in the world.
Francis X. McDonald, LPD
Rear Admiral, USMS
President
Our goal is to provide you with a glimpse into Academy life so you can make the right choice, and walk away with the tools to make your mark in the world.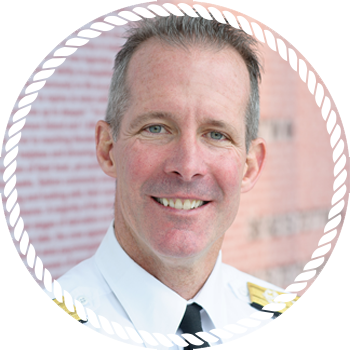 Rear Admiral Francis X. McDonald, USMS, is the President of the Massachusetts Maritime Academy, one of six state maritime academies in the country.  Founded in 1891, the Academy has been training business leaders, ship captains, engineers, and professional officers in the 19th, 20th, and now the 21st century.  Offering seven undergraduate and three graduate majors, the Academy is one of two "special mission" public universities in the Commonwealth of Massachusetts.                                                          
Upon graduation from the Academy in 1985, McDonald pursued an engineering career and earned a Master of Science in Management from Rensselaer Polytechnic Institute.  He returned to his alma mater in 1995 to serve as Director of Cooperative Education, a role in which he developed and implemented the cooperative education program and dramatically increased placement rates for undergraduate interns and graduating seniors.  Appointed as Dean of Enrollment Management in 1999, he led the rebranding of the Academy which resulted in a dramatic increase in numbers and diversity of incoming freshmen.  He has since served as Vice President for Operations, heading up a major campus building expansion, and as Executive Vice President.  President McDonald holds a Doctor of Law and Policy from Northeastern University and has served as an adjunct professor in the Academy's emergency management graduate program.  He assumed the role of President in August 2015 following unanimous votes of the MMA Board of Trustees and the Massachusetts Board of Higher Education, with the rank of Rear Admiral conferred by the U.S. Maritime Administrator. President McDonald is active in or has served on several community and professional organizations including the Governor's STEM Advisory Council, Cape Cod Canal Region Chamber of Commerce, Barnstable School Committee,  Sturgis Charter School, Cape Cod Collaborative, and the Marine Society at Salem.