Commercial Shipping
required for sea-side majors
The Massachusetts Maritime Academy Commercial Shipping Program is designed to satisfy regulatory requirements for USCG licensing while reinforcing qualities important to successfully becoming a maritime seagoing professional. Commercial shipping assignments build confidence, motivation, time management and communications skills, and team interaction, while enhancing professional technical skills.
Assignments are typically for 60 days. The minimum sea service required to qualify for original license as Third Mate of Ocean, Steam or Motor Vessels of Any Gross Tons or Third Assistant Engineer of Steam and Motor Vessels, Gas Turbine, of Any Horsepower is for a period of 360 days.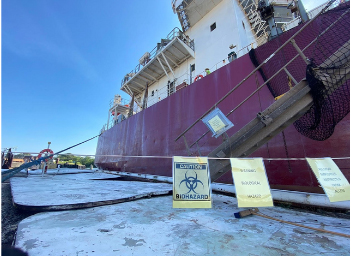 Commercial Shipping During A Global Pandemic
Just like working ashore, shipping the great oceans of the world saw many changes with rise of the pandemic. Students and sailors alike were and continue to face strict quarantine guidelines and in some cases, complete isolation and sanitation onboard.  
Joshua Nehrings
These changes in daily shipboard life proved that our shipping students persevere through even the most challenging circumstances. Joshua Nehrings ('21 Marine Engineering) experienced just that as the vessel performed periods of "deep cleaning" between operations and crew changovers. 
Maeve Glancy and Lana Nyugen
Maeve Glancy ('21 Marine Transportation) and Lana Nyugen ('21 Marine Engineering) ended up cadet shipping together onboard the M/V National Glory with Crowley Maritime.  Ms. Glancy summed up her experience well, "Despite the challenges of COVID-19, commercial shipping was still one of the most rewarding experiences of my career at MMA. The biggest differences I saw were the fact that we were restricted to the ship, and there was less cargo than normal. However, the shipping industry must continue to run; our domestic and global economies depend on it."
As Ms. Nyugen put her experience, "My experience was unique during a pandemic, but still proved to be one of the best learning opportunities I've received here at MMA. All of the obstacles I faced to get aboard my ship was well worth the knowledge I ended up gaining in the long run."