Commercial Shipping
required for sea-side majors
The Massachusetts Maritime Academy Commercial Shipping Program is designed to satisfy regulatory requirements for USCG licensing while reinforcing qualities important to successfully becoming a maritime seagoing professional. Commercial shipping assignments build confidence, motivation, time management and communications skills, and team interaction, while enhancing professional technical skills.
Assignments are typically for 60 days. The minimum sea service required to qualify for original license as Third Mate of Ocean, Steam or Motor Vessels of Any Gross Tons or Third Assistant Engineer of Steam and Motor Vessels, Gas Turbine, of Any Horsepower is for a period of 360 days.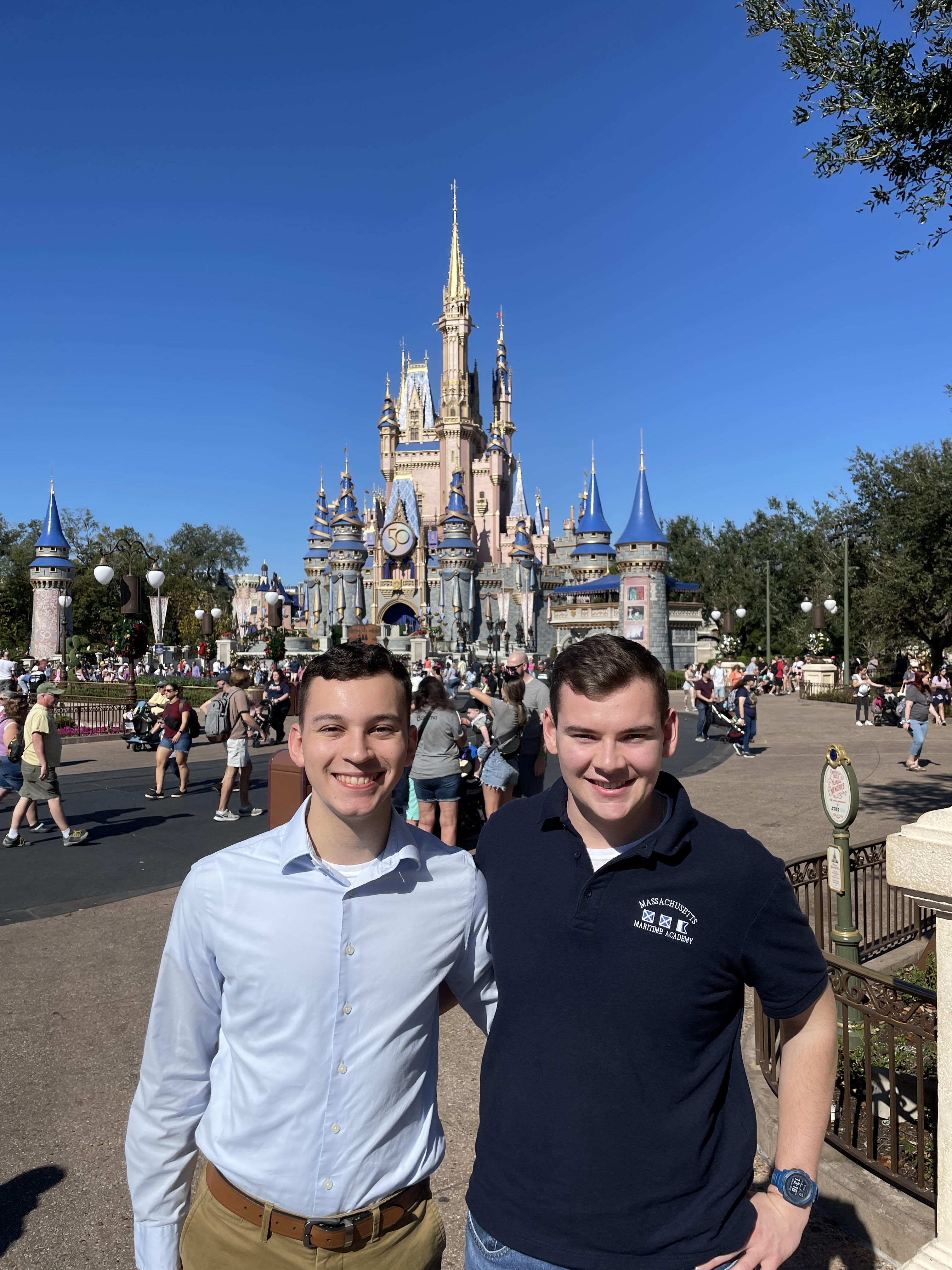 Winter 2023 Commercial Shipping
Cadet Dylan Lydell, 

Junior

 (2/C) 

Marine Transportation 

(MTRA), and Cadet Patrick Pyke, 

Junior 

(2/C) 

Marine Engineering (MENG),

 engaged in their commercial shipping 

experience. Both had an exciting day as they attended a Disney orientation session. This orientation

 was in anticipation of their upcoming assignment aboard the vessel Disney Wish, where they 

gained

 practical experience in the 

cruise ship industry

. As part of their education, Dylan and Patrick will have the opportunity to apply their theoretical knowledge 

learned onboard the Disney Wish

 in a real-world setting 

upon graduation

, further enhancing their skills and understanding of the maritime industry. Their participation in this 

program

 reflects the valuable hands-on training and career opportunities provided by the commercial shipping 

program

.
Winter 2023 Commercial Shipping
Cadet Mikayla Atkins,

Junior

(2/C)

Marine Transportation

(MTRA), on board the MV Bay State, a

coastwise tanker

operated by Crowley

Maritime

. As part of her comprehensive commercial shipping education, Mikayla

honed

her celestial navigation skills

onboard

. With a sextant in hand, she carefully took a sight of the sun

to accurately

determine the ship's position without relying on modern electronic navigational

equipment

such as GPS. Mikayla's dedication to mastering

the art

of celestial navigation showcases the rigorous training and commitment to detail that are essential in the

maritime

field as a

deck officer

. Through her practical experiences

onboard

the MV Bay State, Mikayla

gained

the skills and knowledge necessary for a successful career in the maritime industry.