Homecoming and Reunion
Homecoming and Reunion Weekend, September 22-23, 2023!
We look forward to welcoming you back to campus and celebrating with you over Homecoming and Reunion weekend 2023! Please save the date for September 22-23rd, for a fun weekend to gather and reconnect with classmates. Stay tuned for more detailed information to come. The official schedule and registration will go live in July and will close at 5PM on Friday, September 15, 2023. We look forward to seeing you in September!
If you have questions about Homecoming and Reunion or are in a class ending in a 3 or 8 and want to volunteer to organize and plan for your reunion please contact Kim Wood at kwood@maritime.edu or 508-830-5099.
Homecoming and Reunion 2023
Register Below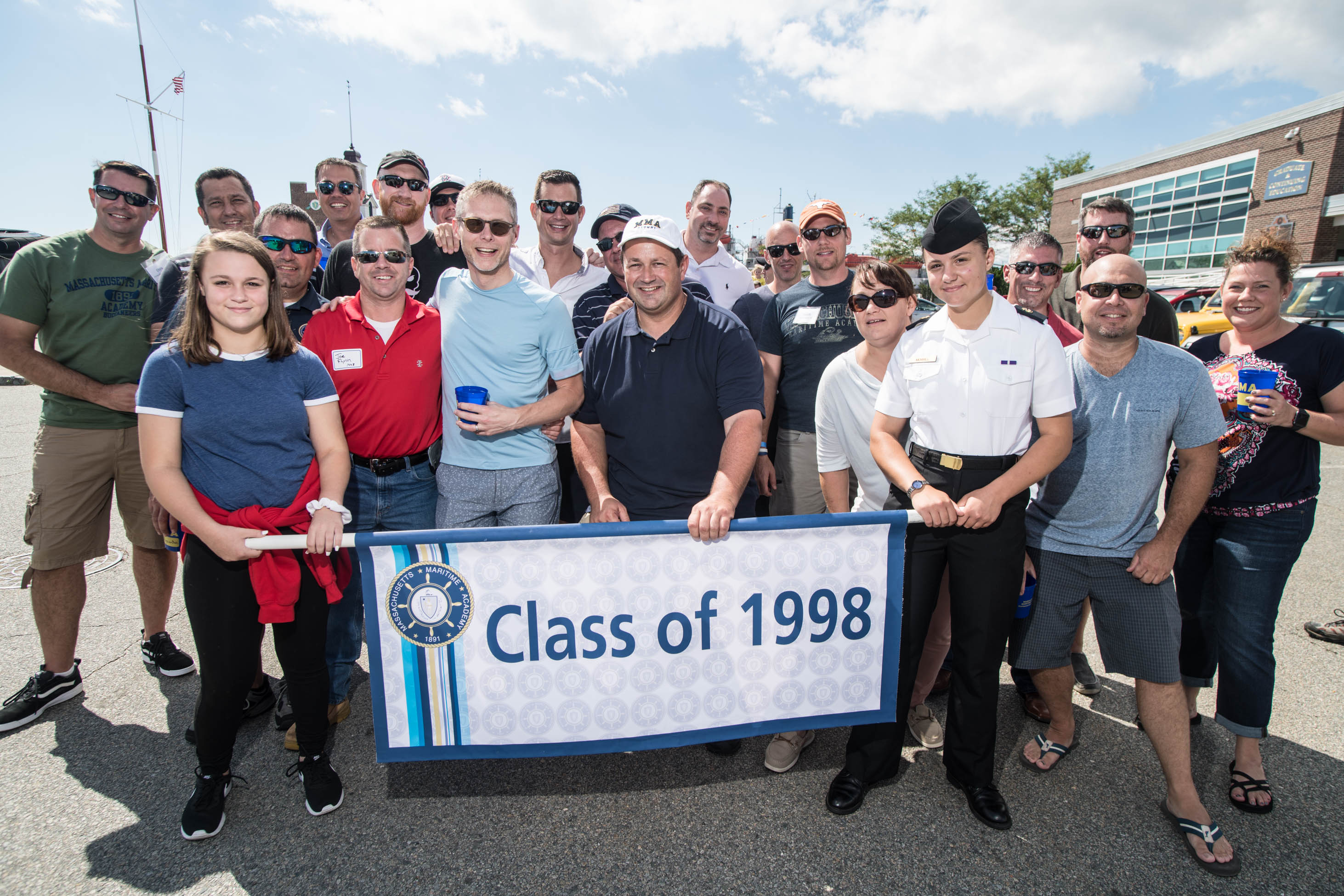 Schedule
Friday, September 22 
7:00AM
Alumni Association CAPT Al Wilson Memorial Golf Classic
Willowbend Country Club. Proceeds benefit the MMAAA Scholarship Fund.
8:00AM - 5:00PM
Bookstore Open
Kurz Hall
Stock up on the newest MMA gear and wear your Buccaneer blue and gold!
6:00PM
Women's Volleyball vs. Emmanuel College
Alumni Gym
6:00 - 9:00PM
Beers with the Admiral
Fantail
All alumni are invited to kick off the weekend in the newly renovated
Fantail! Heavy hors d'oeuvres; cash bar with beer and wine only.
Saturday, September 23
9:00AM - 4:00PM
Bookstore Open
Kurz Hall
Stock up on the newest MMA gear and wear your Buccaneer blue and gold!
9:00AM – 1:00PM
Homecoming and Reunion Registration and Check-in
Brick Plaza Tent
9:00AM - 1:00PM
Open Houses

CAPT Paul Cuffe Center for Inclusion
SSV Ernestina-Morrissey
Maritime Conference Center

Visit the Academy's new & updated spaces as well as the latest addition to
the fleet!
9:00AM
Alumni Association Annual Meeting
Flanagan Lecture Hall. Open to all dues paying members.
9:30 - 10:00AM
Memorial Service
Merchant Marine Memorial
Join us as we remember all those we lost this past year.
9:00-12:00PM
Tailgating (reunion classes only)
Alumni Gym Parking Lot
Class representatives for reunion classes (3s & 8s) should call the Advancement Office (508-830-5099) to reserve space.
10:00AM - 12:00PM
Bloody Mary Brunch
Maritime Park
Hosted by the MMA Alumni Association
12:00PM
Muster for March-on
Academy Drive between Flanagan Hall & Harrington parking lot
Reunion classes gather to march on to the football field.
12:30-3:00PM
Rowing Team Ergathon
Buccaneer Way
Support your Bucs Rowing team by pledging a donation for meters towards
the team's overall goal of 200,000 meters! Feel like jumping on an erg to help
the team? You are welcome to add your meters to their overall total!
12:30-6:00PM
Buccaneer Party Zone
Clean Harbors Stadium Practice Field
Cheer on your Buccaneer football team and reconnect with classmates while
enjoying a food court and beer garden. Included in the fee for the weekend.
Cash bar; beer and wine only.
1:00PM
Buccaneer Football vs. Fitchburg State University
Clean Harbors Stadium Football Field
4:00PM

Alumni Rugby
Hendy Field

5:00PM
Women's Soccer vs. MCLA
Clean Harbors Stadium Football Field
Sunday, September 24
10:00AM-3:00PM
Bookstore Open
Kurz Hall
Stock up on the newest MMA gear!
10:00AM – 12:30PM
Brunch
Mess Deck
Get your classmates together for one last event for the weekend. Brunch is
$9 per person and is to be paid at the door.
10:00AM
Recognition Ceremony
Clean Harbors Stadium
Join your fellow alumni and the family, and friends of the Class of 2027 to
officially recognize them as 4/C cadets.
Future Homecoming and Reunion Date: September 27-29, 2024