Salute to Maritime Person of the Year
Honoring William R. Gallagher

Massachusetts Maritime Academy honors a civilian or military leader with a distinguished career of excellence, innovation and service to the maritime industries and other industries we serve and honors them with the Emery Rice Medal at our Salute to the Maritime Person of the Year events. Past honorees have included admirals, captains, CEO's, and leading maritime executives from around the globe. Our honoree is presented with the Captain Emery Rice medal named for an 1897 Academy graduate and WWI hero. Captain Rice was recognized twice by Theodore Roosevelt for his maritime skill and bravery as a shining example of American courage and fighting spirit.
This medal has been presented to a select group of maritime professionals who have contributed significantly to the advancement of the very principles taught at the Academy; leadership, ethics, business sense and respect for the ocean environment. All medal recipients have one thing in common, they have earned the respect of their peers.
2019 Event - Honoring William R. Gallagher
Thank you to all who attended our 2019 Maritime Person of the Year event! We celebrated honoring William R Gallagher, the President of International Registries, Inc.

See all of our photos from the 2019 event
During Mr. Gallagher's tenure as President of International Registries, Inc, the Republic of the Marshall Islands (RMI) Registry has grown from 7 million gross tons (GT) in 2000, to surpassing 162 million GT in October 2018. The RMI Registry has expanded its network worldwide from 75 to more than 400 employees and opened 21 new offices in the last 15 years to a total of 28. Since joining IRI in 1991, he has worked closely with the RMI government and its legislative agenda and has traveled around the globe meeting clients and speaking at corporate and maritime seminars. Prior to joining IRI he specialized in Legal Compliance in the securities industry.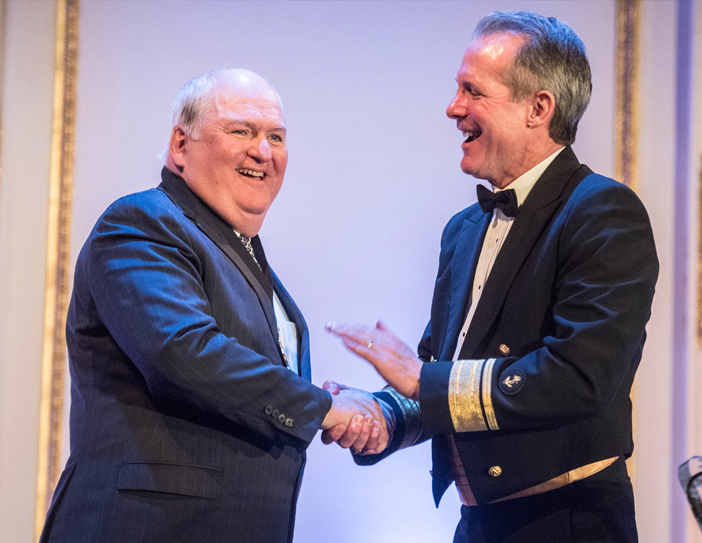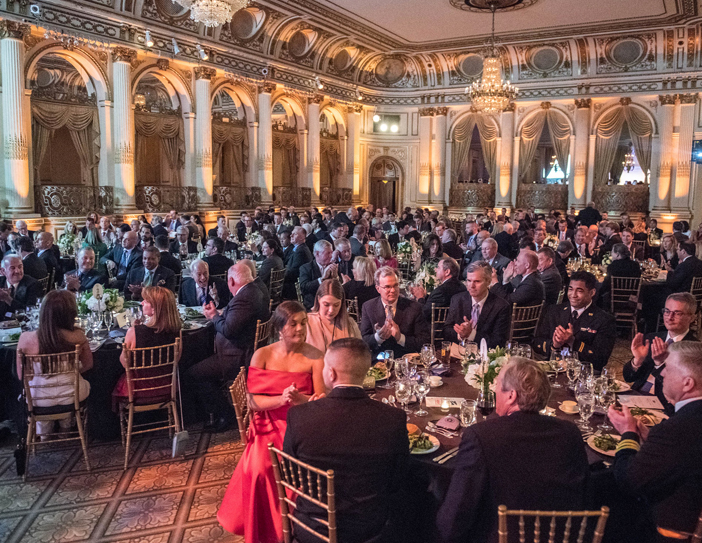 Previous Recipients Include:
1995  Admiral William J. Flanangan, Jr. USN - Commander in Chief, US Atlantic Fleet
1996  Mr. Gerhard E. Kurz of - CEO, Seabulk International
1997  Mr. Morton S. Bouchard, III - President, Bouchard Transportation Co., Inc.
1998  Mr. Michael D. Tusiani - Chairman & CEO, Poten & Partners, Inc.
1999  Mr. Peter Livanos - Chairman, Ceres Hellenic Shipping Enterprises, Ltd.
2000  Mr. Joseph S.K. Kwok - Group Chief Operating Office, NOL & President, AET
2001  Mr. Lars Carlsson - President, Concordia Maritime AB & Chairman, Intertanko
2002  Mr. Joseph P. Gehegan, Jr. - President & COO, United States Shipping, LLC
2003  Rear Admiral Maurice J. Bresnahan, Jr., USN (Ret.) - President Massachusetts Maritime Academy
2004  Mr. Dennis M. Houston - Executive Vice President, ExxonMobil & Supply Co. Chairman, Mobil Oil Shipping & Transportation
Previous Recipients Continued
2005  Vice Admiral Vivian S. Crea, USCG - Commander, Coast Guard Atlantic Area Commander, Maritime Defense Zone Atlantic
2006  Mr. Paul R. Tregurtha - Chairman & CEO, Mormac Marine Group
2006  Mr. John A. Angelicoussis - Chairman & CEO, Angelicoussis Shipping Group
2007  Mr. Alan S. McKim - Chairman & CEO, Clean Harbors Environmental
2008  Mr. Morten Arntzen - President & CEO, Overseas Shipholding Group, Inc.
2009  Mr. Robert Somerville - Chairman & CEO, American Bureau of Shipping
2010  Mr. Geoffrey C. Wilkinson - President & CEO George T. Wilkinson, Inc.
2011  Mr. Soren Skou - CEO Maersk Tankers
2013  Mr. David W. Williams - President & CEO, Noble Drilling Corporation
2015  McAllister Family - McAllister Towing & Transportation Co., Inc.
2017  Mr. Christopher J. Wiernicki - President, Chairman & CEO, American Bureau of Shipping
2019  Mr. William R. Gallagher - President, International Registries, Inc.