1891 Legacy Society
Academy Giving Societies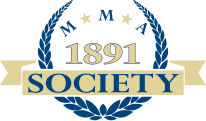 The 1891 Society was created in 2001 to recognize the foresight and generosity of all those who have established planned gift commitments of any kind for Massachusetts Maritime Academy. Just as the Academy's founders in 1891 created a legacy that has benefited generations of Massachusetts Maritime Academy cadets, so do today's alumni and friends.
How can  you become a member? Create your legacy at Massachusetts Maritime Academy by making a planned gift and notify us that you have remembered Massachusetts Maritime Academy in your plans. Benefits of membership include:
- Invitations to special donor recognition events
- Periodic updates from members of Academy leadership
- Priority parking at special events if we are notified you are attending
- 1891 Society pin
To learn more about how to become a member of the 1891 Society please visit the Planned Giving Page or contact Elizabeth Simmons at esimmons@maritime.edu.
Thomas R. Aylesbury '62
Mary & James Buckley
Leonard A. Caiger '62 †
James B. Campbell '62
Andrew D. Chester '65 
Martin E. Conroy, Jr. '75
Richard A. Covell '67, H'17
Lynn & Stephen Cropper '70 
Richard A. Covell '67, H'17
Stephen '70 & Lynn Cropper
Patricia & William C. Donnell '59, H'97 
William C. Donnell '59, H'97 & Patricia Donnell
Richard N. Finocchio '60
John M. Gibbons '44 †
Christopher J. Greer '91
Kristine & P. Todd Isherwood M'11 
William C. Kelley, Jr. '54
Colin O. Kenney '66
Robert J. Kimtis '60
Edward S. Kracunas '81
Linda Kuliga
Gerhard E. Kurz H'93
Darryl M. Lahey '86
Peter J. Lawrence '63
Betsy † & Norman Levin
Gary L. Lowe †
Malcolm W. MacLeod '54
Stephen G. Malley '67
Marlene Marrocco 
Richard L. McAndrew '76
Francis X. McDonald '85
Karl L. Meyer '58, H'93
Nancy & Lee Miles PR '07
Eugene Mirabello '57
William G. Moir '69
Richard M. Mushet '66, PR'98
Judith Nitsch H'10
Brendan P. O'Connor '93 
Louis M. Ricciardi 
Robert E. Rumney '57 
Gerard F. Scannell '55, H'92
Elizabeth B. Simmons '97, M'07
John F. Sullivan '65
 Brian F. Tobin '86
Charlotte '44 & John † Ventola '44
Justin M. Vieira '15
William L. Walker '80*
Lee Wall
Larry Ward '61
Hillard W. Welch †
John Westerberg '47† 
Mary Lou Wilcox