Press Releases
Massachusetts maritime academy News and Updates
June 2, 2021: MASSACHUSETTS MARITIME ACADEMY STUDENTS DEPART FOR ANNUAL SEA-TERM TS Kennedy to sail the Eastern Seaboard for 26 days
BUZZARDS BAY, MA – June 2, 2021 – Massachusetts Maritime Academy (MMA) is pleased to announce that the TS Kennedy departed Sunday, May 30 for a 26-day Sea-Term due to return June 23, 2021, continuing a 130-year tradition. The trip will allow 406 MMA cadets, including 99 seniors, to accrue the sea days required to satisfy United States Coast Guard licensing requirements and will provide underclassmen with valuable experience on the water. The cadets who live aboard the TS Kennedy will learn through first-hand experience with engineering operations, navigation, docking, vessel safety, port operations along with many other tasks that are covered in the classroom.
"This is exciting news and I'm thrilled that our students have the opportunity to head out to sea this year," said Rear Admiral Francis X. McDonald, USMS, President of the Massachusetts Maritime Academy. "Sea-Term is a life-changing experience that our cadets value. Their time on the TS Kennedy truly puts their classroom learning into practice and emphasizes the leadership and life skills that every cadet needs to be successful."
All health and safety protocols, which align with the requirements of State and Local Boards of Health, were followed prior to departure and will continue during Sea-Term.
Cadets who select majors in Marine Engineering and Marine Transportation must complete at least four Sea-Terms— or "semesters at sea" — that typically take place in January and February between academic terms. This year's Sea-Term heads south off of Puerto Rico before returning north to Buzzards Bay.  To further ensure the safety of the cadets and staff, stops at ports will be limited to allow bringing aboard fresh provisions only. During their time while at sea, cadets rotate through class and laboratory training, ship operations, deck and engine watches, maintenance, and emergency drills. 
The Academy continues the Follow the Voyage – Share the Experience program connecting MMA students at sea with thousands of K-12 students throughout Massachusetts, the U.S. and beyond. Follow the Voyage – Share the Experience, which has been in place for several decades, is now led by retired MA elementary school teacher Nancy Franks. The program has been tailored to align with the MA State CORE curriculum. Follow the Voyage – Share the Experience provides STEM-based learning opportunities and introduces students to potential careers in Marine Engineering, Marine Transportation and Facilities Management.
MMA cadets have been sailing, or acquiring days at sea, every year since 1891. The last Sea-Term took place in January and February 2020 when the TS Kennedy sailed through the Panama Canal just before the world was shut down due to the coronavirus pandemic.
About Massachusetts Maritime Academy (MMA): MMA is a fully accredited, four-year, co-educational state university offering Bachelor and Master of Science degrees that are highly regarded in the worldwide maritime industry and beyond. For more than 100 years, MMA has been preparing women and men for exciting and rewarding careers on land and sea. As the nation's finest co-ed maritime college, MMA challenges students to succeed by balancing a unique regimented lifestyle with a typical four-year college environment. Located on Cape Cod, at the mouth of the scenic Cape Cod Canal, Massachusetts Maritime Academy is the ideal college to pursue the love for the ocean, concern for the environment, interest in math and science, and thirst for adventure. Follow MMA on FB: @massmaritime; IG: @massmaritime; Twitter: @MMAadmissions; YouTube: Massachusetts Maritime Academy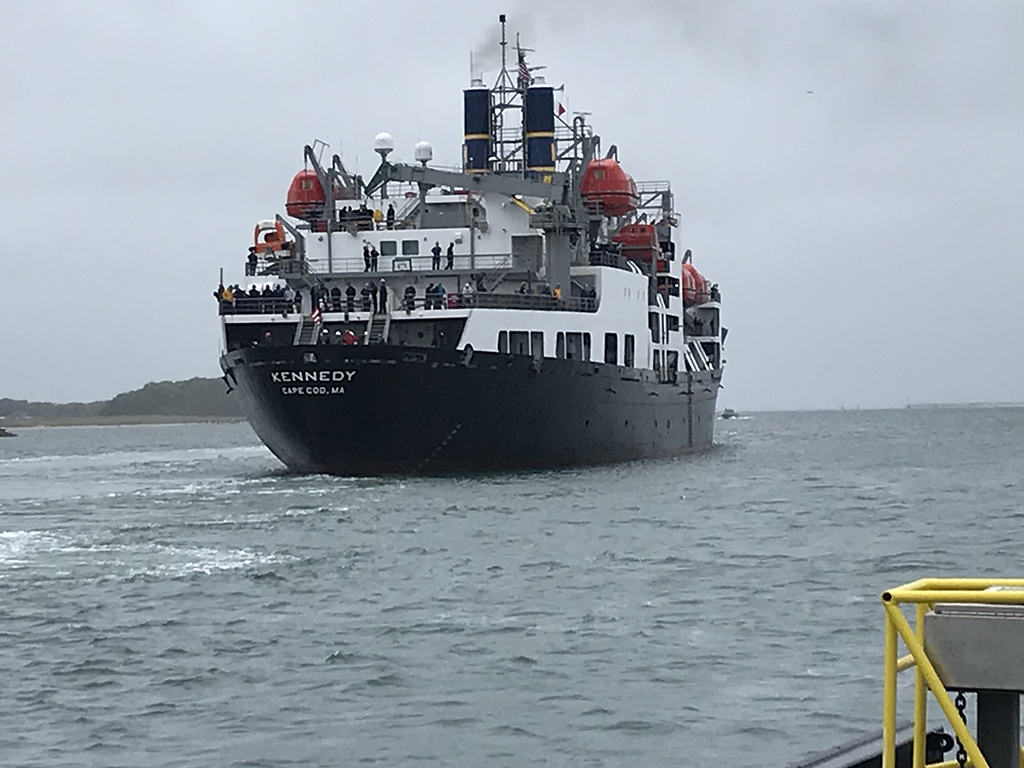 May 21, 2021: Joint Statement by the American Maritime Centers of Excellence in Recognition of National Maritime Day
Joint Statement by the American Maritime Centers of Excellence in Recognition of National Maritime Day

AMERICA'S MARITIME WORKFORCE: CONNECTING THE NATION AND THE WORLD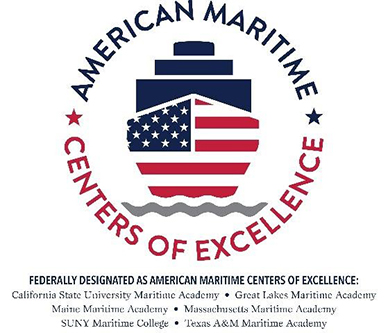 BUZZARDS BAY, MA – May 21, 2021 The federally designated American Maritime Centers of Excellence proudly recognizes National Maritime Day, May 22, 2021, a day in which celebrations are held throughout the country to honor the maritime industry – an anchor in the global transportation of goods and services.
This year's theme, America's Maritime Workforce: Connecting the Nation and the World, is fitting as the American Maritime Centers of Excellence collectively provide a quality education and train thousands of students to serve as world-class mariners, engineers, supply chain managers, logistic professionals, scientists, and public servants. Young men and women who graduate from any of the six maritime academies – California State University Maritime Academy, Maine Maritime Academy, Massachusetts Maritime Academy, Great Lakes Maritime Academy, SUNY Maritime College, and Texas A&M Maritime Academy – become dynamic leaders for the global marine transportation industry and contribute to the economic and national security of the U.S. They also serve as officers in the nation's intermodal transportation system, U.S. merchant marine, and U.S. Armed Forces.   
The American Maritime Centers of Excellence generate an American workforce like no other – impacting all parts of the globe – and is key to connecting the nation and the world. Each state maritime academy awaits the arrival of its own newly constructed national security multi-mission vessel (NSMV), a state-of-the-art training ship designed to support merchant mariner education and assist with humanitarian/disaster relief. The delivery of NSMVs to each of the state maritime academies will further enhance student training and better prepare the generations of merchant mariners to come.
For centuries, the maritime industry has played a critical role in sustaining the global economy through international trade. On this National Maritime Day, we salute American merchant mariners and all others in the American maritime industry whose efforts have ensured that our nation remains connected to the world.
About Massachusetts Maritime Academy (MMA): MMA is a fully accredited, four-year, co-educational state university offering Bachelor and Master of Science degrees that are highly regarded in the worldwide maritime industry and beyond. For more than 100 years, MMA has been preparing women and men for exciting and rewarding careers on land and sea. As the nation's finest co-ed maritime college, MMA challenges students to succeed by balancing a unique regimented lifestyle with a typical four-year college environment. Located on Cape Cod, at the mouth of the scenic Cape Cod Canal, Massachusetts Maritime Academy is the ideal college to pursue the love for the ocean, concern for the environment, interest in math and science, and thirst for adventure. Follow MMA on FB: @massmaritime; IG: @massmaritime; Twitter: @MMAadmissions; YouTube: Massachusetts Maritime Academy