What's New?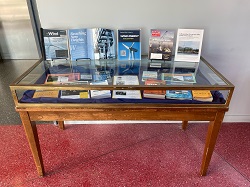 Check out the new additions to the Wind Energy display in the ABSIC lobby!
Service Desk HOURS
Library Help
Monday-Thursday  0730-2200
Friday 0730 to 1600
IT Help
Monday-Thursday  0700-2200
Friday 0700-1600
Saturday 0800-1400
Sunday 1400-2200
ABSIC Building Open
Monday-Sunday 0600 -2200
Get Library Research HELP
library@maritime.edu
508-830-5034
 
Get  IT HELP
508-830-5308
servicedesk@maritime.edu
File a Service Desk Ticket
Stop by Service Desk - 1st Floor
Library Services
ABS Information Commons
Search through everything we've got. This will include our print, e-book, database, journal, and video collections.
We're here to help! Professional library staff assist students with research for papers and assignments. You can also ask us about Google Apps (like Google Docs), presentation software, copyright, Open Education Resources (OER) and plagiarism prevention.
Online resources are restricted to current students and staff.
To give you an idea of what we offer, anyone may search through our entire collection or freely read digitized issues of MMA yearbooks.
Collections
The library maintains an outstanding collection of print and electronic books, journals, newspapers, media and online databases that support undergraduate and graduate research and teaching. Remote access to the digital collection is available 24/7/365 for students, faculty and staff.
Over 90% of the collection is accessible online with more than 532,000 volumes including access to thousands of full-text journal and newspaper subscriptions. The library is fully integrated with the statewide library network, affording access to millions of volumes by courier and interlibrary loan services. Materials required for license examinations are loaned to students for the semester. Professional staff are available to assist with research using scholarly resources and materials from the Academy Archives.
Course Support 
Faculty can request library support specific to their courses such as presenting in-class research tutorials, creating web-based course guides, and embedding research guides directly into Blackboard courses. Faculty can also request that books or other research materials be placed on reserve for their courses; these are available for short-term borrowing by students.
Library Service Desk
The MMA Service Desk is located at the library's circulation counter on the first floor of the American Bureau of Shipping (ABS) Information Commons. This is where library materials are checked out or returned and where research questions can be answered. 
Students, faculty, and staff are welcome to ask for library-related assistance in person, by telephone (508-830-5308), e-mail or the online ticketing system. The Service Desk's IT staff also offer assistance with any technology-related issues, including the creation of user accounts, providing access to Academy systems, and provisioning of computer equipment and peripherals.
MMA's yearbook, "The Muster", is a 140 page collection of memories and portraits for the academic year.  From covert to cover, the yearbook is designed and created by the SGA yearbook committee which consists of underclass cadets and led by an Editor, who is typically an upperclassmen.
The process to create the book starts in August with Pre-Orientation for the Cadre and the Orientation program for incoming Cadet Candidates and ends the following year in July/Aug after the commissioning and commencement ceremonies. Student photographers take pictures throughout the year at different activities and ceremonies held on campus.
LAPTOPS
A variety of tablets and laptops are available for MMA students, staff and faculty. Check-out periods are 48 hours. You will be asked to sign a form previous to checking out the equipment. Our equipment for check-out includes:
Lenovo laptops with Windows OS
Macbook Pro laptops with Mac OS
Macbook Air laptops

CALCULATORS
Need to borrow a TI calculator to study? We have a few different types to borrow for 48 hours. You will be asked to sign a form previous to checking out the equipment.
Scientific calculator
TI-83 Plus
TI-84 Plus
TI-84 Plus Silver Edition

PRESENTATION EQUIPMENT
We have a variety of equipment available for your presentation or teaching needs. Check-out periods are 48 hours unless noted otherwise below. You will be asked to sign a form previous to checking out the equipment. Our presentation equipment for check-out includes:
Portable projectors
Portable projector screen with stand
Presentation clickers
Document cameras (7 day loans to faculty & staff only)
Video recorder & Tripod
Adapters

Apple USB Type-C to Multiport/HDMI/USB/USBC
USB Type-C to Multiport/DVI/HDMI/VGA/USB
Mac Mini DisplayPort to VGA
Mac Mini DisplayPort to HDMI