Technology
Information Services and Support

As a university heavily invested in STEM (Science, Technology, Engineering and Math) education, our campus is full of technology to support cadets and faculty and enhance all academic functions.  From high-speed internet access to sophisticated simulation systems to cloud-based systems, technology is ever-present.  By being immersed in a technology-rich environment, cadets develop the 21st century digital skills they need to be successful in their studies and in their future careers. 
 
We have a Bring Your Own Device (BYOD) program, where you will need to bring your own laptop to campus. However, we have a large collection of desktops throughout our shared study spaces. We also have a number of equipment that is available to borrow for days at a time including:
Laptops + Tablets

Calculators

Presentation Clickers
Travel Projectors

Our learning spaces contain the latest multimedia technology.  Each space is custom designed to provide the optimal learning experience.  Whether it's 360 degrees of laser projection for simulation or live streaming a classroom for in-person and remote students, we've done it. 

The Service Desk is the central contact point for technology and library related services. Service is provided to students, staff, and faculty both on and off-campus via phone, email, ticket submissions, or in person.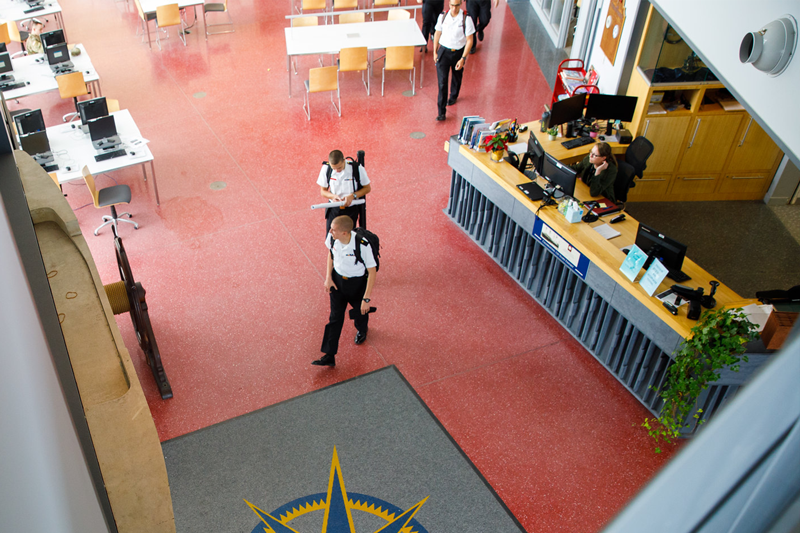 We have a number of online interfaces available to you as a student to help you learn and stay productive. These include:
Blackboard - Where faculty post assignments, collaborative tools, and other course-related materials.
G-suite - Your Academy Google email and online storage. This account has unlimited storage and is available to you even after you graduate.
Self Service - Where you can register for classes, pay bills, and check your grades.
Virtual Desktops - Where programs related to your major (for example: engineering drafting software) are available to you remotely.

Printing and Copying is available at no extra charge. Machines are available throughout the campus. Our technology support team can help you navigate all of your printing and copying needs for your assignments.