Experiential Learning
Learning Beyond the Classroom
Experiential Learning Abroad Programs - The International Maritime Business Unit has various programs for International Experiential Learning and Cultural Awareness. This specialized education, training and learning is an important part of the success of any person involved in the shipping industry because of its global nature. Students are given an opportunity to understand the cultural and human story behind the maritime industry. This experience enriches IMB cadets as they learn about pride in the positive and humane parts of the heritage of all cultures they engage with while giving back and learning.  
Past programs have sent cadets to five continents. Three of our many programs are listed below. 
For the past four weeks (May 24th – June 18th) a group of 16 cadets of the International Maritime Business major (IMB) have participated in the IMB Summer 2021 Experiential Learning led by Captain Pandey, and 2/C cadet Alex Barrachina Long. Unlike the past, this Experiential Learning was held in a fully remote format. Traditionally, cadets would travel abroad to physically visit companies like container terminals, shipyards, and other industry related companies.
Due to the Covid-19 global pandemic and all the travel restrictions, a new type of Experiential Learning has been created. Participating cadets have been contracted as consultants for companies opposed to going to visit them. The recent Experiential Learning consisted of daily sessions via virtual meetings, along with time offline to conduct research and work on all the deliverables. Many cadets were disappointed that they would not be able to travel abroad and instead have another online experience, but many were surprisingly satisfied by this experience. Cadet Kyle Fortune shared that he was "bummed out to do Experiential Learning online, but it was an excellent project where he felt important and connected via this format he was not that excited for".
This consulting engagement was between the Experiential Learning Cadets and Manzanillo International Terminal in Panama (MIT Panama). Due to the upcoming required International Maritime Organization (IMO) emission reductions, MIT Panama was desperate to figure out what their annual emissions where, and what they can do to reduce and eventually eliminate all their GHG Emissions. Cadet Dallas Marroco shared "I thought it was awesome to actually work on a real project and get to speak with the chairman and executives of an actually company. All my friends at other universities haven't been provided incredible opportunities like this". Since cadets received actual data from MIT Panama, all students were required to sign an NDA Agreement (non-disclosure agreement) a legal document requiring cadets to treat the data with confidentiality.
While the main goal of this consultancy project was to calculate the GHG Emissions and provide solutions to reduce emissions, it also acted as an incredible networking experience with not just workers in the industry but also industry executives and innovators. The first two weeks were focused on mostly education and some research on what GHG emissions were and how to calculate them. Virtual meetings included presentations by all the MIT Panama departments, presentations by many industry experts and lectures by Captain Pandey. The image above is Frank Kho who gave an incredible presentation on new tech & automation, what ports in Europe are doing regarding emission reduction, and lastly, he gave suggestions on some of the equipment we should consider researching for MIT Panama.
To be able to provide MIT Panama with the most amount of knowledge possible, the Experiential Learning cadets were split up into four groups with a specific research category, and each group was responsible for calculating MIT's total GHG emissions. The four research topics were: decarbonization, digitalization, environmental impacts (oceanside & landside), and a group focused on safety, training, and innovation. Many of the cadets really enjoyed researching their topics since it was something that is extremely relevant to the marine industry and will likely be something they will encounter during their professional careers.
In order to find the most up to date information cadets conducted independent research but also used published studies and documents like the POLA (Port of Los Angeles) and POLB (Port of Long Beach) reports which focused on emission reduction. Both reports were created in the past few years and offered some of the best suggestions. It was crucial to research published documents which have been created recently, the POLA document was published in April 2019. The Port of Los Angeles is currently one of the busiest and most technologically ports in the United States. Due to its large amount of digitalization, it acted as a great role model for MIT Panama to follow.
Aside from the emission reduction recommendations, the POLA report also had a GHG emissions calculation formula which helped cadets calculate MIT's total GHG emissions based on the data that MIT provided.
During the last week of the Summer 2021 Experiential Learning cadets were required to create both a report and a presentation. With the assistance of the Rate (2/C Alex Barrachina Long) cadets wrote close to 40-page report which focused on all aspects of the consultancy. The major topics included the emission calculation along with each of the four group's research topics. Along with the report, cadets were tasked with presenting their findings to the executives at MIT Panama, and many of the deans and executives of the Massachusetts Maritime Academy.
The presentation was about an hour long and included introductions of executives, the presentation, and about 25 minutes of Q & A which was an excellent opportunity to hear the ideas and feedback from all the executive staff at both MIT Panama and MMA.
Overall, the Summer 2021 Experiential Learning was an excellent experience and opportunity for students to both learn about an ongoing current problem in the industry along with networking and learning consulting skills. Cadet 2/C Colby Davis described the Experiential Learning as " a lot of work hard but together we didn't just create an excellent project, but we also learned a lot and gained many more professional connections in the industry I hope to work in."
Panama
This sea term was busier than ever with a Panama Transit (once every four years), field trip to the Manzanillo International Terminal (MIT) and the reception on board the TS 'Kennedy' during the Port call (Bilbao, Panama) between Jan 24-Jan 27, 2020.
The Panama Transit was a rare opportunity that the IMB students could witness as the TS 'Kennedy' negotiated the famous Panama Canal locks on its transit from the Atlantic to the Pacific side of the Americas. The southerly transit  gave the students an opportunity to observe  ship operations that included anchoring, mooring in the locks and Port docking  in a spate of 24 hours.The easterly transit is due on Feb 4 as the ship crosses back into the Atlantic Caribbean from the Pacific.
The field trip to MIT, a state of-the-art container terminal was arranged in close cooperation with the top management at MIT that included a welcome lunch, presentation by MIT executives and a guided tour of the facility. Students were able to apply the theoretical concepts learned in class to experience how a container terminal works in practice. A good lesson in container terminal logistics and box management was the take away from the field trip.
The reception onboard provided a great networking opportunity as the MIT personnel, UMIP executives and Panama Canal Authority (PCA) executives joined a large number of MMA alumni and Pilots to celebrate the ship transit.
 
Willemstad, Curacao
The TS 'Kennedy' steamed into the picturesque town of Willemstad on Feb.7 for a three day visit. Willemstad, known for its pastel colored Dutch architecture also has the Queen Emma bridge, a floating pontoon type that connects the neighborhood across Sint Anna Bay. The IMB students visited the Damen Shiprepair Yard in Curacao on Saturday,Feb.8, one of the largest ship repair and drydocking facilities in the Caribbean.
Damen Shiprepair Curaçao is strategically located in the Caribbean, en route to the Panama Canal, and outside the Hurricane Belt. The yard offers excellent working conditions within a natural bay. The Willemstad ship repair facility is one of sixteen that the Damen group operates globally and consists of two graving and two floating docks. The field trip included a presentation on the Damen Group activities in the Caribbean and their global footprint in ship repair, shipbuilding and the conversion market. The students witnessed an LPG tanker in drydock, the floating docks and had a tour of the workshops. We would like to express our thanks to Managing Dir.Mr.Lodewijk and Ms Jurine Thomas for coordinating this visit locally. Mr. Daan Dijxhoorn (Area Manager, N.America) co-ordinated the visit from Damen HQ in the Netherlands.
We thank Damen Shipyards group for having made this trip a success!
Tampa
On the last leg of seaterm'20, the students had the opportunity to visit a Carnival cruise ship , the 'Carnival Legend' docked in Tampa, Florida. Carnival is one of the largest cruise line in the world based on annual revenue and the number of ships in the fleet. Waste management ,pollution prevention and ship safety is the central focus of sustainable ship operations and cleaner oceans at Carnival which was on display as environmental officer Richard Bryan showed us around the majestic ship. Students witnessed the logistics of moving thousands of passengers, stores and provisions under elaborate security checks. All this had to be achieved within a few hours since the ship had a scheduled departure in the afternoon. Ships in general and cruise ships in particular make their money at sea and have to keep their itineraries whether full or not. The visit was marked by a sumptuous lunch aboard a luxury cruise liner. We wish to thank Richard Bryan and the officers and crew of 'Carnival Legend' who made this visit a success.
Based on the generally accepted premise that learning occurs through application, Experiential Learning is a critical component of education in Massachusetts Maritime Academy (MMA). The International Maritime Business (IMB) major has incorporated this into the curriculum, ensuring proper integration between the global experience and the educational value that can be derived from it. All sophomore students are engaged in a three to five week faculty led program which is divided into three segments.
This Singapore trip included a pre-departure awareness and understanding segment, a three week travel program, and a post-travel assessment and reflection activity involving a presentation and final report submission. In the learn-do-learn tradition of MMA, the centerpiece of this course is the three week field study absorbs the practical and cultural implications of international maritime business.The main corporate partners in Singapore were ABS (American Bureau of Shipping) and APL (American President Lines).
Students were given preparatory assignments to familiarize themselves with the port infrastructure and the tremendous efficiency of Singapore. They were exposed to various maritime businesses in Singapore. They received the business overviews from various companies allowing them to grasp the functions of world leaders in maritime business in a global hub. Several field and institutional trips were arranged that included Keppel, SembCorp Marine, Port of Singapore Authority, Singapore Maritime Foundation, PSA marine, Scorpio Asia, Integra Singapore to name a few. The cadets followed a well defined schedule on location. They were expected to visit various maritime business interests, participate in industry talks and seminars as worthy ambassadors of MMA and the IMB program.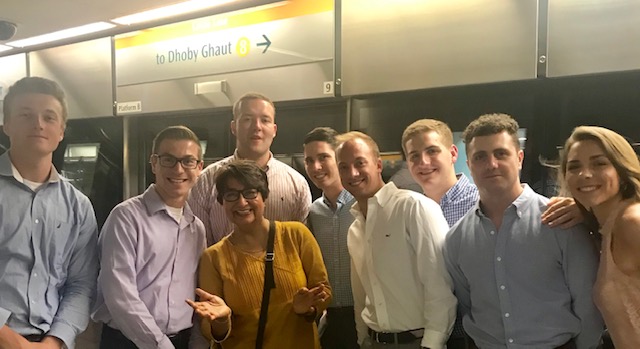 Borre in Norway was the destination for the International Maritime Business Experiential Learning Program in the summer of 2018. Our students spent three weeks at the University of Southeastern Norway, which is about an hour and thirty minutes away from Oslo, Norway's capital. This particular program was designed for fifteen students to complete a maritime course curriculum involving green shipping and sustainability as worthy ambassadors to the United States.
During the summer school, the students studied and collaborated with other international students pursuing their masters in maritime management. These individuals were from countries all over the world to include; Greece, Mongolia, Iraq, Turkey, and Bangladesh. Our students were challenged intellectually and culturally to work alongside the international students both in and outside of the classroom. Instructors from John Moore University in Liverpool, UK provided a lecture series focusing on the balance of environmental challenges with economic demand, in addition to autonomous shipping and maritime clusters.
Their final project was to work in mixed groups to create a SWOT (Strengths, Weaknesses, Opportunities, and Threats) Analysis of the material. Students had the opportunity to visit many leading organizations such as Wilhelmsen Headquarters and the Norwegian Shipowners Association. They expanded their knowledge of port and terminal operations by visiting local ports such as the Port of Drammen and the Port of Horten. Cultural field trips included visits to maritime museums and a dinner cruise to Sweden! In their downtime, MMA students spent their time socializing over a barbecue with the international students and exploring the country. Overall, it was an incredible opportunity that each student took full advantage of.