Emergency Medical Services
Collegiate EMS Service

Massachusetts Maritime Academy EMS is one of two collegiate EMS services in Massachusetts with transport capability. Our staff includes 16 EMT's and together we respond to hundreds of emergency calls on campus every year.  During the day our EMT's are full time students getting their undergraduate degree. At night, our students balance the academic rigors of the Academy and answer emergency medical calls. Thanks to the continuing support from Mass Maritime Board of Trustee member Brian Connor, we now respond in a type III ambulance. We continue to utilize the SUV and golf cart where appropriate and use them as support vehicles. When we are in service we have four EMT's on: a Supervisor, a Senior EMT, and a Junior EMT, and a Third Rider. This ensures a fast response time and that the highest quality medical care is provided to our patients. We use the smaller size of the campus to our advantage. Once we are dispatched through Public Safety or the Cadet Information Center (CIC), we often arrive on scene within one minute.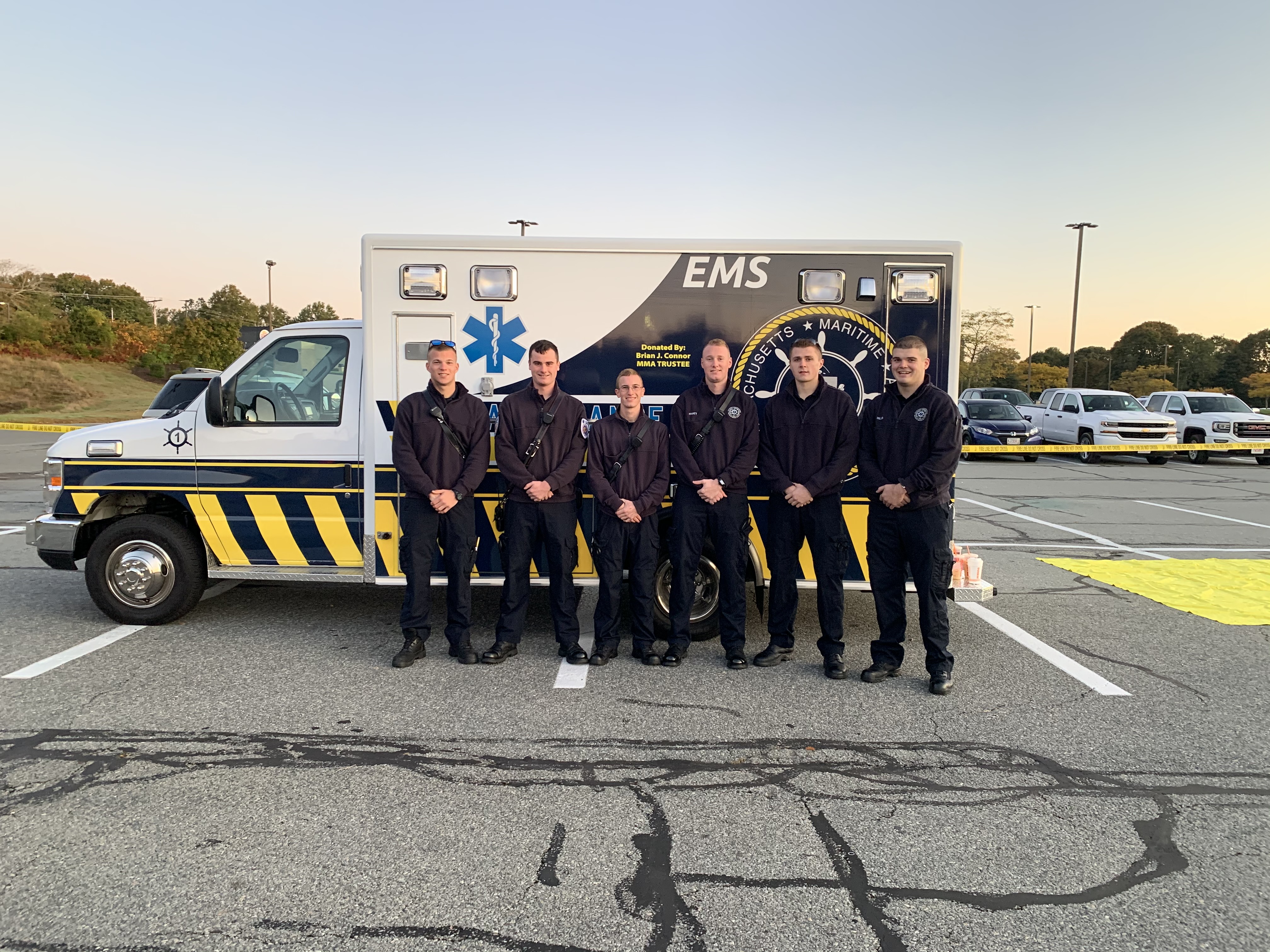 Join Us
Do you want to join our team and serve your campus? Becoming an EMT-B is a very rewarding experience which can also open many doors in your future career path!
MMA EMS holds a semesterly EMT-B class when student interest is high.  Email us at ems@maritime.edu for more information.
We also coordinate and hold a semesterly EMT class on campus based on student interest.  Every year we have freshman through senior cadets enroll in the course looking to become certified as an EMT-B.  Many times once cadets pass their national and state exams, they join the MMA EMS family and service the campus day and night.
We work in cooperation with many different local departments and agencies including but not limited to the Bourne Fire Department, Bourne Police Department, Wareham EMS, MMA Public Safety, and MMA Health Services.
Mission
The mission of Massachusetts Maritime Academy Emergency Medical Services is to provide emergency medical care to cadets, faculty, and staff to the highest possible standard. MMA EMS will operate in cooperation with and in support of MMA Health Services, MMA Public Safety, and outside organizations to provide for the safety and welfare of the Academy population. Additionally, MMA EMS will offer opportunity for professional development and will engage in public outreach and prevention in the interest of limiting illness and injury.
Contacting Maritime EMS for Assistance:
Sunday-Thursday 1600-0800
Public Safety: 508-830-6408 or 911
CIC:  508-830-5043