The Pride of the Regiment
Band, Honor Guard & Drill Team - 7th Company

The Academy has an opportunity for community service through 7th Company, whether it be in Honor Guard, on the Drill Team, or participating in the Band. You can find a home in the 7th Company - "The Pride of the Regiment".
Honor Guard
Since the Academy's earliest years, the Massachusetts Maritime Academy's Regimental Honor Guard has led the way as representatives of all  Maritime Academies and its graduates serving around the world. The men and women of the Honor Guard represent every member of the regiment of cadets, including past, present, and future. Now, as the Academy's oldest organization, even predating the Academy's introduction of athletics, the Honor Guard continues to serve the Presidents of the Academy. It is the face of the Academy regionally and nationwide. Honor Guardsmen are volunteers and are the best of the regiment. The Honor Guard prides itself as the standard for discipline and military professionalism.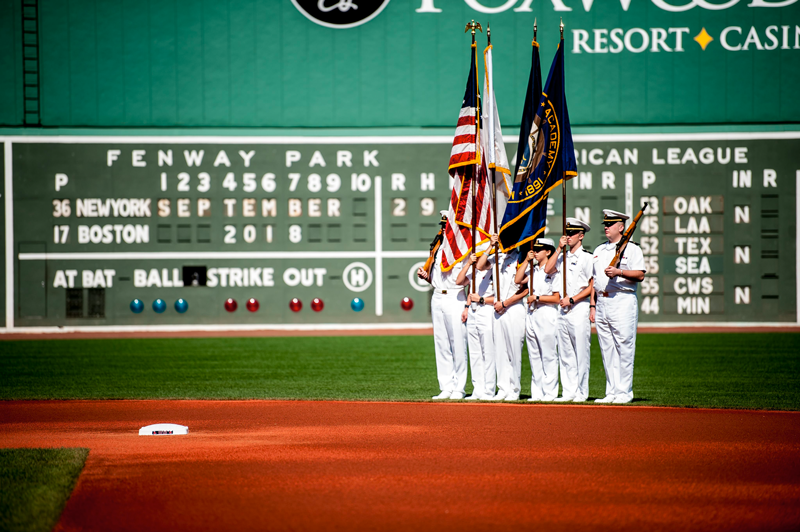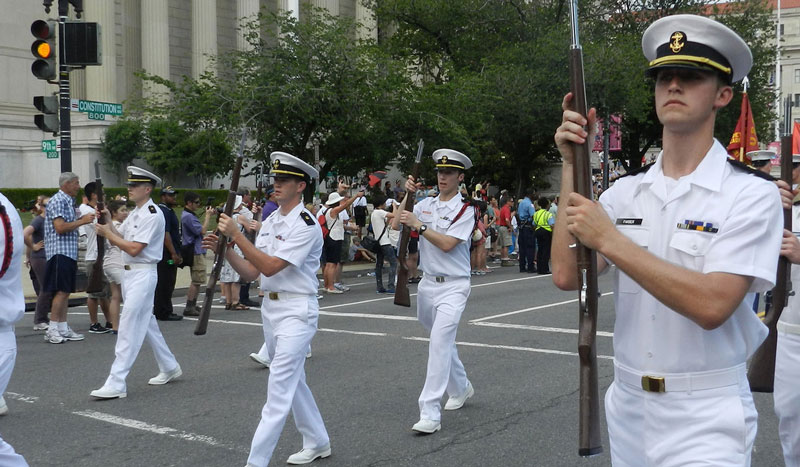 The Drill Team
The Massachusetts Maritime Academy's Drill Team is a precision drill platoon. Their primary mission is showcasing the discipline of Massachusetts Maritime Academy both regionally and nationally through solid routines displaying "discipline, knowledge and leadership" with the general issued M1 Garand rifles. The Drill Team competes annually at Drill & Military Excellence Competitions regionally, consistently earning top awards in color guard and exhibition drill. The Drill Team has its regulation and, "trick", exhibition drill components and you will often see the drill exhibition unit, "Alpha Platoon" on parade with the Regimental Field Band and Honor Guard.
Band + Music Ensembles
The Academy offers a variety of musical opportunities. From larger instrumental and vocal opportunities to small chamber groups. The Academy has a concert band, jazz ensemble, chorus, and Acappella groups to name a few. We have had in the past specialty/affinity groups like string bands and rock bands.   

REGIMENTAL CONCERT BAND & CHORUS
The Massachusetts Maritime Academy Regimental Concert Band & Chorus is the Academy's premier musical organization. Led by Lieutenant Commander Wayne Magee; the organization includes sixty musicians, four cadet staff officers, and a drum major. The Academy's Concert Band & Chorus performs music at the Academy and other special events. 
"FIRST WATCH": JAZZ & CONTEMPORARY MUSIC ENSEMBLE
The Academy's first Band! "First Watch" The Academy's premier jazz and contemporary ensemble, has been performing the finest of big band music for The Academy and regional audiences for over 60 years. Formed in 1942, this 15-member group continues the jazz big band, dance band, traditions coupled with the contemporary sounds of today with some of the finest cadet musicians in the maritime world.
CEREMONIAL FIELD & MARCHING BAND
The Academy's most active band known to hold down a groove and heart-pumping tune from parade field at daily formations, to special Academy ceremonies or on the streets of Boston, New York, and Washington D.C. The Ceremonial Field & Marching Band has its own identity fostering creativity, discipline, and leadership as the sound of the "Pride of the Regiment".