Open House
Welcome to the Academy!
 
Open Houses provide a great opportunity to visit campus, speak with faculty and staff, tour our facilities, and most importantly, meet our cadets! We hope you will join us on the following Spring 2023 dates: April 29 and May 6. 
May 6 Tour 'n More Registration
May 6, 2023 Saturday Tour N' More
0815-0900
Check In: Flanagan Lecture Hall
Continental Breakfast
0900-0930
Welcoming Remarks/Admissions Presentation
0930-1045
Campus Tour
1045-1100

Wrap up/Questions

1100-1400
Bookstore is open/ Kurz Hall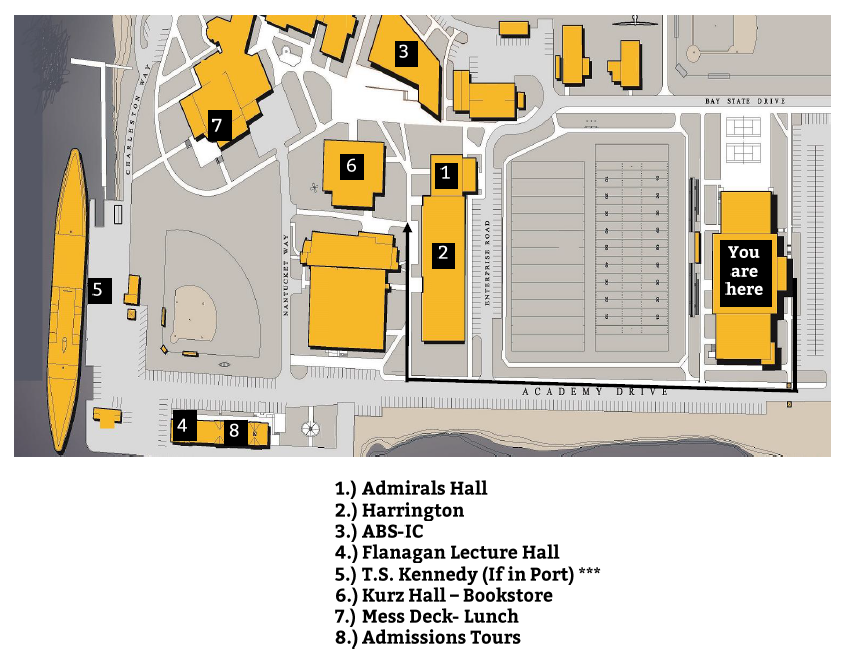 ---
Spring 2023 Campus COVID & Visitor Policy
POLICY NUMBER: 04102023-8.0
EFFECTIVE DATE: April 10, 2023
RESPONSIBLE OFFICER: Vice President External Affairs
OVERVIEW
As CDC, Commonwealth of Massachusetts, and County COVID-19 health and safety protocols have adjusted, the following guidelines for campus and visitors are effective 11 May 2023.
This policy has been developed to help ensure the health and safety of the campus community and visitors. It is important to note that this policy can be modified as the COVID-19 situation and corresponding federal, state and local guidance continues to evolve. Revision notations are located at the end of this document with the date and specific description.
CAMPUS WIDE
Effective May 11, 2023, vaccination mandates will be lifted per the Federal Government and Commonwealth of Massachusetts. 
With this, vaccination and boosting will be encouraged, however no longer required for visitors, employees, or students (including the incoming class).
Masking will be optional on campus.

To register for a campus tour you will need to create an account and search under Events. If you already have an application portal, please log in using your existing credentials.