You've probably seen extension cords in use at home and at school.  Aboard the TS Kennedy, extension cords are often needed to complete a task that requires electricity.  In their Electrical Training Manual, 1/C cadets are reminded how to safely use an extension cord while working on the ship.
Before any extension cord is used, they must be carefully inspected by a cadet or crewmember.  If any tears, chafing, exposed insulated conductors, or damaged cables and receptacles are spotted, the extension cord should not be used. 
Cadets are reminded that extension cords should never be placed where they could be damaged by falling objects, stepped on, or come in contact with a sharp projection from the ship's hull.  Cords that cross a walkway should either be elevated or taped down so that they do not cause a tripping hazard. 
---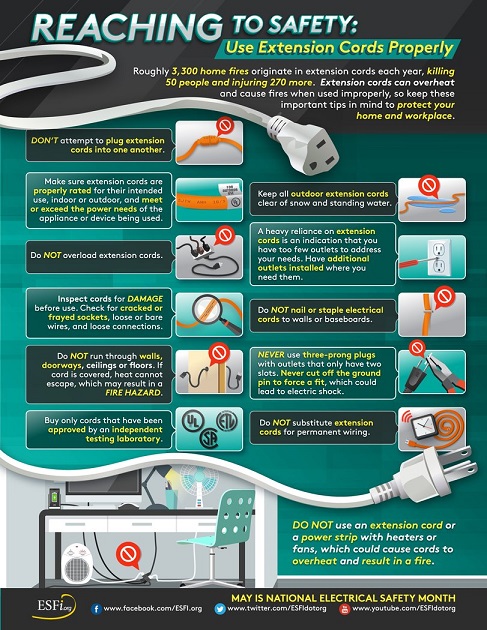 ---
It is important that the electric tool or device be plugged into the extension cord before the extension cord is plugged into the electrical outlet.  The same is true when the job is completed.  The extension cord should be unplugged from the outlet before the tool or device is unplugged from the extension cord. 
Twenty-five feet is the maximum length for an approved extension cord and no more than two cords should be used at one time.
Cadets are told to be sure that extension cords do not come in contact with oil, grease, hot surfaces, or chemicals.  If this should occur, the cords must be carefully cleaned and closely inspected. 
The Massachusetts Maritime Academy's 2023 Sea Term Cruise Manuel informs cadets that, "Only UL Approved extension cords are permitted." UL Approved means that the extension cord was approved by Underwriters Laboratories, the United States government's testing house for electrical safety. 
The cadets and crew aboard the TS Kennedy want every Follow The Voyage – Share The Experience participant to stay safe.  Watch for damaged extension cords in use at school and home. Share the safety tips that you've learned.  If you spot a safety violation, be sure to immediately inform your teacher, a parent, or an adult.