Last week, a small group of cadets aboard the TS Kennedy took a trip back and time.  They learned the lost art of stitching canvas by hand.  The finished product was a sturdy canopy that now stands outside of the Navigation Lab on the ship's Cabin Deck.  The canopy is designated as a place for crew members to socialize while remaining protected from the harsh rays of the sun.
---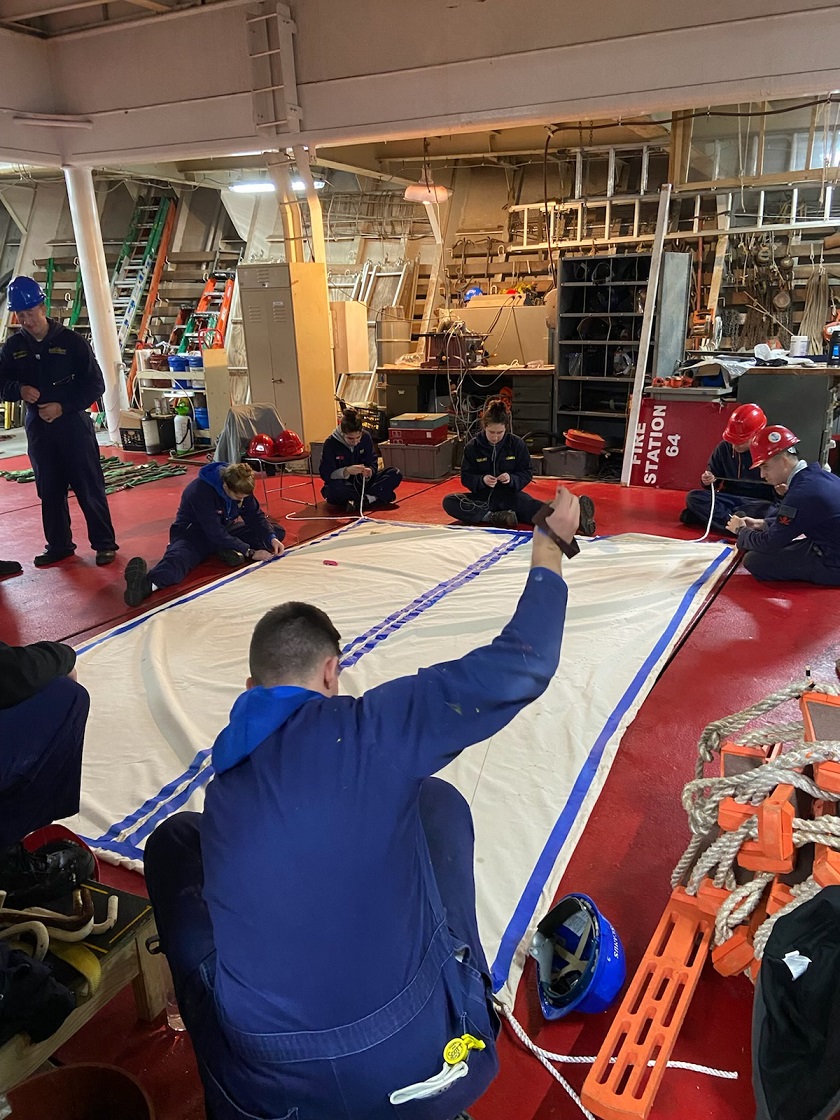 ---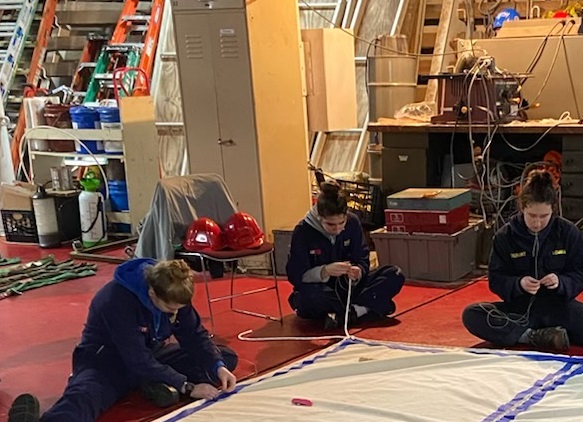 ---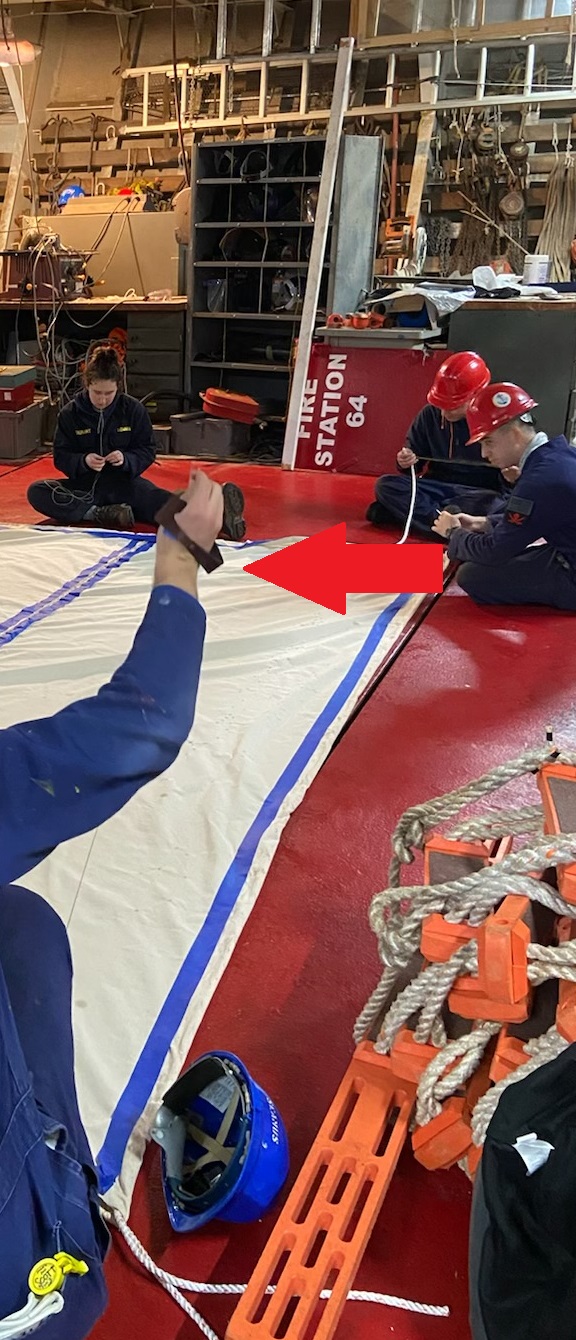 ---
The red arrow above is pointing to the sailor's palm on the cadet's hand.  The photo below shows a sailor's palm that is on display at the Martha's Vineyard Museum in Vineyard Haven, Massachusetts.  According to the museum, "The sailor's palm was used in the repair and mending of sails.  Essentially, it protected the hand or palm of the sailor as he pushed an iron needle through the many layers of thick canvas to mend the sails.  It is made of leather and twine, and has a raised circular piece for assisting with pushing the needle through the sail."
---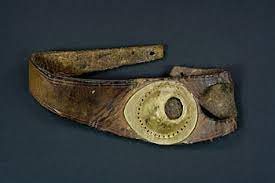 ---
If they were born two-hundred years earlier, the male cadets in the group might have found themselves working as apprentices aboard three-masted schooners.   Under the sailmaker's direction, the young men would work with strips of canvas that were thirty-nine yards long and two feet wide.  Stitching the panels together, edge to edge, the apprentices would create new sails for the schooner.  It was an extremely difficult job.  The young men would also be tasked with repairing tears in the existing sails.
---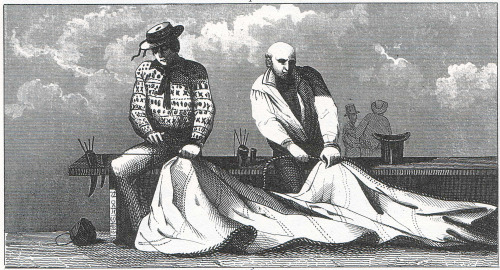 ---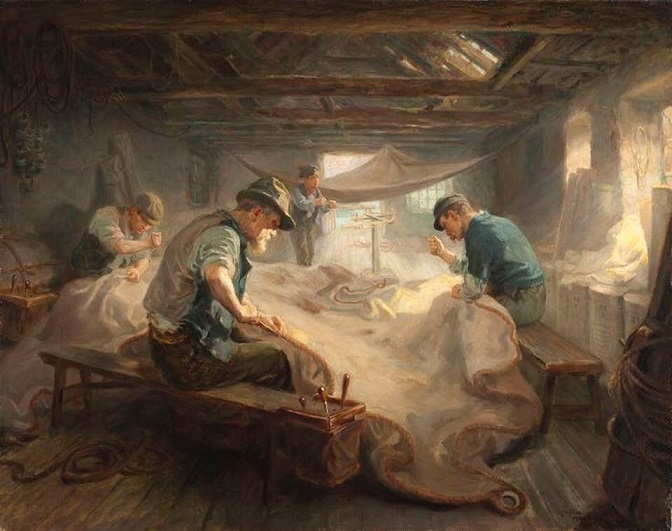 ---
Unfortunately, the female cadets in the group would not have had this opportunity two hundred years ago.   It simply wasn't allowed.  Sometimes a courageous woman would disguise herself as a man and use a fictitious name in order to gain employment on a sailing vessel.  If her secret was discovered, the woman would be sent home, ending her seagoing career. The only women working on merchant vessels in the 1800s were those married to captains or senior crew members.  The captain's daughter often was able to assist with the running of the vessel.
Fortunately, a lot has changed over the last 200 years.  Here aboard the TS Kennedy, male and female cadets worked side by side on canopy project. Every cadet aboard Massachusetts Maritime Academy's training shape can anticipate a rewarding career at sea, regardless of gender.
---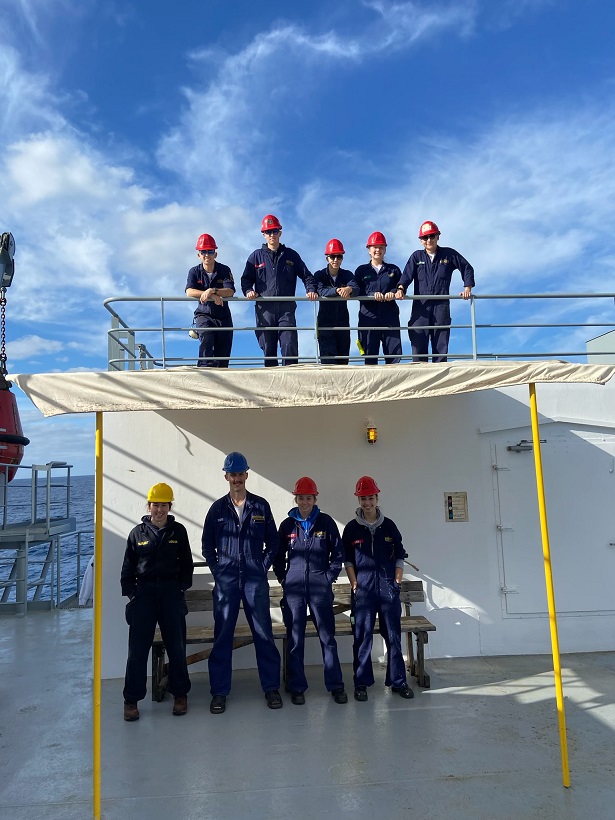 ---