Ahoy, Book-Loving Buccaneers -
Thanks for your emails telling me how much you enjoyed out first book, Sammy The Seasick Pirate by Janelle Springer-Willms.  I am happy to report that seasickness seems to have vanished aboard the TS Kennedy.  The warm weather and calm seas have everyone smiling.
Today's book is Shiver Me Letters: A Pirate ABC by June Sobel.  The colorful illustrations are by Henry Cole.  
All pirates love treasure, but these pirates aren't just hunting for chests of gold coins.  They are searching for the letters from A to Z. 

Spotting the letters along with the Captain and the crew is pretty exciting.
I have been reading the book on the Bridge in the early morning, staying out of the way of the cadets.  I also make sure that I finish before Captain Campbell comes up.  Even though he loves to read, he would not want me to distract working cadets and crew members.  For example, he definitely wouldn't approve of this reading spot. 
I promise that I was only there for a second.  Really!
---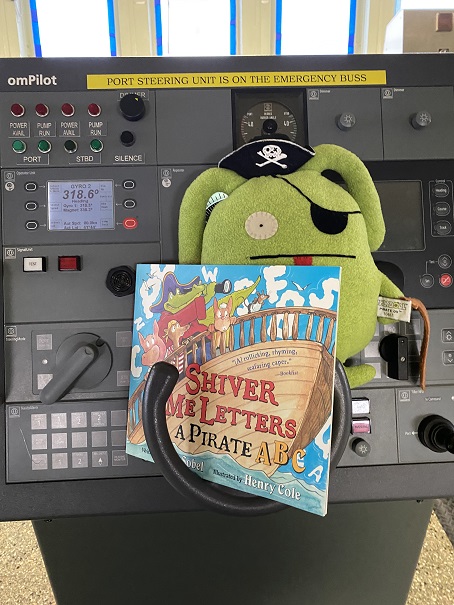 ---
Reading below the sound-powered phone was cozy until a cadet accidentally kicked me.  
---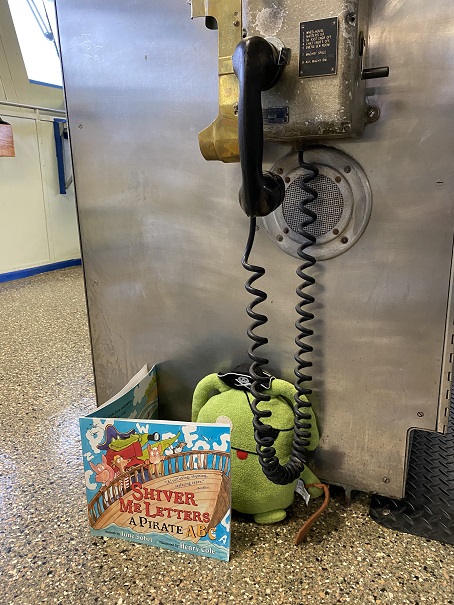 ---
This shelf in the charting area of the Bridge was out of the way of the activity.  Even Captain Campbell might approve of this reading spot.  Maybe!
---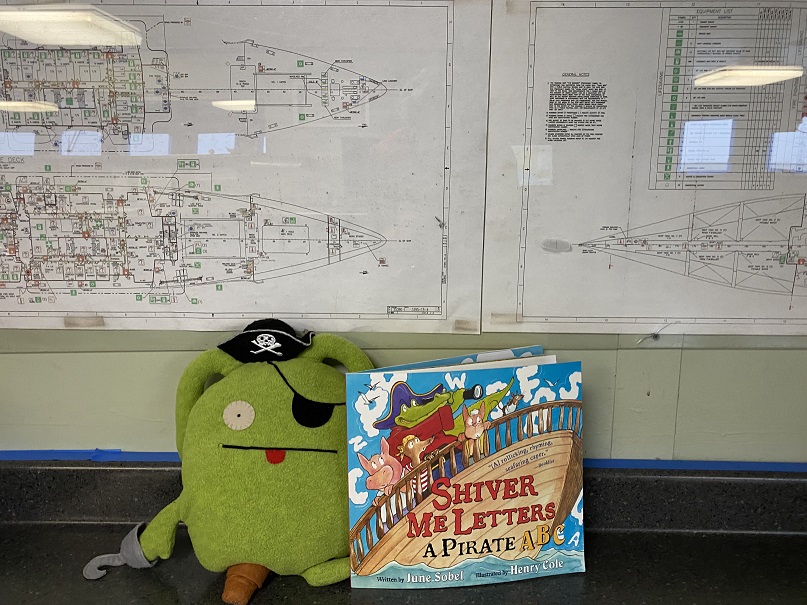 ---
Fearing that my time reading on the Bridge was up, I found a quiet spot on the Quarterdeck.  I snuggled up on the decorative magnetic compass.  That's when I ran into 1/C Kristopher Young from Newport Beah, California.  He is majoring in Marine Transportation and serving as one of four Safety Rates during Sea Term 2023.  Cadet Young was very excited that there are five schools from California participating in the Follow The Voyage-Share The Experience Program.  I told him that I was pretty sure that the second graders at Hancock Elementary School in San Diego and the second graders (and maybe even the third graders) at Miller Elementary School would be participating in my Buccaneer Book Club.  
---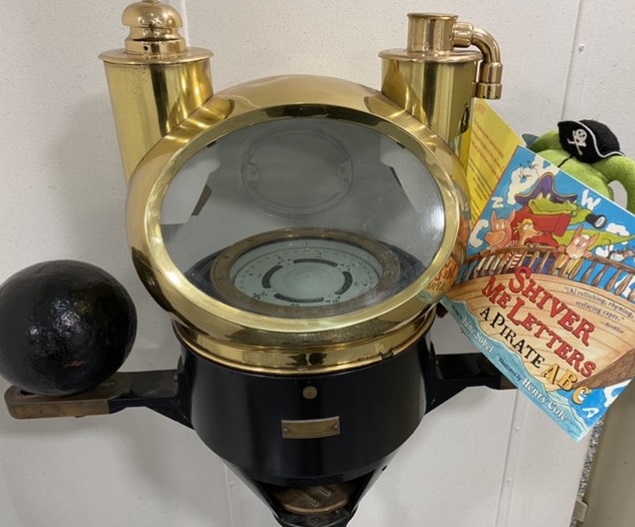 ---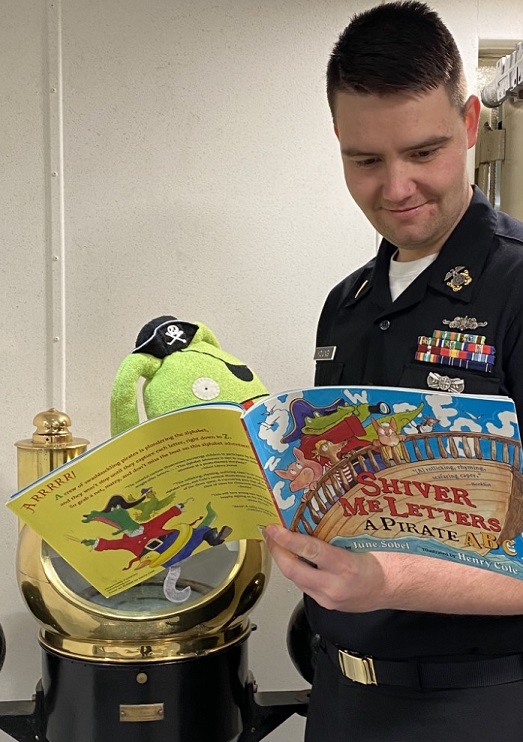 ---
You must be excited to hear, Shiver Me Letters: A Pirate ABC!  Settle back and enjoy the story.
---
---
Wasn't that a great story?  I bet that you are wishing that you could go on a letter treasure hunt just like the pirates.  
Well, I have a surprise for you.  You can!  I took the letters A - Z out on deck with me yesterday.
Here are all twenty-six lower case arranged on the TS Kennedy's additional anchor.  
---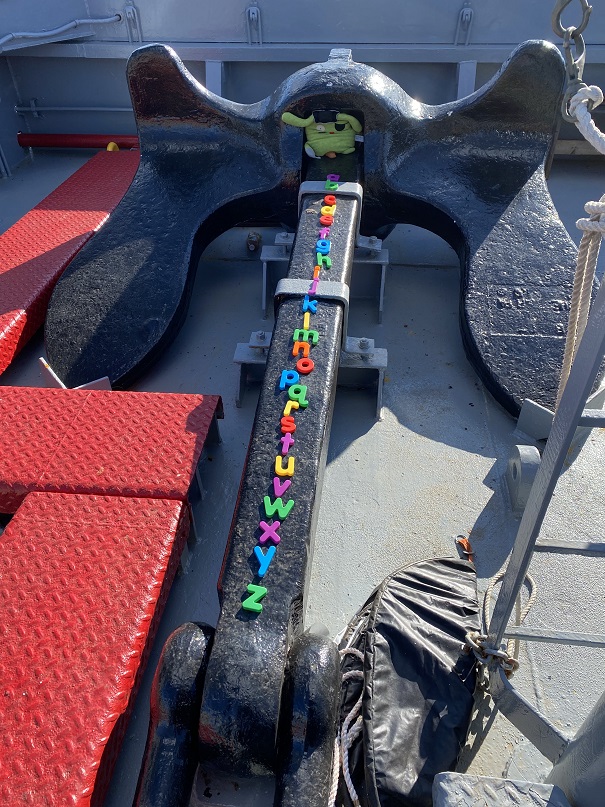 ---
Okay, this is where the hunting part comes in.  I took photos around the forward deck with twenty-five of the letters. 
That's right - just twenty-five.  I kept one letter hidden behind my back.  
Do you think that you will be able to figure out the missing letter?
Make a list of all twenty-six lower case letters.  Each time that you see a letter in my photos, cross it off your list.  When you get to the last photo, you should be able to figure out the letter that I have hidden behind my back.  
Are you ready?  This will be challenging!
---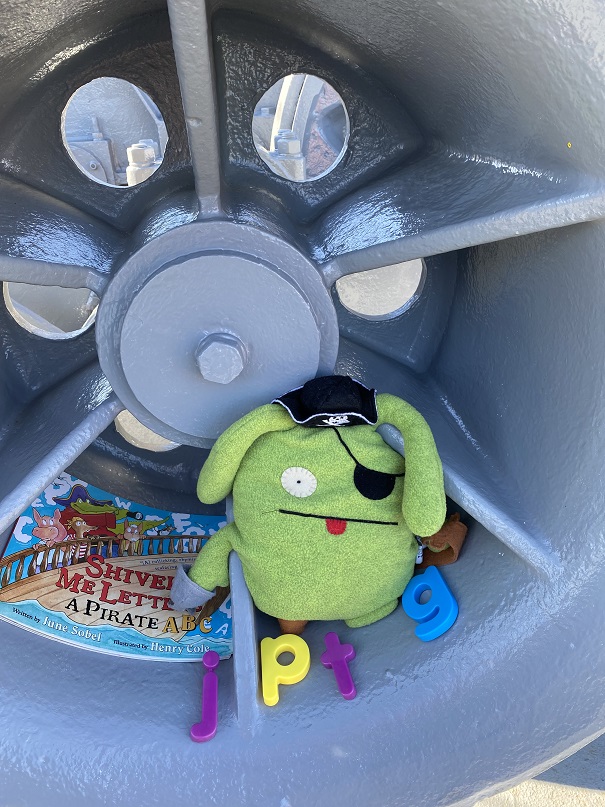 ---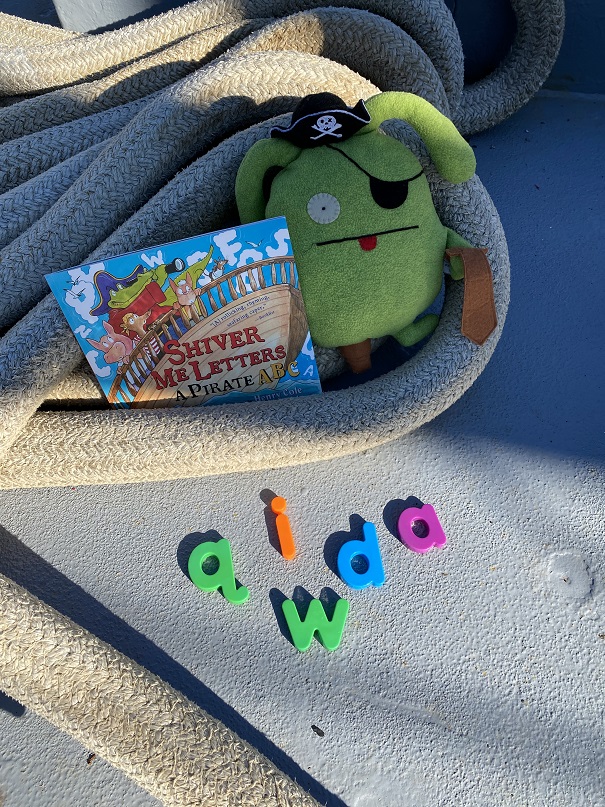 ---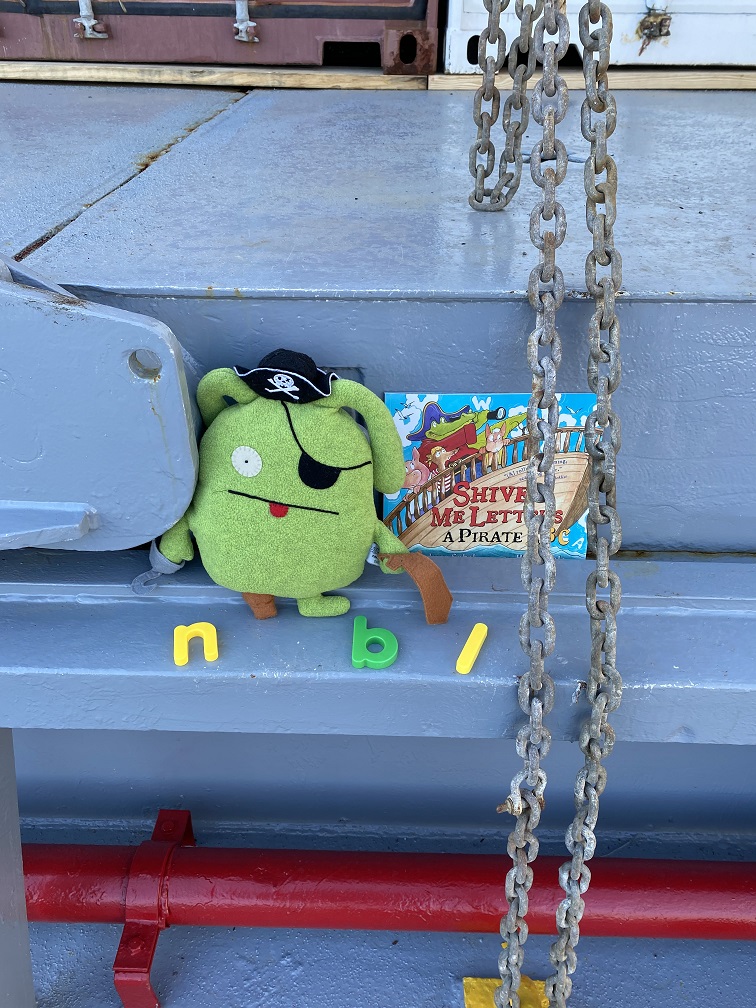 ---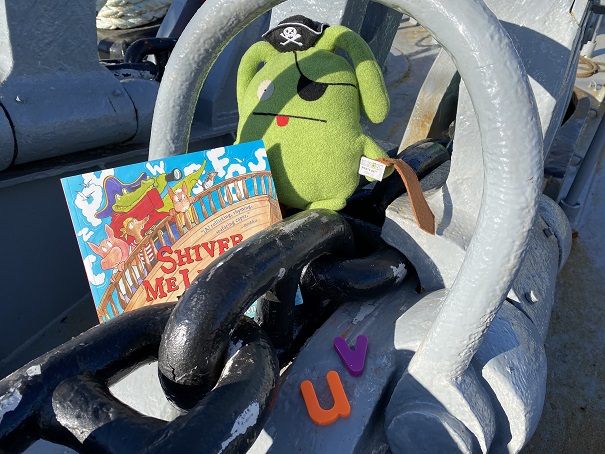 ---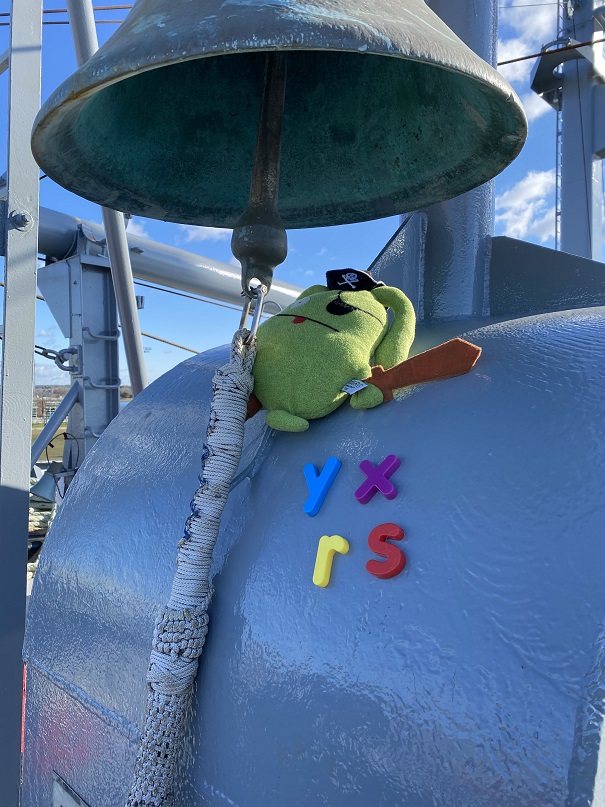 ---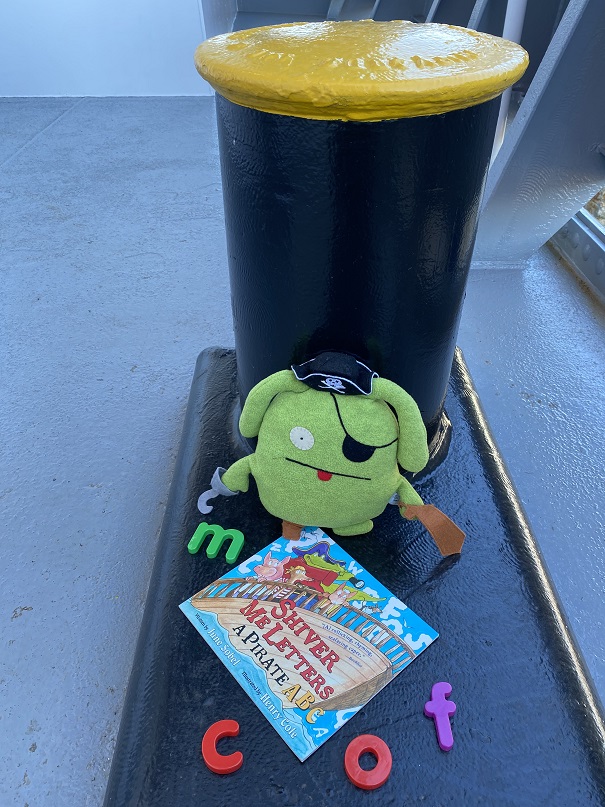 ---
Are you ready for the last three letters?  
---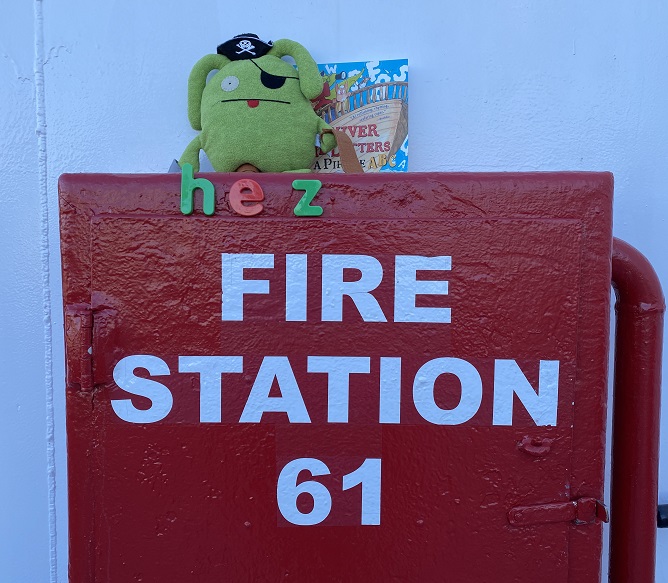 ---
So...do you know which letter I have had hidden behind my back in all of these photos? 
Can you guess why I chose to hide this letter?
---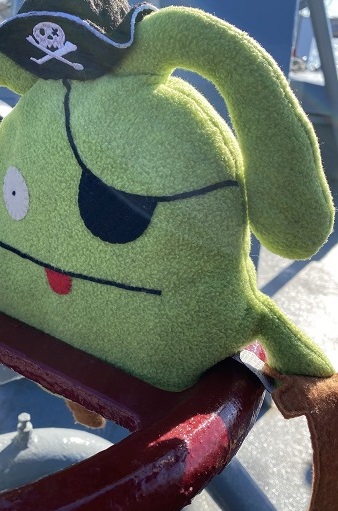 ---
Here it is...
---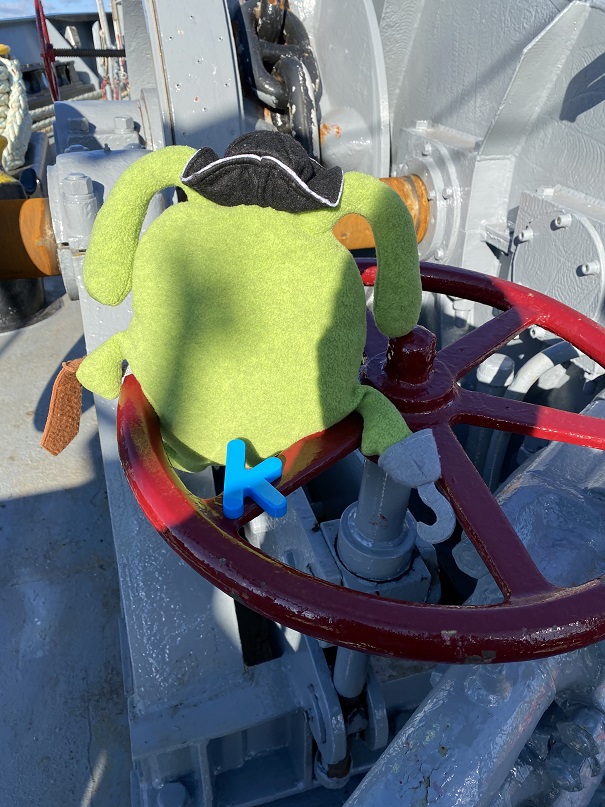 ---
I decided to hide the k for Kennedy!  
---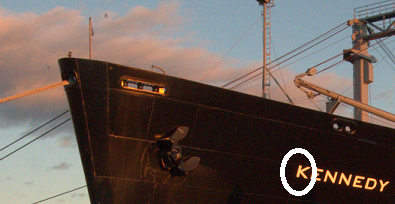 ---
Get ready for my third Book Club on Tuesday, January 17th.  Since Monday is a holiday, I decided to hold our Book Club the following day.
We will read Ten Little Pirates by Mike Brownlow & Simon Rickerty.
Thanks for reading with me!  Remember, if you complete any activities related to Shiver Me Letters: A Pirate ABC, please ask your teacher to share some photos with me.  She can email the photos to ftvsubmissions@maritime.edu.
Your favorite book-loving pirate,
Little Buc
---