Good morning, Followers -

This weekend, cadets practiced an important skill for anyone pursuing a career at sea; flexibility.  
When we docked in Bridgetown, Barbados on Friday morning, everyone aboard the TS Kennedy anticipated that the ship would remain at the dock until Monday morning.  Because another ship needed our berth, it was necessary for us to leave the dock on Friday evening and not return for twenty-four hours.  When using a commercial berth, a working ship takes precedence. We knew before coming into port that we would minimally need to shift berths.    

As you can imagine, the cadets were very disappointed.  There were fishing trips, snorkeling tours, and beach adventures that had to be postponed.  Although I understood their frustration, I reminded them that anyone working on ships must learn to be flexible. 

From Friday evening to Saturday evening the ship went offshore and traveled North/South, trying to remain within one hour of the pilot station.  Fortunately for us, the weather was ideal and cadets on liberty could relax on deck.  
Even though ships are required to file detailed voyage plans before leaving the dock, mariners must anticipate that there will be changes along the way.  Weather, mechanical problems, and scheduling errors will test our flexibility.  Crew members recalled times when the ships that they were working on had their port time shortened or canceled entirely.  

Mrs. Franks emailed me a several long lists of questions from students participating in the Follow The Voyage-Share The Experience Program.   I tackled some of them below. 
When you walk around the TS Kennedy, where do you go?
Since the safe operation of the TS Kennedy is my responsibility, you may find me anywhere throughout the ship.  Some of my time each day is spent in my office where I conduct meetings and communicate with our port agents.  I spend a great deal of time on the Bridge overseeing the navigation of the ship. I also attend meetings on the Main Deck in the Conference Room.  My meals are eaten in the Crew Mess.  During Captain's Inspections each week, I walk through the cadet holds. Whenever possible, I spend time out on deck, not only to get some fresh air, but also check that the ship is in good working order.   
What happens if the boat crashes?
As Master of the TS Kennedy, I do everything within my power to make sure that this will never happen.  The ship is equipped with state-of-the-art navigation equipment.  I also work with a highly  trained crew.  Safety is the top priority aboard the TS Kennedy.

Where is the farthest the boat has ever travelled? 
Your question has three different answers.
A. When our training ship was launched in 1967, her name was Velma Lykes. In 1979, the Velma Lykes made history when she docked in the Chinese port of Whampoa.  She was the first ship flying the United States flag to in Whampoa since the Chinese communist revolution.
B.  As Massachusetts Maritime Academy's training ship, the TS Enterprise, she traveled to Italy and Spain during Sea Term 2006.
C.  As the TS Kennedy, the ship has traveled to Balboa, Panama in 2012, 2016, and 2020.
Has it ever rained on the ship? 
The TS Kennedy has traveled through every type of weather, including rain, snow, sleet, fog.
How many captain bathrooms are there? 
On a ship, we refer to a bathroom as a head.  There are many heads on the ship.  The only one that is reserved for captain only is adjacent to my office. 
How many laundry rooms are on the boat? 
There is one large laundry room for the cadets.  There is also one laundry room that is reserved for the crew.
How do you steer the ship? 
The TS Kennedy is steered at the helm. 

Is the U.S. currency that cadets have stored in the blue safe on the ship is converted into local currency before the cadets have liberty in a foreign port?
No.  Although COMCAD safely secures each cadet's spending money throughout Sea Term, they do not handle any complicated services like that.  Cadets placed U.S. currency in their envelope when they boarded the ship, and that is what they remove before departing for liberty.  The ports we visit welcome American visitors.  Businesses often accept US dollars in addition to their local currency. This makes things very easy.
Is there was a way to make announcements on the TS Kennedy?
I cannot remember if I already discussed this topic, so I will go over it again.  We do have a public address system similar to the one that you have at your school.  Because our PA system is a critical method of communication, it is important that it is not overused.  We want everyone on board to stop and listen carefully when an announcement is "piped".  Before making an announcement, the Deck Watch Officer must say, "Now hear this…"  That gets everyone's attention.  Usually, announcements are restricted to 1100, 1600, and 1900.  The Chief Engineer, the Chief Mate, or COMCAD may make an "on demand" announcement if they feel that it is necessary. 

Does the TS Kennedy have GPS?
Yes, for safety reasons, ships are required to have navigational systems and equipment.  When I began my career with Marine Transport Lines and cruised through the Singapore Straights, the ship did not have a GPS. 

Can girl cadets have long hair? 
Many of our female cadets have long hair, but they are required to wear it up while they are in uniform. 
Do you eat a lot of seafood on the TS Kennedy?
Chartwells provides us with a wide variety of delicious food that does include fish. 
The TS Kennedy is bound for Oranjestad, Aruba. 

Thanks for following our cadets.

Sincerely,
Captain Michael J. Campbell
---
The following drawings were completed by students at Lt. Job Lane Elementary School in Bedford, Massachusetts.  
---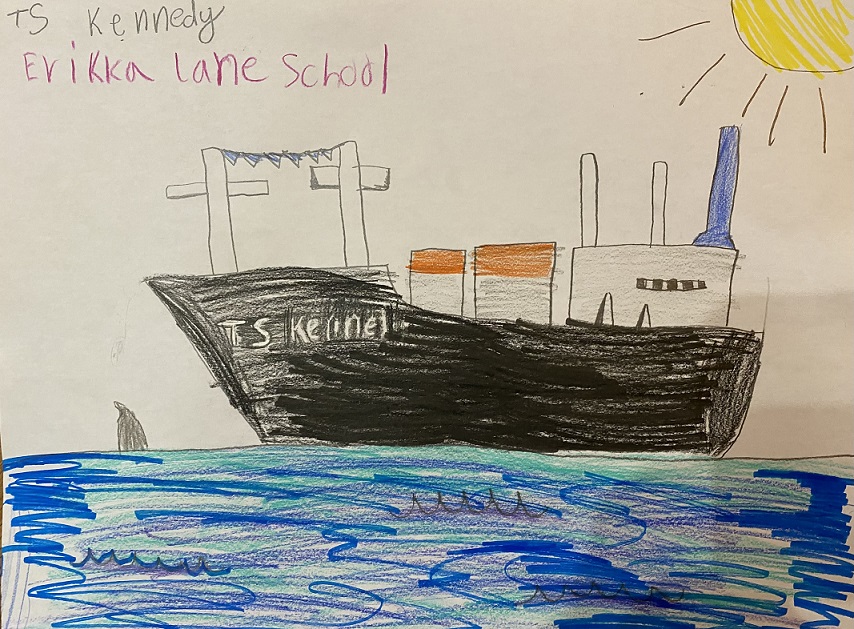 ---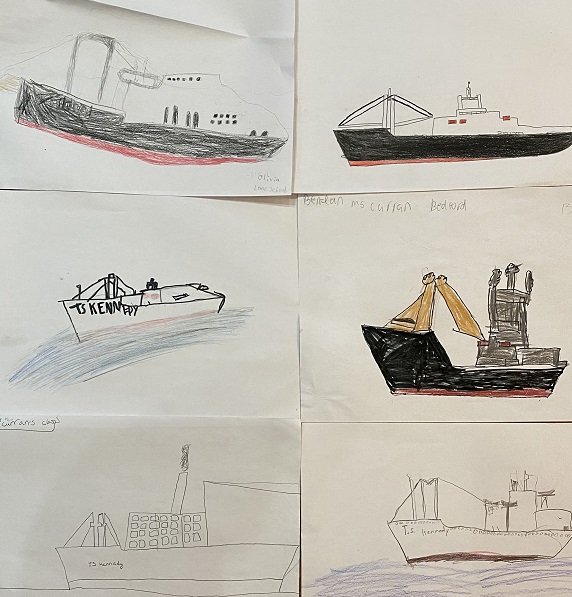 ---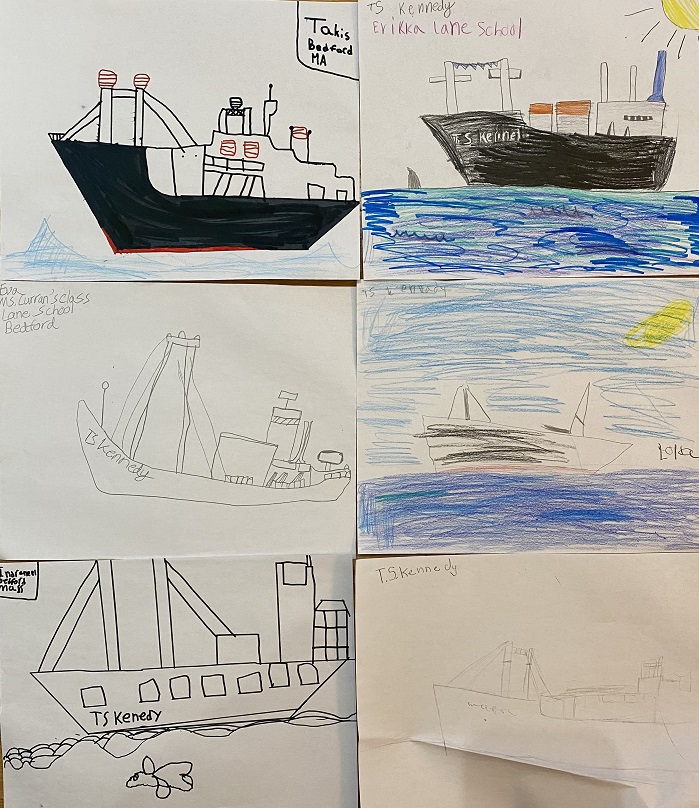 ---
Although we love this drawing, we just want to point out that the TS Kennedy is not yet 146 years old. 

The TS Kennedy was launched in 1967, making her just 56 years old.   
---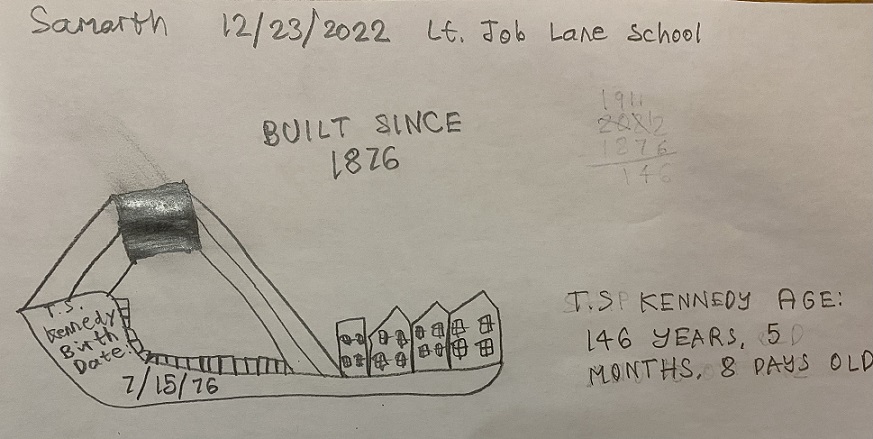 ---