Good morning, Followers -
Although yesterday was Monday, we enjoyed what we fondly call, Sunday At Sea.  We had to wait an extra day due to the weather.  Cadets played games, relaxed, and enjoyed a delicious Chartwells barbeque.  As you know, Chartwells is the company that provides our dining services both here aboard the TS Kennedy and back on campus.  Every year, I am amazed at the time, effort, talent, and enthusiasm that Chartwell's puts into this special day.  From setup to cleanup, it is a monumental effort.  The cadets, crew, and I appreciate the outstanding food and friendly service.  
Yesterday, there were no classes and no inspections.  Cadets were still expected to fulfill their watch obligations.  Since the food and fun lasted from morning until evening however, every cadet and crew member was able to take part in the festivities.  I did remind 1/C cadets that were playing games and eating thick steaks and that they shouldn't get too use to this royal treatment.  In about six months, they will be graduating from the Academy.  Many will be heading to sea on commercial ships.  I pointed out that when they are working on a ship, there will not be celebrations quite like this.
A recent email from a Follow The Voyage – Share The Experience Program participant asked if I carried a special license in my wallet to prove that I am a captain. 

When I am working on a ship, I am required to have my Merchant Mariner Credential (MMC) with me.  This form of identification is much larger than a driver's license and cannot be slipped into my wallet.  It is the size of a traditional passport and features the seal of the United States on the cover.  The MMC has a reddish-maroon cover to avoid any confusion with passports.  It is issued by the United States Coast Guard in accordance with the International Convention of Standards of Training, Certification, and Watchkeeping for Seafarers (STCW).  Before a person can hold an MMC, he or she must take this Merchant Mariner Oath. 
I do solemnly swear or affirm that I will faithfully and honestly, according to my best skill and judgment, and without concealment and reservation, perform all the duties required of me by the laws of the United States. I will faithfully and honestly carry out the lawful orders of my superior officers aboard a vessel.

All Merchant Mariners holding a MMC agree to carry out this oath throughout their careers. 
Mariners employed on ships greater than 100 Gross Register Tons (GRT) are required to hold an MMC.  The TS Kennedy has a GRT of 13, 886. 

My MMC booklet has twenty pages.  The third page contains basic information including my name, address, date of birth, place of birth, height, and weight. 

My license information begins on page four.  This is a copy of the fourth page of my MMC.  For privacy reasons, I have obscured my reference number, my nine-digit serial number, and the expiration date.  As you know, passwords and identification numbers should never be shared.

The remaining pages in an MMC booklet are blank.  Each time that a mariner gains a new competency, he or she is provided with a special sticker that identifies this new skill.  The mariner adds the sticker to the next blank page in his or her MMC.
To maintain my MMC, I am required to spend 360 days at sea within a five-year period.

Someday, maybe you will have a Merchant Mariner Credential of your own.
Several classes have asked how long we stay in port and how much free time cadets have while we are there. These are timely questions because we will reach our first port, Bridgetown, Barbados, on Friday. 
We are scheduled to stay in each of our four ports for three days; Friday morning to Monday morning.  Of course, our schedule is weather dependent and always subject to change. 
Liberty is a shipboard word for "free time". 
Our cadets are divided into four divisions. Here is the liberty schedule.

First Port: Barbados
Division 1 will have three days of liberty.
All other divisions will have two days of liberty.

Second Port: Aruba
Division 2 will have three days of liberty.
All other divisions will have two days of liberty.

Third Port: St. Thomas
Division 3 will have three days of liberty.
All other divisions will have two days of liberty.

Fourth Port: Fort Lauderdale
Division 4 will have three days of liberty.
All other divisions will have two days of liberty.

Division assignments were made before cadets boarded the TS Kennedy.  Cadets knew in advance that they were not able to choose their division, ask to be placed in the same division as their friends, or request special liberty days.   
Make this a great day at school!

Sincerely,
Captain Michael J. Campbell
Master, TS Kennedy
---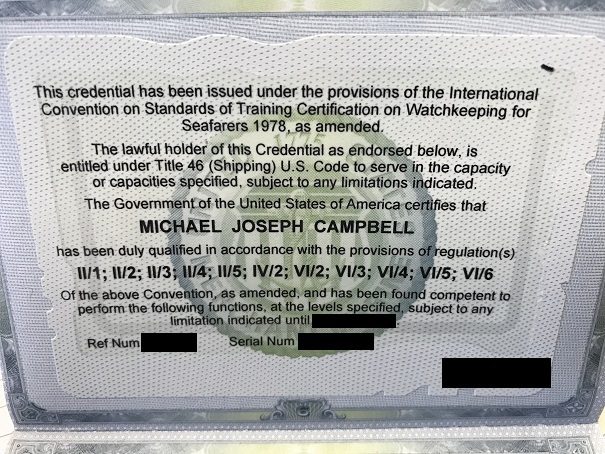 ---