Good morning, Followers –
Cadets and crew members enjoyed their weekend in St. Thomas.  We were surprised and honored to see the TS Kennedy on the front page of the weekend edition of The Virgin Islands Daily News.  The photo was taken as we made our way into the harbor on Friday morning.
---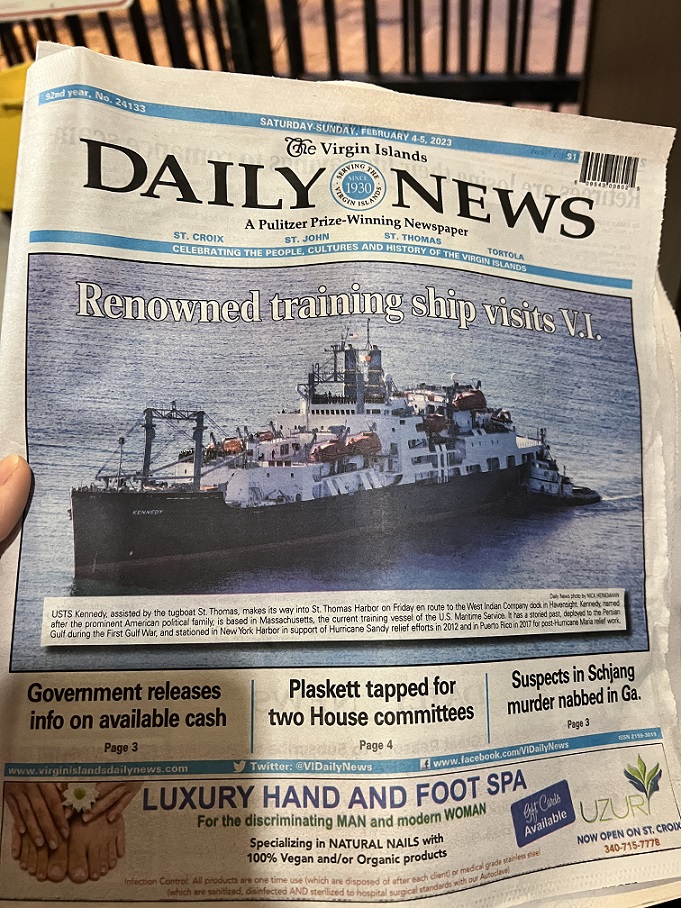 ---
The TS Kennedy is bound for Fort Lauderdale/Port Everglades, Florida, our final port of call.  This will be the fifth visit to Fort Lauderdale/Port Everglades for our ship.   As the TS Enterprise, our ship visited the port in 2005 and 2007.  In 2015 and 2017, our ship visited Fort Lauderdale/Port Everglades under her present name, TS Kennedy.
Although Buzzards Bay, Massachusetts is the TS Kennedy's homeport, arriving in Florida often feels like "coming home" to all of us.  This is because of the strong ties that Massachusetts Maritime Academy has to the Sunshine State.  Many MMA alumni live there and continue to be generous supporters of the Academy. 
We are also proud to say that fifteen cadets aboard the TS Kennedy call Florida home.  Cruising with us are cadets from Fort Lauderdale, Key Biscayne, Pompano Beach, Vero Beach, Safety Harbor, Gull Breeze, Plantation, Miami, Sebastian, Seminole, Jacksonville, and Winter Haven.  I certainly hope that I didn't miss any of their hometowns.

I was happy to hear that several high school students from Florida have already committed to Massachusetts Maritime Academy's Class of 2027.
We also have students participating in the Follow The Voyage-Share The Experience Program from Westminster Academy in Fort Lauderdale, South Broward High School in Hollywood, Mayport Coastal Science Middle School in Mayport, iPrep Academy in Miami, and Jefferson High School in Tampa.
While we are docked in Fort Lauderdale, the Massachusetts Maritime Academy Admissions Department is hosting a Shipboard Open House.  If you are a student over the age of twelve, you and an adult can tour the TS Kennedy on Saturday, February 11th.  Preregistration is required.  The details are included in the video below. 
There is still plenty of time for you to submit questions and share work samples.  Please email them to: ftvsubmissions@maritime.edu.
I hope that you have a great day at school.  If you work as hard as a Massachusetts Maritime Academy cadet, you should be all set.
Sincerely,
Captain Michael J. Campbell
Master, TS Kennedy
---
Here is the video about the Shipboard Open House on February 11th.
---
---
Here is the same video in Spanish.
---
---