Good morning, Followers –
Yesterday, I received a list of questions from Pre-K students at the Kenneth Coombs School in Mashpee, Massachusetts. It was great to hear from the youngest participants in the Follow The Voyage-Share The Experience Program.  Many of our cadets began dreaming of going to sea before the age of six.  It is never too early to get become interested in ships and the ocean.
Each student asked his or her own question.  Answering them took teamwork.  Cadets aboard the TS Kennedy helped me locate some of the information.  Back on the campus of Massachusetts Maritime Academy, Mrs. Franks agreed to handle all the photos and graphics. 
---
Ryleigh: Can I ever go on the Kennedy?
Ryleigh, I am sorry to say that you will not have an opportunity to cruise aboard the TS Kennedy.  Not only are you a little too young to climb the gangway, the TS Kennedy will leave Massachusetts Maritime Academy soon after returning from Sea Term 2023.  A new ship will join our fleet in 2024.  Her name will be TS Patriot State II.  I hope to welcome you for a tour of the TS Patriot State II when you are a few years older.  Perhaps someday you will be a cadet at Massachusetts Maritime Academy and will spend Sea Term aboard the TS Patriot State II.
---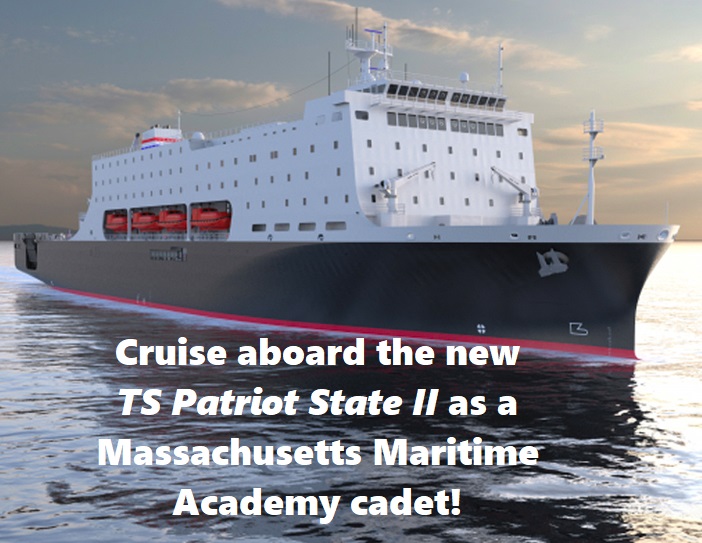 ---
Ryder: Why were the dolphins were following you?
Ryder, cadets on the Bridge offered some answers to this question.  One cadet told me that dolphins are curious and attracted by the loud noise of the ship.  Another explained that dolphins are trying to get a free ride.  When the TS Kennedy cruises through the ocean, she produces small waves called wake.  When the dolphins swim in our wake, they get pushed along.  They move faster when they are near the ship than when they are swimming on their own.
---
Cora: How does your ship stays afloat?
Ships stay afloat because of an upward force called buoyancy.   Mrs. Franks said that the video, Why Do Boats Float? will answer your questions.
---
---
Ragnar: How big is your ship?  Is it larger than a TRex?
Ragnar, the TS Kennedy is 540 feet long.  I thought that the second part of your question might be tough to answer, but one cadet on the Bridge knew that a T-Rex was about 40 feet long.  That means that about 13 T-Rex dinosaurs placed end-to-end would be approximately as long as our ship. 
---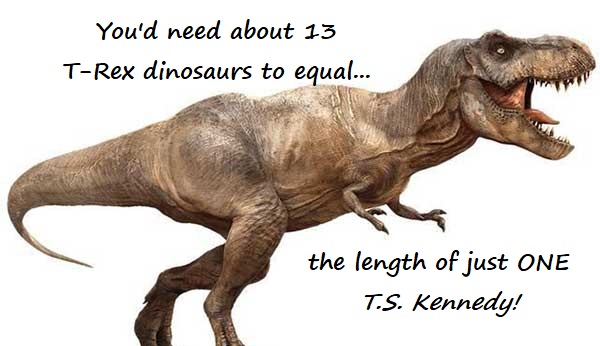 ---
Landon: How do you do school work at sea?
Landon, our ship has classrooms and books, just like your school.  Every cadet has a laptop.  There are teachers that we call professors.  Cadets also learn in many different places on the ship.  They do a lot of work with their hands.
---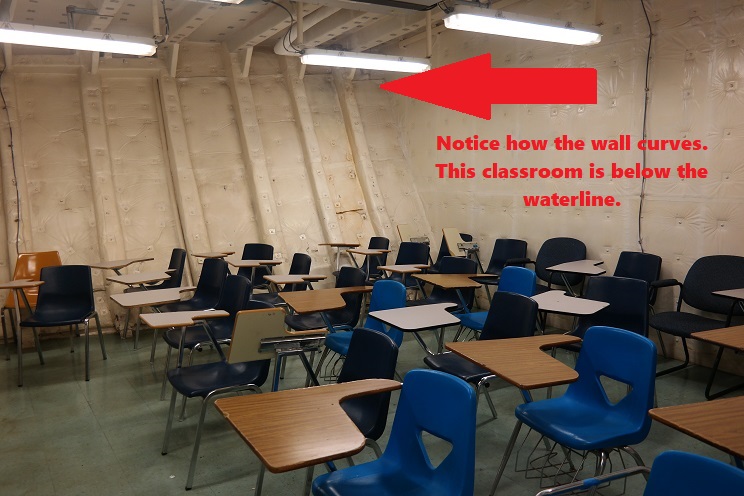 ---
Theo: Have cadets seen other animals besides dolphins?
Theo, in addition to seeing dolphins from the decks of the TS Kennedy, cadets have spotted whales.  They have also caught several different kinds of fish, including a white marlin. 
---
Logan: Does the ship go fast?
Logan, if the TS Kennedy was traveling at her maximum speed (the fastest speed that she can go), she would be able to keep up with a polar bear swimming at its maximum speed of a polar bear or the maximum speed of and a great white shark traveling at its maximum speed.  A seahorse travels much, much slower that the TS Kennedy.  An Orca (also called a killer whale) is much, much faster than the TS Kennedy.
Most of the time, the TS Kennedy does NOT travel at her maximum speed.  We can save fuel by traveling at a slower speed.  Also, we are not in a rush.  I leave plenty of time in my voyage plan.
---
---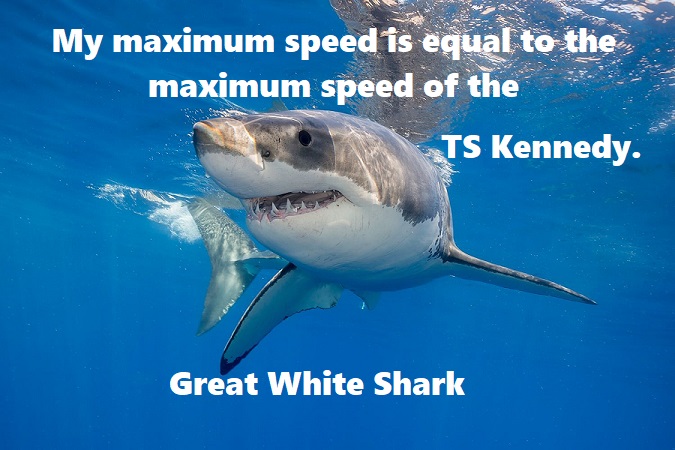 ---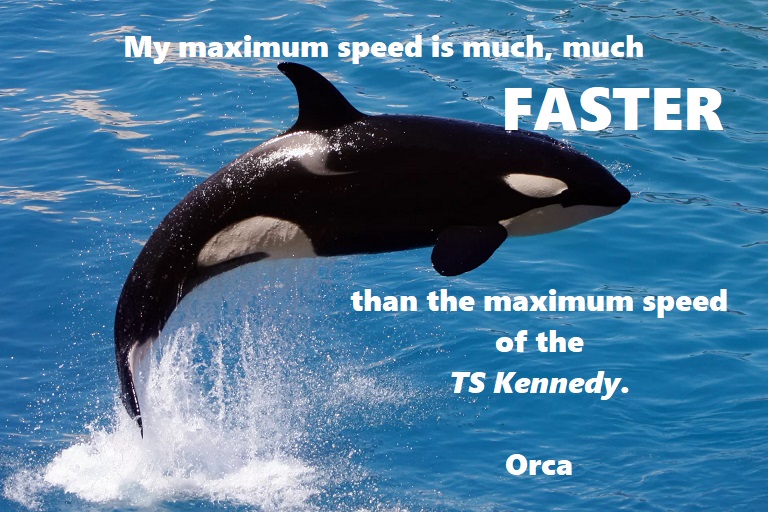 ---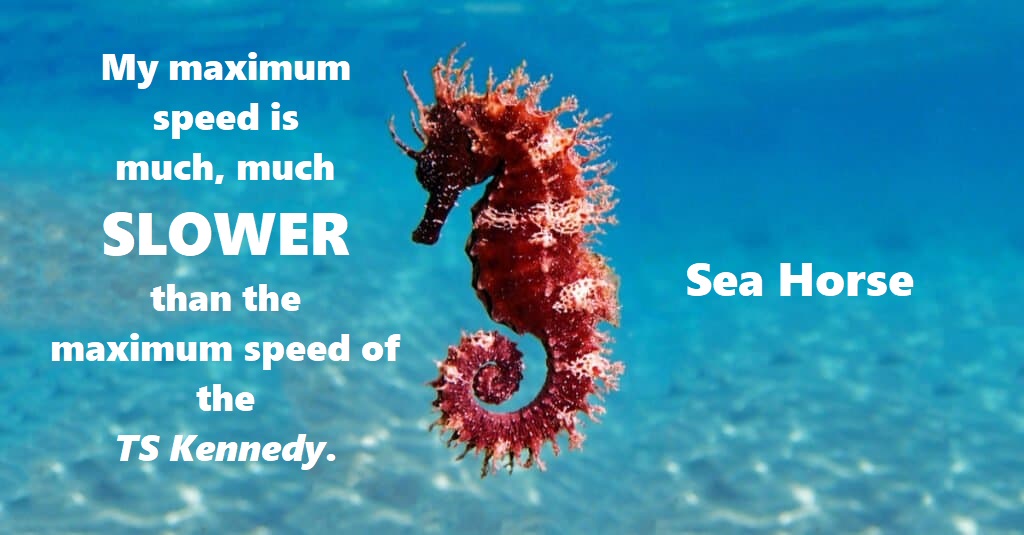 ---
Aria: Are having fun on the ship?
Aria, my job is to make sure that everyone aboard the TS Kennedy is safe and that no harm comes to the ship.  During Sea Term, I am here to work.   Knowing that everything is running smoothly is my idea of fun. 

The most fun that I have is when I am at home in Rhode Island with my  wife, our children, and our many pets.
---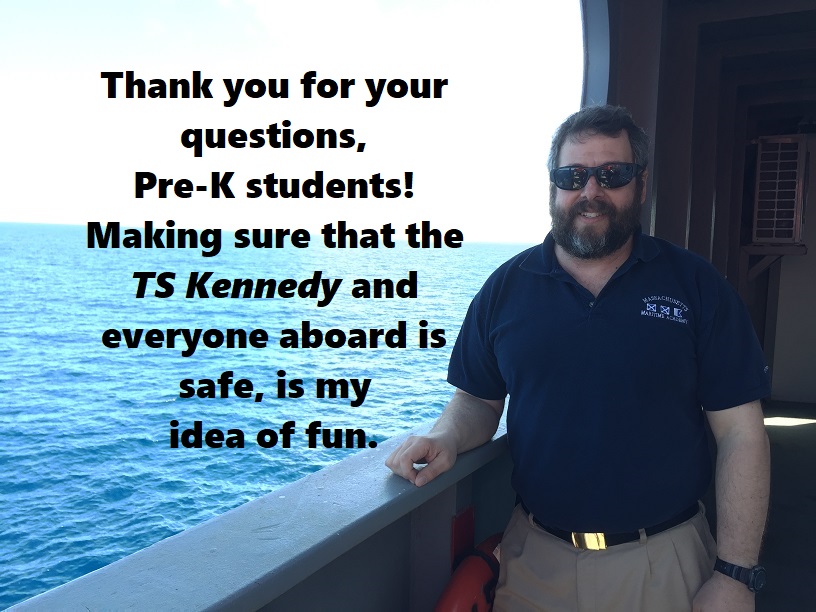 ---
Bryson: Is anyone is getting seasick?
Bryson, I am happy to say that no one is getting seasick right now.  The weather is pleasant and the ocean is calm.  That could change when the ship heads back to Buzzards Bay in about ten days.  The weather will grow cold and the sea could become rough.  Fortunately, we have a great medical team that can help any cadets or crew members who get seasick.   
---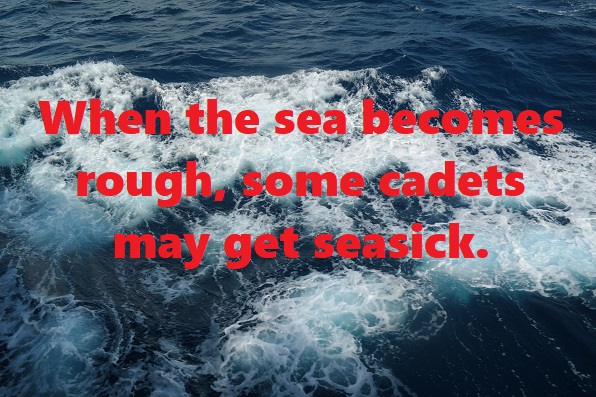 ---
Thanks to the Kenneth Coombs School students and to all of our supporters.  Also, thanks to the cadets who assisted me with this post.
Sincerely,
Captain Michael J. Campbell
Master, TS Kennedy