Do you have trouble packing for an overnight, a few days away, or a weeklong vacation?

It's hard to decide what to bring - and what to leave behind.  So many times, travelers overpack, bringing along many extra items "just in case".  
Imagine the challenge faced by cadets packing for Sea Term 2023.  

Every cadet received a long  list of items that they are required to bring.   There were also a few suggested items on the list.  Cadets are encourage not to bring too many extras.  Everything must fit into their large sea bag, similar to a duffle bag used by an athlete.  They can also carry a backpack, but that's it.  Many cadets choose to attach their pillow to their sea bag with a bungee cord.  The rule is; a cadet must be able to carry everything he or she is bringing on Sea Term up the gangway and onto the TS Kennedy without any assistance.
As we introduce you to the items on the packing list, we'll also share some photos of the packing process that took place in the homes of cadets.  These photos were shared by cadets, cadet moms, and cadet dads.
Are you ready?  Let's go!
---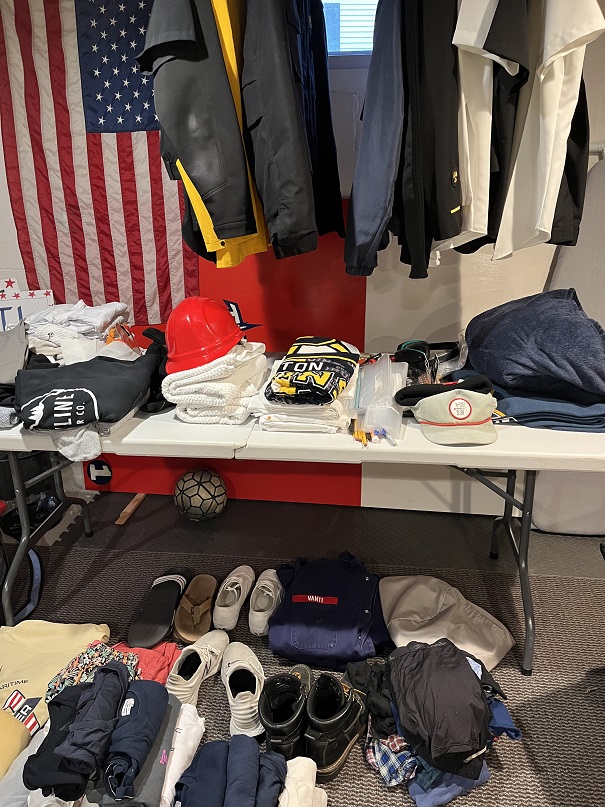 ---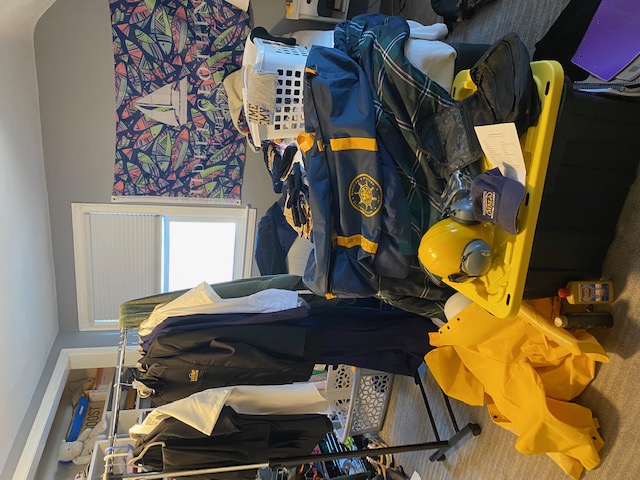 ---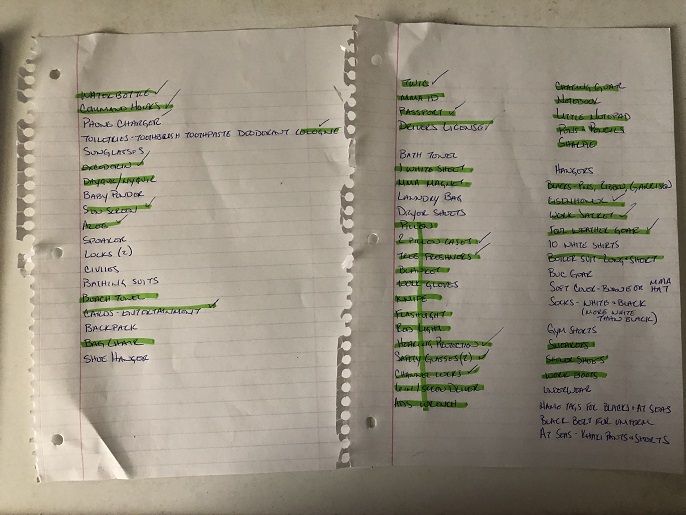 ---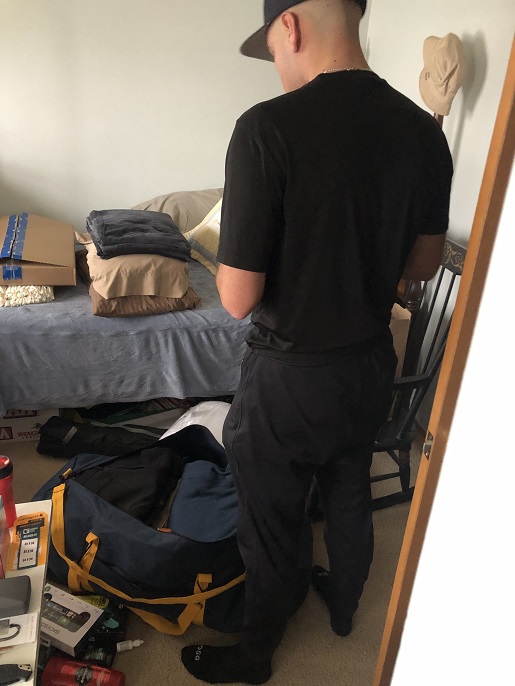 ---
Footwear:  Cadets are asked to bring black safety-toe work boots, white sneakers, and shower shoes. You probably don't wear shoes in the shower, but when you're sharing the same shower with over fifty shipmates, it's a good idea.  They are also asked to bring a pair of sneakers or shoes for liberty.  Liberty is the name given to free time in port.  Cadets will return to campus wearing their work boots and pack the rest. 
Uniform: Cadets are asked to bring their classroom black uniform consisting of pants and a shirt.  They will need to wear their black uniform to every evening meal aboard the ship.   They were also asked to pack their belt, their nametag, and the ribbons that belong on their uniform.  Their warm Eisenhower jacket is also required.  This is a type of waist-length jacket developed for the United States Army during the end of World War II.  It is named after Dwight D. Eisenhower, our 34th President.  Because it is cold in Buzzards Bay, most cadets will wear their Eisenhower jacket when they return to campus.  That's a good thing - if you tried to pack it, the jacket would take up half of the sea bag.  All cadets are also required to bring a watch.
---
---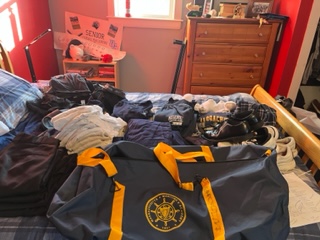 ---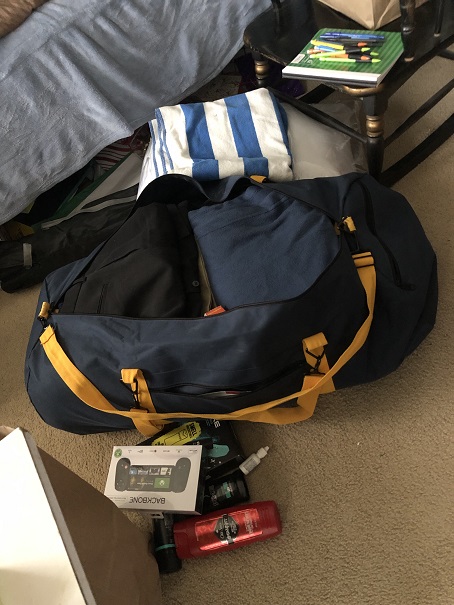 ---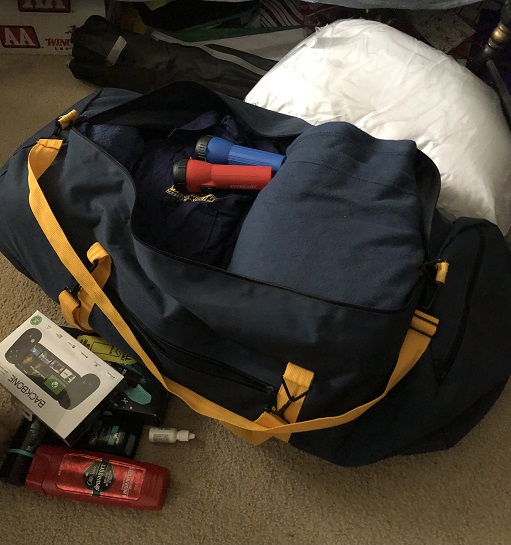 ---
Other Required Clothing: Cadets are required to bring khaki shorts and khaki pants.  This will be part of their "at sea uniform" when paired with a Massachusetts Maritime Academy polo shirt that they will receive.  Socks are important.  The cadets are asked to pack black dress socks to wear with their black uniform and over the ankle white socks to wear the rest of the time. They are required to pack Buc Gear which are t-shirts, shorts, sweatpants, and sweatshirts with the Massachusetts Maritime Academy logo on it.  Cadets may wear their Buc Gear to the gym and after dinner.  A very important item for cadets to pack is their boilersuit, a pair of loose-fitting blue coveralls.  The all-in-one garment got its name because it was first worn by men maintaining coal-fired boilers on steam engine trains.  Cadets wear their boilersuits while on maintenance, on utility, and any time that they are in the Engine Room.  White t-shirts, underwear, and a Massachusetts Maritime Academy baseball cap are required too.  The t-shirts are worn by the cadets under their boilersuits. During the day, a cadet is on deck and not wearing a hardhat, he or she is expected to wear a baseball cap to protect against the sun's harsh rays. 
---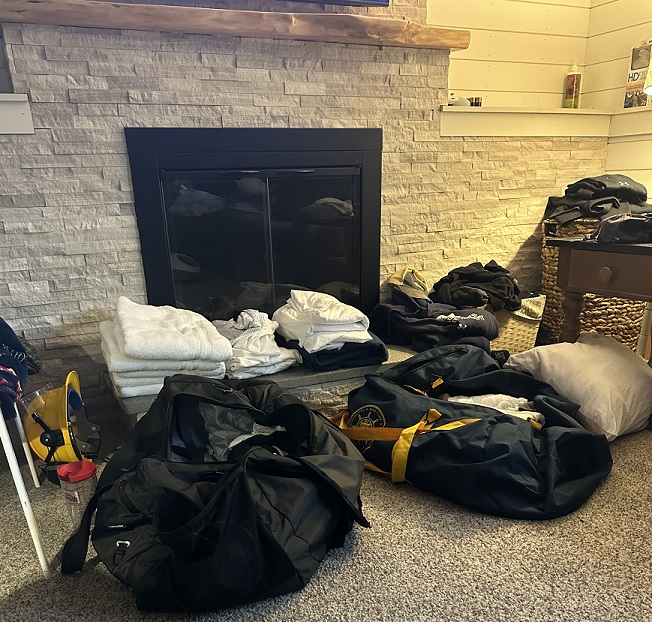 ---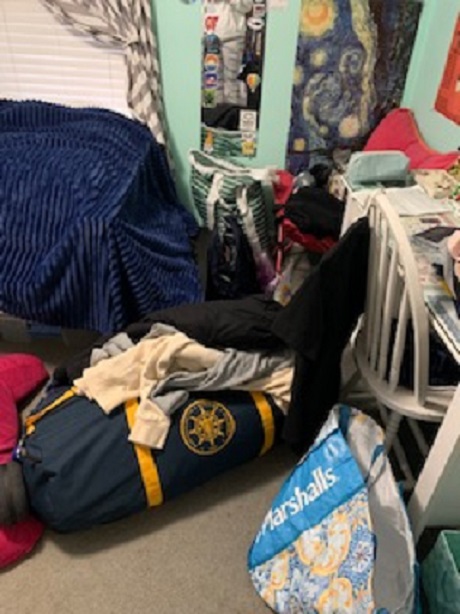 ---
By now, you're probably thinking, "Wow!  That's a lot to pack!" 
You're right, but wait!  There's still more to add to that one bag.
Toiletries:  Cadets are responsible to bring all of their own toiletries.  That includes a hairbrush, toothpaste, shampoo, soap, a hairbrush, sunscreen, hands-sanitizer, and everything else that they might need for seven weeks.  No cadet wants to have to track down a pharmacy or department store while on liberty in the islands to buy additional items.  Cadets are also expected to pack a shower caddy. 
---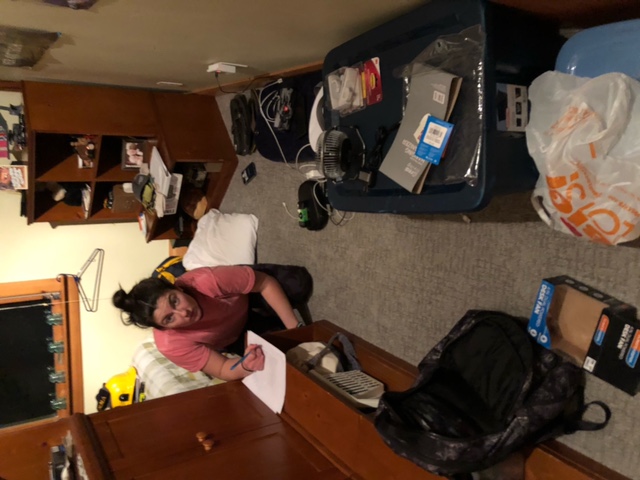 ---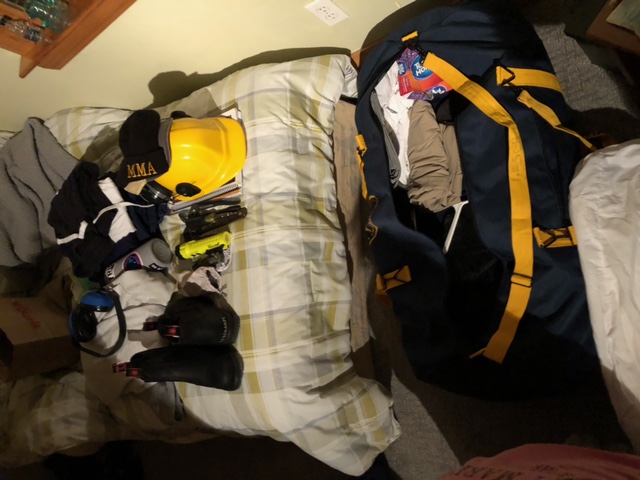 ---
Stationary: This is a category that you probably haven't thought of.  Cadets are expected to bring their laptop, power cord, earphones, and charger.  They are also required to bring a notebook, pens, pencils, and a small notepad. 

Still More: Cadets are asked to bring two unfitted white sheets, two white pillowcases, a blanket, two white bath towels and a beach towel.  Sheets and a blanket will definitely take up a lot of space.  There's also work gloves, safety glasses, a hardhat, hearing protection, a non-metal flashlight, a magnet, and a knife to add to the sea bag.  Cadets are also expected to pack a lint roller, shoe polish and Brasso, the polish needed to keep their belt buckle shiny.  They are also required to bring their own tools, including a Channellock, a screwdriver, and an adjustable wrench. They must also remember to pack their Massachusetts Maritime Academy ID, TWIC card, and money.
---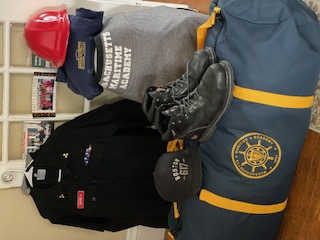 ---
---
---


And finally…

Liberty Clothes: No cadet wants to wear their uniform or Buc Gear while in port.  There absolutely has to be room to squeeze in a bathing suit and a few of the cadet's favorite casual clothes. 
That's it for the required items!  Are you guessing that by now a cadet's sea bag is about ready to burst?  Probably! 

The Academy recommends but doesn't require – Duct tape, extra flashlight batteries, black and silver Sharpies, bug spray, baby powder, magnetic hooks, and dryer sheets.  Although these items are not required, most cadets take the advice and wedge the items in.
Well, if the seams of a cadet's sea bag aren't ripping right now, they are pretty close.  Fortunately, there is a library on the ship because there certainly isn't room for any recreational reading books.  Many cadets load books and movies onto their computer. 
So the next time someone is complaining that they are having trouble packing for a family vacation, take some time to tell them about the challenges of cadets packing for Sea Term 2023.
---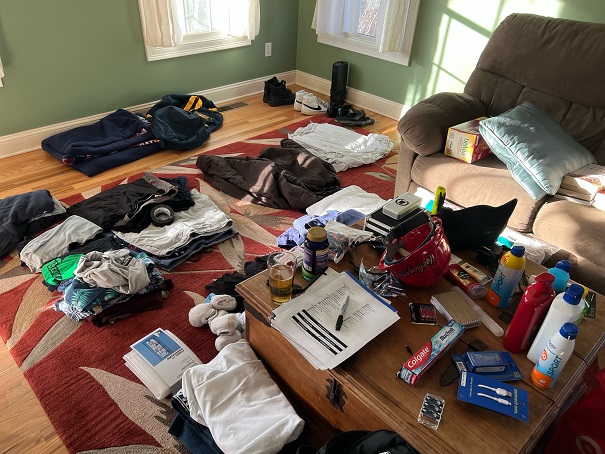 ---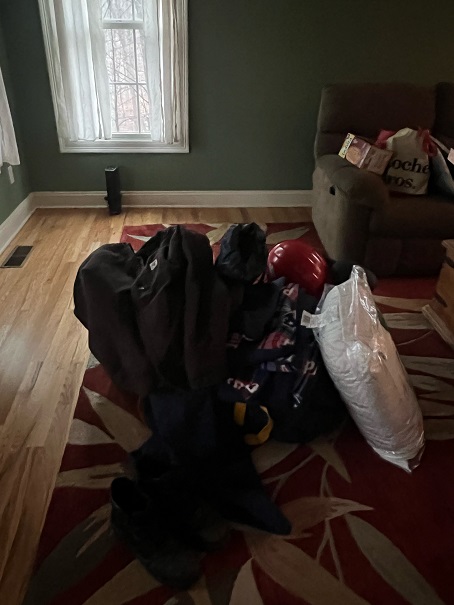 ---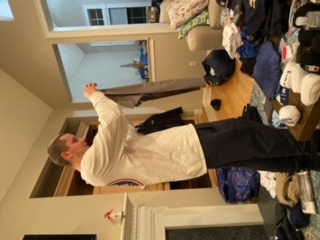 ---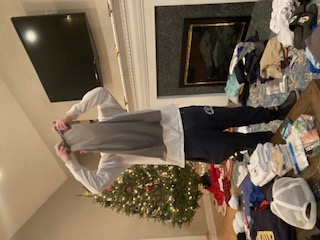 ---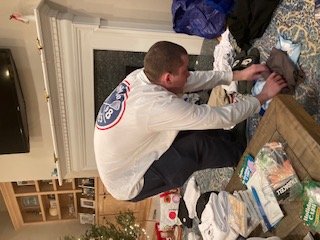 ---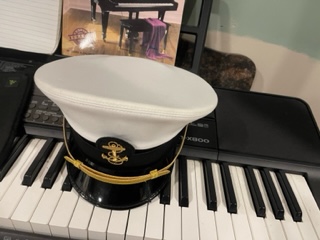 ---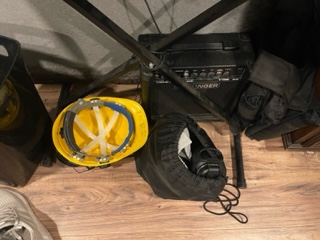 ---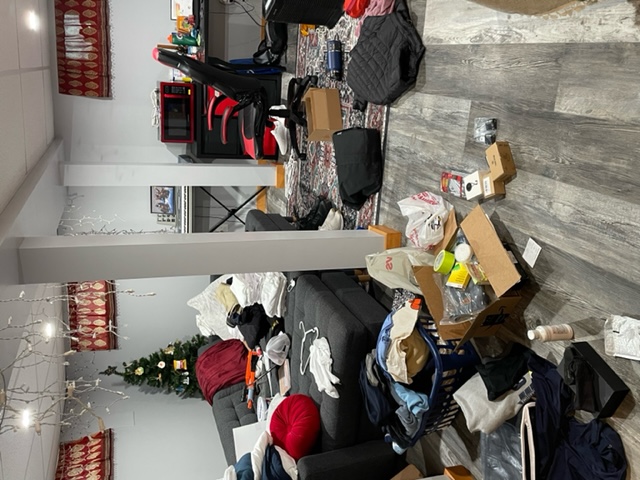 ---