Seeing the carboard ships created by 8th grade students at Cyrus Pierce Middle School on the island of Nantucket inspired us to learn more about the course, Ship Construction.  All 3/C cadets majoring in Maritime Transportation take back on the campus of Massachusetts Maritime Academy.  
---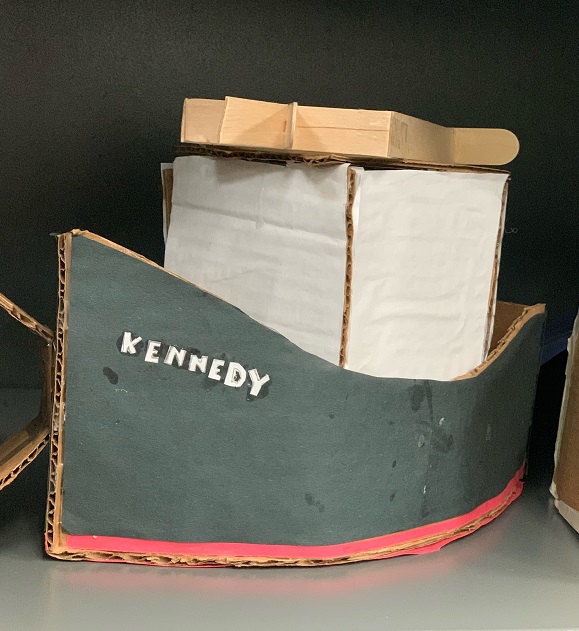 ---
In this course, cadets learn:
A. a basic knowledge of ship construction and design
B. the principal structural members of a ship
C. the proper nomenclature for the various components
D. the construction materials used
E. fabrication techniques
F. how to use ship's plans and deadweight scale to extract pertinent data
G. the history of ship development
H. the various tonnages used as a measurement of a ship's size and capacity
I. common lading conditions and terms
We asked three cadets who have completed the course to tell us a little bit about it.
---
 "Ship Construction was a very interesting course.  I enjoy learning about the process of building and designing ships.  I find it very interesting to learn why certain things aboard a ship are designed a specific way for a certain reason. In my opinion the most difficult aspect to this course is the Coast Guard Questions, they are very specific and the wording can be tricky. Other than that, I enjoyed the course.  Captain Llewellyn is a great professor."
– 3/C Kolby Seibert (MTRA – Liverpool, PA)
"Ship Construction was a really fun class.  It was quite challenging. I learned about different types of steel, classification societies, and different types of ships. The challenges have been adjusting to the maritime language. It will help me have a greater understanding of the Kennedy because I will be able to think about how and why the ship was built a certain way."
– 3/C Andrew Fusco (MTRA – Wrentham, MA)
"Ship Construction teaches us the construction, upkeep, and regulations of ships. One of the many things we learn is the amplitude of terminology of parts and areas on ships. This ranges from general areas aboard ships such as midship, aft, quarters, to specific parts such as a web frame and garboard. We also learn about the legal aspects of ship owning and the regulations that must be followed. This includes U.S. Coast Guard vessel inspections and annual surveys required by classification societies to ensure the safety of vessels. We also learn about the general upkeep a ship requires to continue operating smoothly. This includes the operation of dry-docking ships to undergo maintenance on the ship out of the water. There is an amplitude of challenges involved with building and maintaining a ship. Looking at the TS Kennedy after taking this class gives me a greater understanding of how we operate the ship. Not only do I know her construction and parts better, but I understand the legal process of operating her." – 3/C James Cirillo (MTRA – Monroe, NY)