"Before you are a leader, success is all about growing yourself. 

When you become a leader, success is all about growing others."

This quote perfectly describes the three cadets who will be leading the way during Sea Term 2023; Regimental Ship Commander 1/C Robert Sirois, Cadet Chief Mate 1/C Michael Clapp, and Cadet Chief Engineer 1/C Eli Gibbons.  They have spent the past three years, growing themselves and soaking up every bit of knowledge that they could both on the campus of Massachusetts Maritime Academy, aboard the TS Kennedy, and in their commercial shipping assignments.  They are ready to lead.
When you meet Bobby, Michael, and Eli you can immediately feel their enthusiasm.  If you mention anything ship-related, they will expound on it, with hand movements and smiles that get you hooked.  If you do not understand, they'll break the topic down in simpler terms.  In Eli's case, he'll draw a very detailed diagram for you to take home. 
All three cadets are humble, a rare trait when one rises to a high-ranking leadership position at a young age.  Bobby is quick to give credit to Eli and Michael, speaking of how he will rely on them to make Sea Term 2023 a success.  Eli and Michael are quick to praise the strong, knowledgeable team of 1/C cadet rates that they will be working with. 
---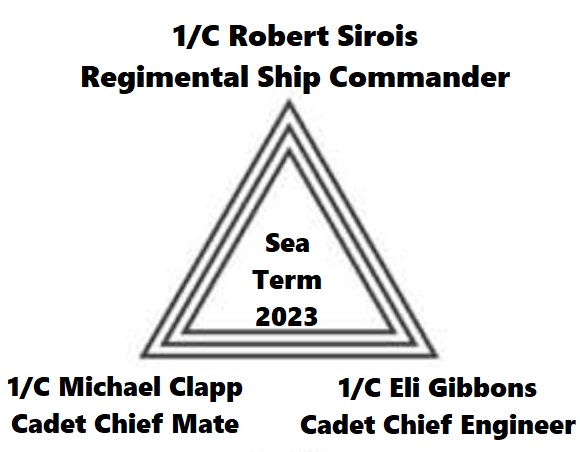 ---
The labeled triangle illustrates the three highest cadet positions on the ship.  1/C Cadet Chief Engineer Eli Gibbons oversees everything related to Marine Engineering. 1/C Cadet Chief Mate Michael Clapp supervises everything related to Marine Transportation. Both Eli and Michael oversee approximately sixty 1/C cadets in specific leadership positions.  They are referred to as Rates.  As Regimental Ship Captain, Bobby Sirois oversees both sides of the ship.  Eli and Michael report to Bobby   As you can imagine, each of these three positions come with a long list of daily and weekly responsibilities, including regular meetings with Captain Campbell, the Chief Engineer, and members of the Commandant's staff.    Bobby, Eli, and Michael have had to develop outstanding organizational skills to keep track of everything. List making, an accurate watch, and keeping a Google calendar are key.  Bobby admits that he didn't arrive on campus with these skills.  Instead, they were learned at the Academy.
---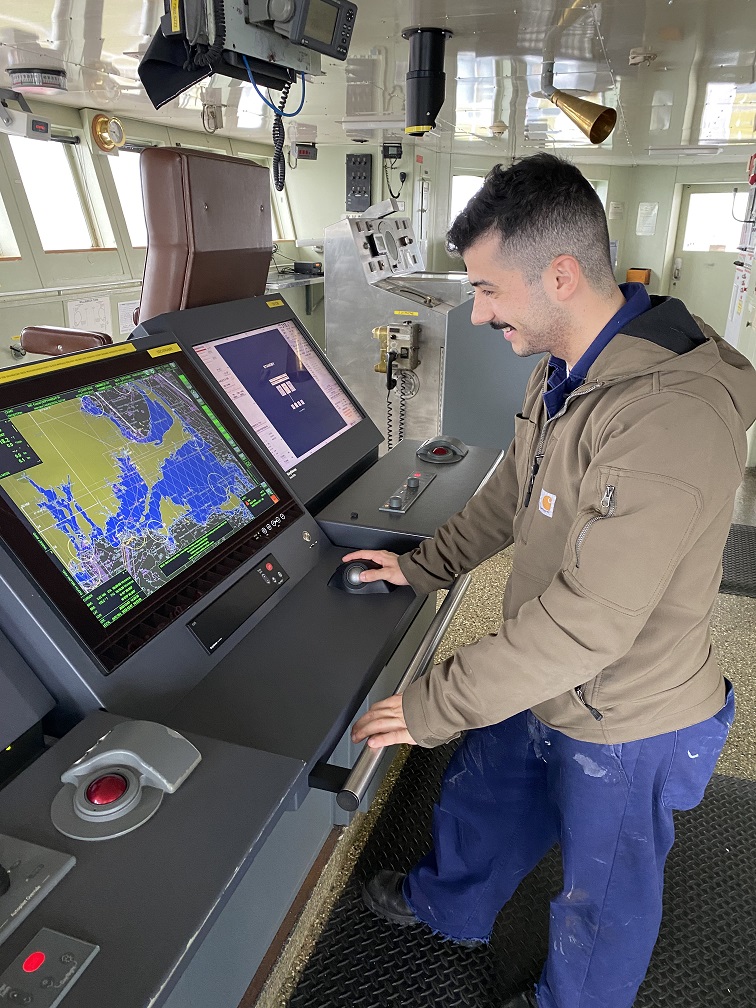 ---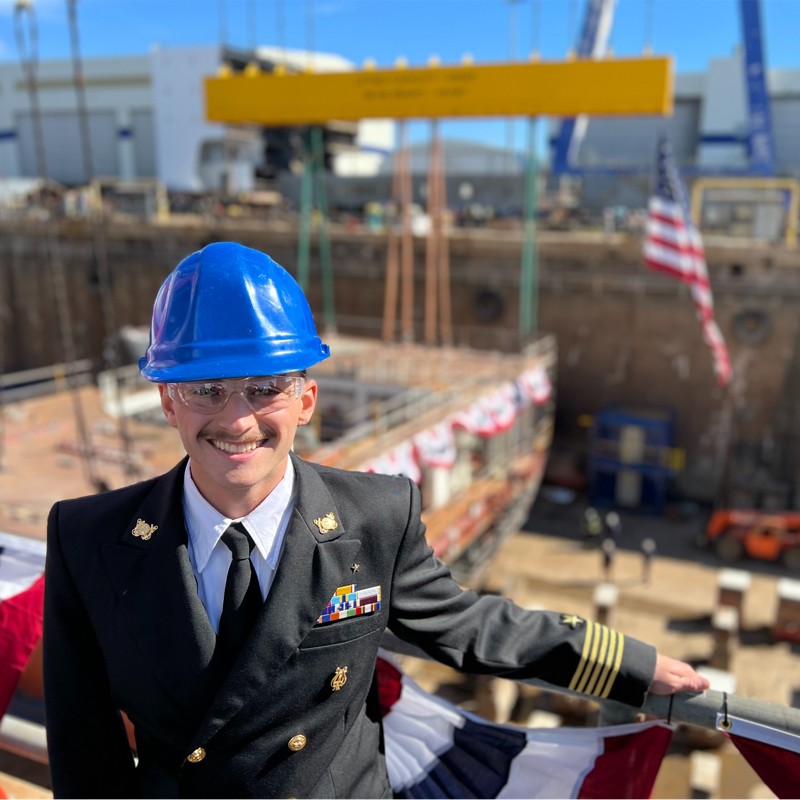 ---
The three leaders speak fondly of their first Sea Term in 2020.  The TS Kennedy returned to Taylors Point less than three weeks before the world shut down due to COVID and everything changed.  It's clear that their experiences with masks and remote classes made them appreciate in-person, hands-on learning all the more.  They are determined to give their shipmates the type of learning adventure that they deserve. 
Although the three share many of the same qualities today, the paths that led them to the Academy are very different.
Eli calls East Stroudsburg, Pennsylvania home.  Although he says that he is not from a boating family, he did have an opportunity to be out on the ocean at a young age.  His parents took him on his first cruise aboard the Norwegian Dawn when he was just three years old. 
---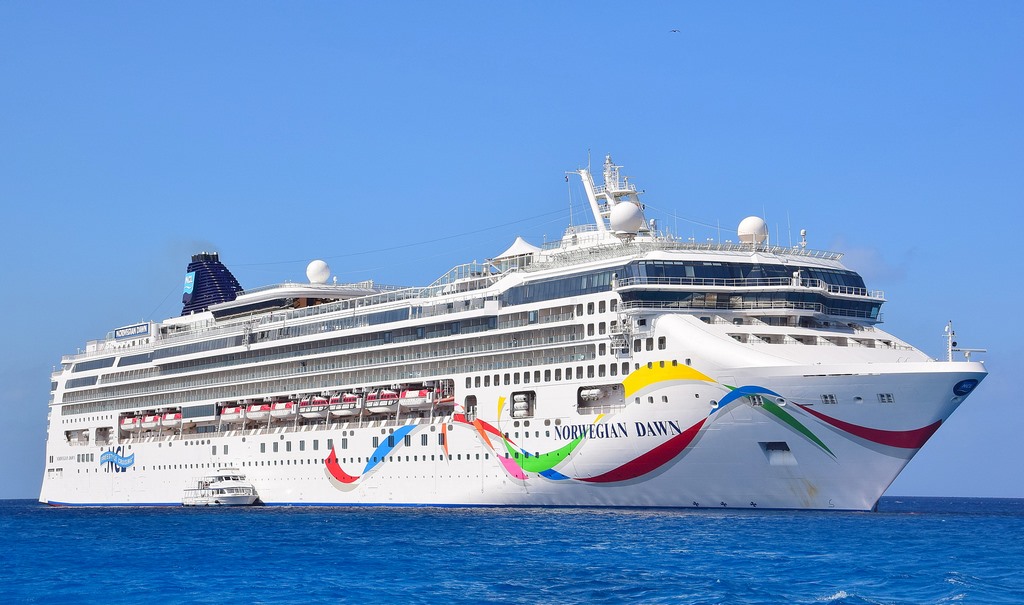 ---
When young Eli created a drawing of the ship three years later, his mom realized that the vacation had made quite an impact on her son.  Eli's mom recalls, "I kept it because I just knew that it would lead somewhere."
---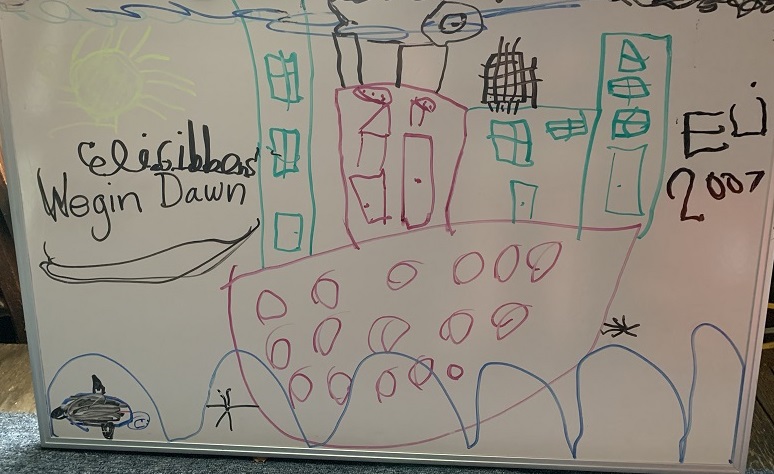 ---
When Eli was thirteen, his family cruised on the Norwegian Pearl to Alaska. Although there was an assortment of scheduled activities for teens, Eli preferred to hang out in the Bridge Observation Room.  He enjoyed asking questions of the crew, especially Navigator Heriela Castillo. 
Michael was raised in Metairie, Louisiana, just a short distance from where the TS Kennedy was launched over fifty years ago.  He was inspired to attend Massachusetts Maritime Academy by his older brother Jacob who was part of the Class Of 2020.  When he saw the opportunities that his brother and his friends were having, Michael knew that he wanted to follow Jacob's lead. 
Bobby grew up in Lynn, Massachusetts, about five miles north of Boston. He explained that he had almost no boating experience before coming to the Academy, insisting that he had been a passenger on a boat not more than five times.   He was not an outstanding student and wasn't considering college.  His grandfather had served in the Air Force, his dad had been a Marine, and his sister was already at the U.S. Naval Academy so serving his country seemed like the logical choice.  He had already taken steps to enlist in the Navy when he first came for a tour of campus.  The TS Kennedy was not at the dock, so he didn't get to tour the ship.  When Bobby learned that he could join the Strategic Sealift Midshipman Program while enrolled at the Academy, his plans for the future began to evolve.

All three leaders admit that one of the secrets to their success was learning as much as they possibly could aboard the TS Kennedy during their first year at the Academy.  In just their first semester on campus, they each exceeded the required maintenance hours for all four years.  They asked questions of upper classmen, Bosun Tom Tucker, and First Mate Melissa Turner.  The trio willingly took on every simple maintenance task that came their way.  When Bosun Tucker and First Mate Turner observed their dedication and enthusiasm, they began to invite them to join them on jobs that were much more interesting and complex. 
---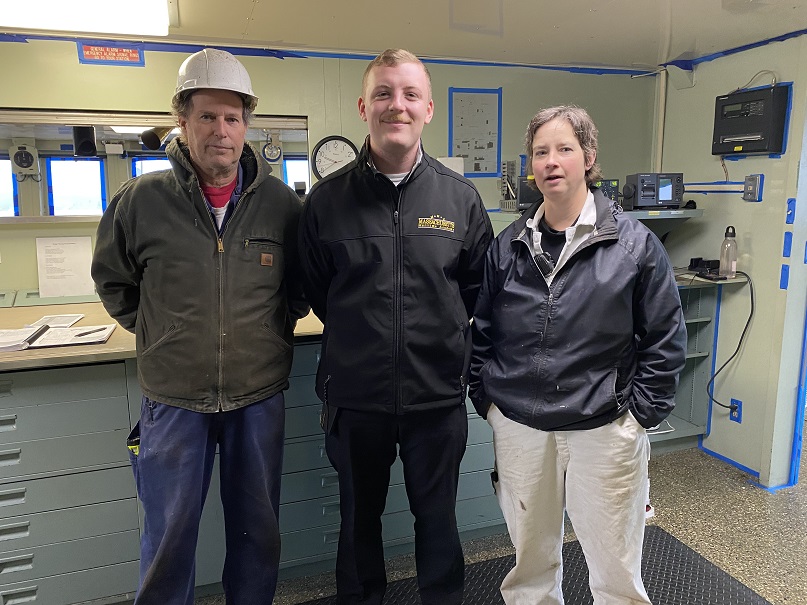 ---
When asked what advice they'd like to give 4/C cadets going on their first Sea Term, Bobby, Eli, and Michael suggest…  
Your Sea Term will be what you make of it.
Ask questions.  You don't just learn shipping; you must do it.
Apply yourself 100%.  As officers and rates get to know you, they'll trust you with more difficult tasks.
If you are majoring in Marine Transportation. be open to learning as much as possible about the Marine Engineering side of the ship. 
If you are majoring in Marine Engineering to be open to learning all about the Mariner Transportation side. 
Be open to changing your major if you discover that the other side of the ship is a better fit for you.
To 3/C cadets, the trio suggests…
Pay close attention to exactly what the 1/C cadets are doing.  In twenty-four months, this will be you. 
If you are majoring in Marine Transportation, spend extra time on Deck or on the Bridge.
If you are majoring in Marine Engineering, spend free time in the Engine Rom.
Sea Term 2023 is in great hands with Regimental Ship Commander 1/C Robert Sirois, Cadet Chief Mate 1/C Michael Clapp, and Cadet Chief Engineer 1/C Eli Gibbons leading the way. 
Teachers and students, these men are the ideal role models for you to get to know.
Let the adventure begin!