Meet 1/C Sam Wiggin, and International Maritime Business (IMB) major from Mattapoisett, Massachusetts.  Sam will be working closely with Professor Dr. Ashok Pandey and a small group of IMB students who will be participating in a special program aboard the TS Kennedy.
When asked about his responsibilities, Sam explained, "My responsibilities on the ship will include facilitating times when the IMB students can observe some of the license major cadets perform their duties and activities while at sea. This will include observing the bridge, the engine room, anchoring drills, and any other interest task they might have. The goal is to expose business students to what it is like at sea. Experience at sea is always appreciated by maritime companies, so this cruise will serve as a great addition to their resumes. We will also be taking tours while in port. Not all of them have been arranged, but some of the ideas so far are to tour a Royal Caribbean cruise ship and attend a terminal tour in a few of the ports. I will also be responsible for some of the regimental standards that the IMB students will have to follow. "
---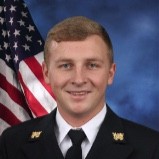 ---
Participating in the program are 2/C Gabriella Struss (North Attleboro, MA), 3/C Nicole Awalt (Harwich, MA), 2/C Remy Chiep (Lynn, MA), 4/C Brendan Glynn (Quincy, MA) and 4/C Jack Schrier (Rockville, MD).
Sam is an excellent role model both for the cadets that he will be overseeing and the 20,000+ students participating in the Follow The Voyage-Share The Experience Program.  We invited him to talk about his internships while at Massachusetts Maritime Academy.  "I have completed two internships during my career at MMA, both of which have been great experiences. My first internship was with Crowley Maritime in Jacksonville, Florida. I was working with the shipping quality team, which consisted of scheduling and conducting audits, reviewing company policies, and completing a vendor vetting process.
---
Take some time to explore the Crowley Maritime website.        https://www.crowley.com/
---
My second internship was completed with CMA CGM in Norfolk, Virginia. (NOTE: CMA CGM is an acronym which stands for Compagnie Maritime d'Affrétement and Compagnie Generale Maritime.) This was an operational role within their equipment department. I was in charge of all of the improperly used containers in the United States. Some of my job functions included speaking with truck drivers and terminals, creating and billing invoices, and helping to reduce the number of misused containers.
---
Check out the CMA CGM website.    https://www.cma-cgm.com/about/the-group
---
I also completed an online experiential learning, which included creating a business plan for a start-up company."
Sam will graduate from the Academy in June.  "I hope to stay in the maritime industry in some capacity. I am currently looking to enter the oil and energy industry in an operations role."
Pursuing a degree in International Maritime Business is something that many Follow The Voyage-Share The Experience Program may be unfamiliar with.  Upon graduation, our cadets are prepared to work in careers connected to the global supply chain – transporting goods from one place in the world to another.
To high school students considering this path, Sam explained, "I chose Massachusetts Maritime Academy's International Maritime Business major because of how niche it is. I wanted something that would send me in a specific direction after graduation. The IMB major was the perfect fit for me because it allows me to gain knowledge about an industry that will always be around.
My advice for students that may be interested in IMB would be to start keeping up with the industry. There are many news outlets that focus on the maritime industry, and it is a great way to get familiar with what you will be studying at MMA. Some include Trade Winds and The Maritime Executive."
Sam attended Old Rochester Regional High School in Mattapoisett.  He is excited that they will be participating in the Follow The Voyage-Share The Experience Program.
---
Here are links to the two online publications that Sam mentioned.  High school followers will enjoy checking them out.
The Maritime Executive   https://www.maritime-executive.com/

Trade Winds   https://www.tradewindsnews.com/