Welcome to the first Bon Appetit post for Sea Term 2023!
Bon Appetit is a twice-weekly feature about everything and anything food-related aboard the TS Kennedy and Sea Term's four exciting ports of call. 
You can look forward to reading Bon Appetit each week.
Today, huge trucks are arriving at the dock filled with all of the food needed for Sea Term 2023.  It's really a sight to see!  Cadets are assisting with the onloading.  We'll share photos with you tomorrow - or later today.
---
Let's start out with a question that has been emailed to us from classrooms across the United States and around the world.  

Where do the cadets eat their meals?
In schools, the place where students eat their lunch is usually called the cafeteria. 
On the TS Kennedy and on military ships, the place where cadets eat their meals is called the Mess Deck.  Don't let the name fool you, the room is NOT messy.  
The term Mess Deck can be traced back to the Latin word missus, meaning a portion of food or a course at dinner.  You can understand how, over time, the word was used to to describe where people ate their meals.
---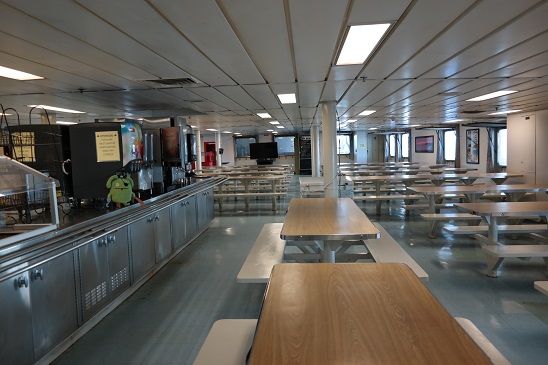 ---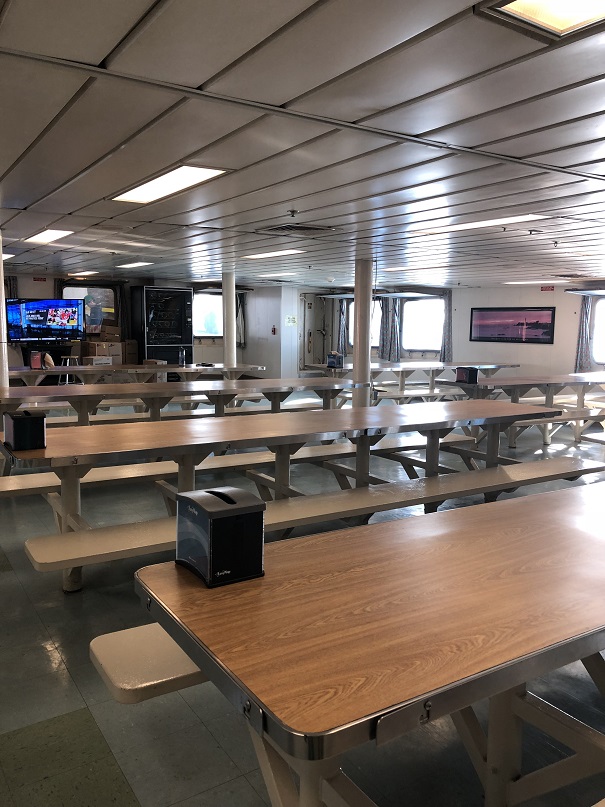 ---
Are you ready to learn another shipboard vocabulary word?  The place where the meals are prepared is called the Galley.  
---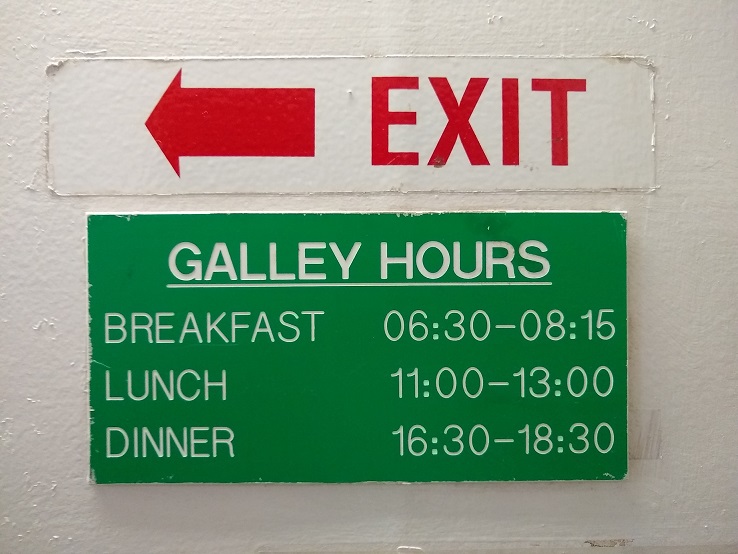 ---
The above sign shows when the galley is serving hot meals to cadets. 
Cadets can make sandwiches, bagels, and English muffins throughout the day.  There is always fresh fruit and an assortment of desserts available.  There is always special food put out at midnight for cadets and crew members coming off an eight-hour watch that began at 1600.
---
Today,  a class emailed to ask, 
How is food secured so that it does not roll off the shelves and counters?
Here's one example.  Straps are used to hold these cans in place when the ship begins to rock.  
---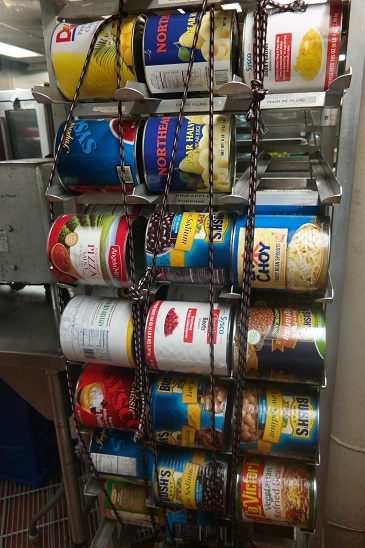 ---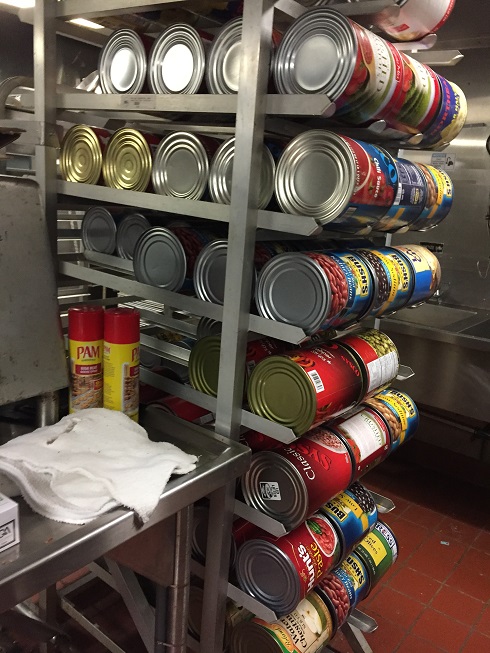 ---
Students are also curious about what cadets eat at mealtime. They've asked:

Do cadets have to make their own meals?

What types of food do cadets eat for breakfast?
Do cadets have choices at mealtime?

Can you show us a photo of some of the foods that cadets eat?
Cadets do not have to make their own meals.  Chartwells, the same outstanding dining service company that provides meals on campus also prepares meals aboard the TS Kennedy.  Chartwells is committed to serving healthy and nutritious options to meet the needs of cadets and crew members.  There are always choices for cadets.  Chartwells meets the needs of cadets and crew members with allergies and dietary restrictions.

Here is a shot of a hearty breakfast enjoyed by a cadet.
---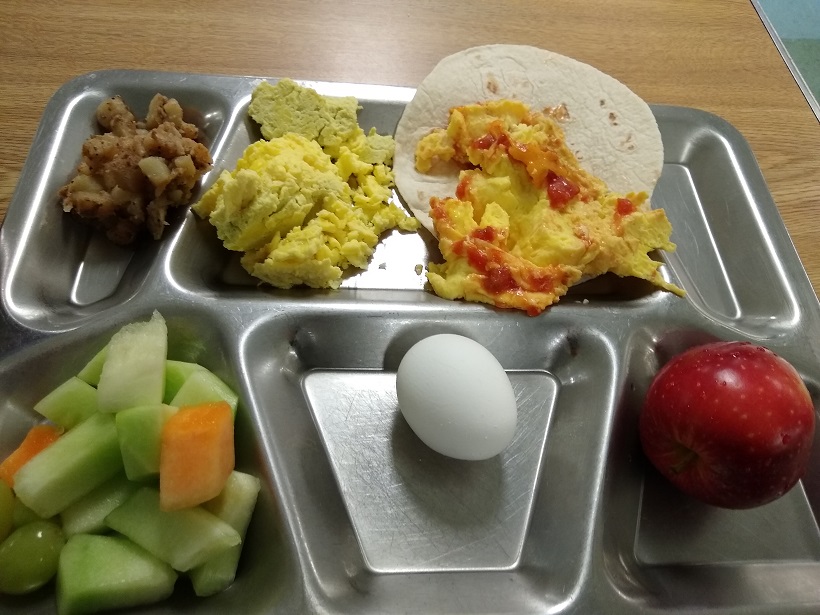 ---
And here is an example of a cadet's dinner.  (This cadet must have turned down the vegetables offered.)
---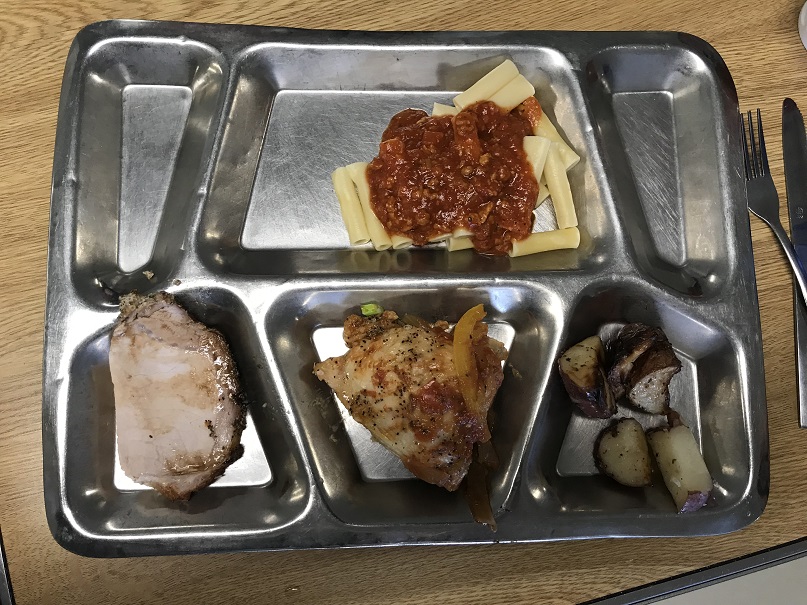 ---
Be sure to watch for Friday's Bon Appetit feature!