Do you enjoy taking part in hands-on STEM activities in your classroom or at home?  That's exactly what you'll find going on in the in the Engine Lab on the Lower Tween Deck.
Click on the link below to hear Training Rate Collin Tracey explain the activities that all 4/C cadets will do when they are in the Engine Lab during Sea Term 2023. 
Collin is from Avon, Massachusetts.  His enthusiasm and positive attitude are ideal for his role training underclassmen.  
---
https://drive.google.com/drive/folders/1nqBRvpoll0WfAbyVHo6xs7vVxSiDkonn?usp=sharing
---
The many students following from Plymouth, Massachusetts may see a familiar name on the white board that Collin is showing us.  Mike Bostoni was a science teacher at Plymouth North High School for twenty-six years.  For years, Mr. Bastoni headed the district' robotics and engineering program.  He began the Plymouth North High School Robotics Club in the 1990s and led it to Rookie Of The Year honors at the 1995 FIRST Robotics competition.  There truly could be no better person guiding 4/C cadets in the taking part and reassembling of the Briggs & Stratton lawnmower engines.  
Here is a photo of the Engine Lab where the cadets will be working.
---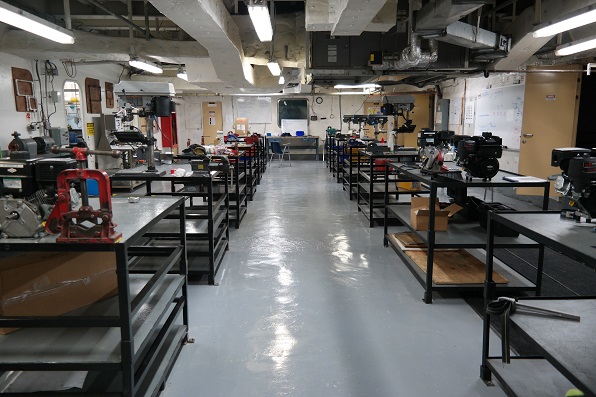 ---
It is interesting to note that all 4/C cadets will have an opportunity to participate in these activities even if their major is Marine Transportation.  It is important that cadets gain a complete understanding of what is happening throughout the ship, both above deck and below.  4/C cadets majoring in Marine Engineering and Facilities Engineering will also take hands-on courses such as learning to read nautical chart.  Each year, there are always a few cadets who decide to change their major at the conclusion of Sea Term.  When 1/C Eli Gibbons enrolled at Massachusetts Maritime Academy, he planned to major in Marine Transportation.  Following Sea Term 2020, he knew that Marine Engineering was the career path for him.  For Sea Term 2023, Eli is serving as the Cadet Chief Engineer.