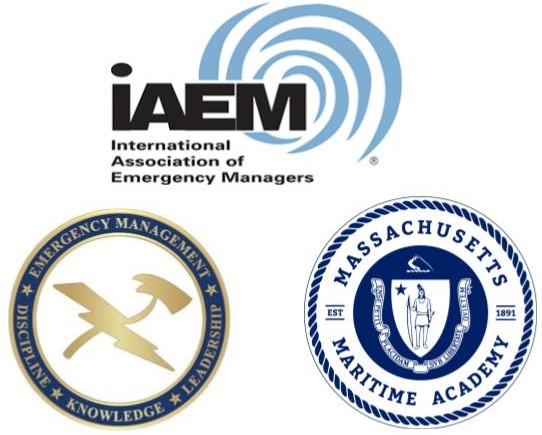 International Association of Emergency Managers  Massachusetts Maritime Academy Student Chapters
Get involved!
 
All Graduate and Undergraduate EM students are eligible to join the IAEM Student Chapters at Massachusetts Maritime Academy. This club offers student members opportunities to engage with the national IAEM community and get involved with regional and national initiatives. This is a great way for students who are both new to the world of Emergency Management and those who are already seasoned professionals to connect with other EM professionals around the globe and gain EM experience outside of the classroom. See below for more information:
Undergraduate Chapter
Click here for more information on the Undergraduate Chapter.
Student Officers (2021-2022)
Anna Kane- President & Officer in Charge (OIC)
Seamus Reardon- Vice President (VP)
Steffany Elmore- Public Information Officer (PIO)
Nicole Horgan- Recovery Coordinator (RC)
Ethan Rego- Logistics Coordinator (LC)
Mitchell Campbell- Training & Exercise Officer (TEO)
Faculty Advisor:
Mike Gutierrez, Assistant Professor, Department of Emergency Management

Graduate Chapter
Click here for more information on the Graduate Chapter
Cohort XV Officers:
●    Matt Smart - Co-Chair
●    Tova Zsampar - Co-Chair
●    Kylie Deasy - Secretary
●    Nick Faria - Information Officer
●    Marc Lieber - Faculty Advisor
Contact Information
Undergraduate Chapter
Graduate Chapter