Emergency Management NEWS
---
November 7, 2023: November's EM newsletter has been released!
November 2023 Emergency Management Newsletter
---
November 2, 2023: Cadets have been invited to a weekly training opportunity with the regional Rescue Task Force. Students receive moulage and wait for medical assistance and rescue.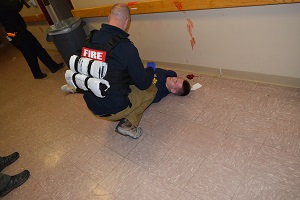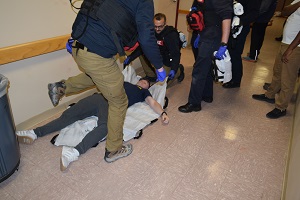 ---
October 11, 2023: Check out the October EM newsletter!
October 2023 Emergency Management Newsletter
---
October 2, 2023: Providence Emergency Management invited MMA EM cadets to participate in a full scale active shooter event as role players. See them in action below!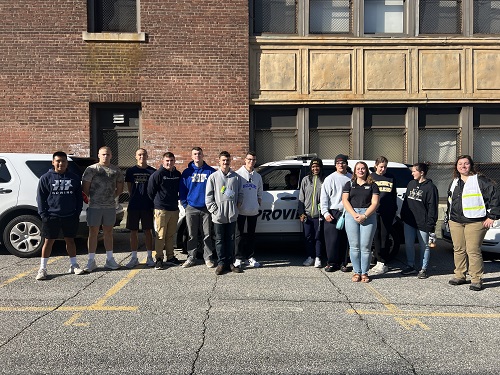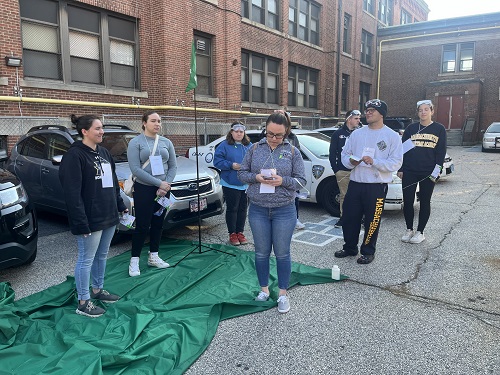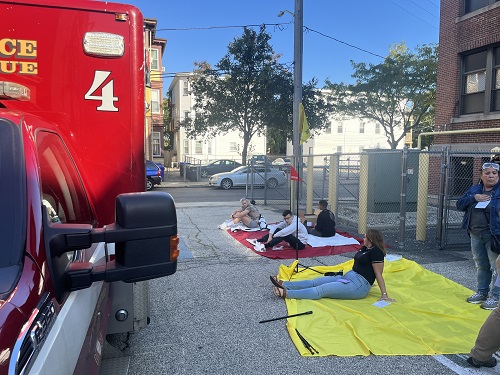 ---
September 19, 2023: The next release of the EM newsletter has been released! See below. 
September 2023 Emergency Management Bulletin
---
September 5, 2023: This fall the Exercise Design class is partnering with towns and cities across Massachusetts, as well as some new partners in the healthcare setting. We look forward to working with them across the fall and spring semester to help design tabletop exercises that will test their response plans. Thank you to our partners!
2023-2024 Partners: American Red Cross, Chatham, Clean Harbors & Braintree, Community Health Center of Cape Cod, Concord, Duffy Health Center, Eastham, Falmouth, Franklin, Hanson, HealthFirst Family Care Center, Lakeville, Lowell, Manet Community Health Center, New Bedford, Orleans, Pembroke, Plymouth, Sandwich, and Weymouth.
---
June 17, 2023: Congratulations to all the EM Seniors! And some words of advice passed on from Dr. Valla- "Do. Or do not. There is no try." —Yoda
Pictured below: Instructor Samantha Coonan and Marine Sergeant Michael Ortiz
---
June 5, 2023: Emergency Management students created the major's first newsletter, highlighting upcoming events, classes, and activities for the summer. Come check out what the students are up to!!
Emergency Management Summer Bulletin
---
May 23, 2023: Congratulations to our EM students who completed the Massachusetts Fire Academy! This program helps provide the practical skills and certifications to our students interested in entering the fire service.
---
May 16, 2023: Congratulations to John Haxton for being selected as the new Battalion Commander for the Cadet Fire Program at the Onset Fire Department. Haxton has shown dedication and hard work through his time with the department and will continue to do so as the new Battalion Commander. Haxton will take over the position on June 9th. 
Emergency Management
Undergraduate Degree
Emergency Management (EMHS) and disaster-related issues are faced by individuals, families, businesses, and governments worldwide. The Emergency Management program prepares graduates for careers in the private and public sectors, including federal, state, and local government, law enforcement, fire service, and the Military.
Learning focuses on the four phases of emergency management: mitigation, preparedness, response, and recovery. Cadets may also pursue a minor in Homeland Security. The program requires cadets to complete at least two co-ops. First-year cadets participate in a Habitat for Humanity public service experiential learning trip at the Domestic Global Village in Eustis, Florida.
Certificate options include Emergency Medical Technician (EMT) and Massachusetts Firefighter I and II certification through Onset Fire Department. 
The EM Program integrates academics with professional work experience and skills. It allows student opportunities to apply their classroom knowledge to the real-world in government, industry and non-governmental organizations. Students participate in exercises with EM professionals, students in their senior year, develop discussion based exercises for towns, cities and agencies throughout the Commonwealth, and utilize or Emergency Operations Training Center. As an Emergency Management major, you will:
 Help support communities
 Work alongside EM professionals in the field
 Learn cutting-edge and legacy EM technologies 
Develop an understanding of EM policy, practice and protocols
Learn about the Incident Command Structure, inherent in all EM incidents and events.
 
Emergency Management Career Paths
A Bachelor of Science degree in Emergency Management affords graduates a broad array of professional opportunities upon graduation. Our recent graduates have joined state and local emergency management agencies, hospital emergency preparedness programs, and fire and law enforcement departments. Others have joined the military services as commissioned officers and enlisted members. Many graduates join private companies and non-governmental agencies as emergency preparedness specialists, planners, humanitarian aid workers, and more. Areas in which our graduates work include:
Local, State, and Federal Emergency Management
Homeland Security
Public Safety sector, including Fire, Police, EMS
Military
Humanitarian Aid/NGOs 
Environmental Health & Safety 
Public Health Emergency Management 
Consulting
Communications 
Cyber Security
Business Continuity
Hazardous Materials/Safety
As an Emergency Management major, you will be tasked with managing simulated emergencies and hands-on tasks. Your studying will be put to the test with our state-of-the-art EM Simulation Center, applying apply both legacy and emerging technologies in a near real-world environment.
The Emergency Management program requires students to complete two co-ops (summer/winter break) and one experiential learning trip (winter break). Many students complete several co-ops. Freshmen EM students will participate in our Experiential Learning Trip, with Habitat for Humanity or Guatemala or National Outdoor Leadership School. Participation is required for all EM cadets who are freshmen or who transferred to MMA in the Spring.
Understand the four phases of Emergency Management; mitigation, preparedness, response, and recovery, applied across an All Hazards/Whole Community Approach to Emergency Management.
Identify the scientific principles involved in the development of mitigation and preparedness policies, strategies and tactics.
Understand scientific principles involved in the development of multi-level response and recovery policies, strategies, and tactics.
Evaluate the social science components of Emergency Management related to government, the private sector, to nongovernmental organizations, communities, and to individuals.
Apply the Incident Command System and analyze its relationship to national preparedness goals.
Apply new and emerging emergency management technologies across phases of Emergency Management.
Emergency Management cadets with an interest in pursuing careers as fire-fighters may apply for the firefighting program during the spring semester of their freshman year. The program is conducted in partnership with the Onset Fire Department and provides the opportunity for those selected to be trained and certified as firefighters and gain real-world, practical experience responding to emergencies with the Onset Fire Department. 
Under the guidance of Fire Chief Jeffrey R. Osswald, cadets will attend a recruit training program consisting of 240 hours of classroom and practical skills instruction over several months of their sophomore year. The program culminates with the cadets taking the National Board on Firefighting's Professional Qualifications Firefighter I/II Certification examination. Cadets spend the remainder of their time at the Academy responding to a wide range of emergency incidents, including, structure fires, motor vehicle accidents, emergency medical incidents, hazardous materials incidents, water rescues, and brush fires, to name a few.
Cadets will train regularly and spend duty shifts at the station throughout their time in the program.  Many graduates of the program, in combination with their B.S. in Emergency Management, have gone on to secure full-time employment in the fire service, law enforcement, the Armed Forces, and other rewarding occupations. 
The Emergency Management Department's liaison with the Onset Fire Department is Dr. Edward J. Valla.  evalla@maritime.edu.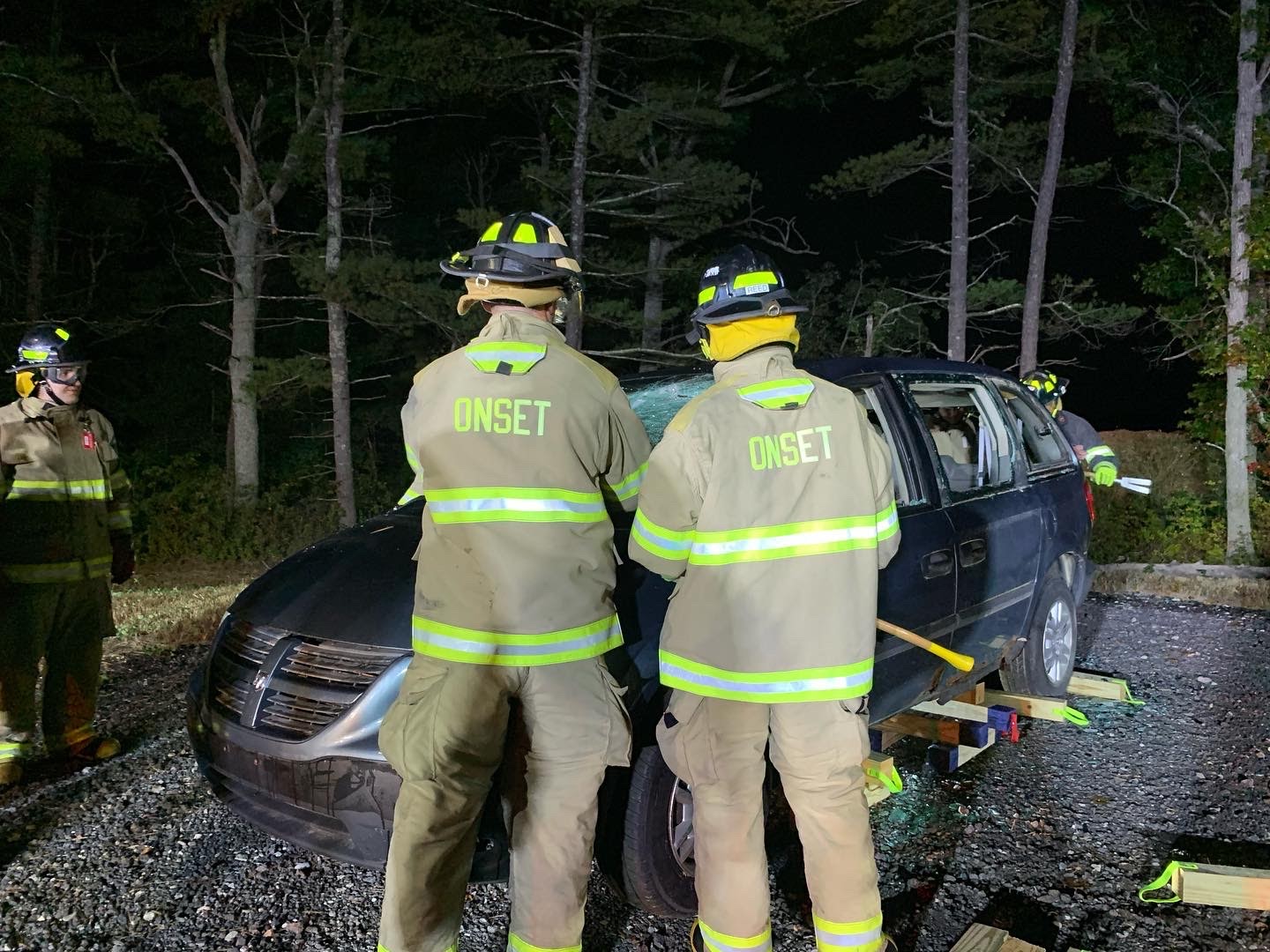 Certifications Available through the Degree
Emergency Medical Technician (EMT)

Basic Firefighting

Firefighter Program, (On-Call)

Community Emergency Response Team (CERT)

Occupational Safety and Health Administration (OSHA) 40

Some of our EM courses require certifications through EMI's independent studies. These certifications include, but are not limited to: 

IS 64.A: DHS Common Operating Picture Application

IS-120.C: An Introduction to Exercises

IS-700.B: An Introduction to National Incident Management System

IS-800.D: National Response Framework, An Introduction

IS-922: Applications of GIS for Emergency Management
International Association of Emergency Managers Massachusetts Maritime Academy Undergraduate Student Chapter