Ricciardi Cadet Investment Center
The Ricciardi Cadet Investment Center has a state-of-the-art trading wall complete with real-time stock tickers and information and access to Reuters investment data. It is home of the Cadet Investment Club who gain real stock analysis and trading experience by providing investment recommendations for an investment fund.
Clean Harbors Emergency Management Simulator
The Emergency Management (EM) Simulation Center is an agile working Emergency Operations Center (EOC) and Incident Command Post (ICP) that can integrate and display both legacy and emergent technologies, including cloud-based, social media-based, and crowdsourcing-based applications to simulate command and control in a realistic environment.
Crew Transfer Training Station
Our Crew Transfer Training Facility simulates the foundation of an offshore wind turbine.  It is used to teach students safe transfer procedures between a vessel and an offshore wind turbine as part of our Global Wind Organization Basic Safety Training program.
Working at Heights Equipment
This equipment is used to train workers in the emerging offshore wind industry in safe practices for working at heights.  MMA trains to the internationally recognized Global Wind Organization (GWO) standard.
Other Learning Labs at the Academy
Aquaculture and Marine Science Laboratory

Students conduct research based on their interests alongside faculty and representatives from state and federal agencies. The lab has received over 1M in scientific research grants in the past 5 years, which enables many students to participate in paid research positions, independent study projects, or work study. Students have participated in projects involving fish tagging, underwater video mapping of eelgrass or shell beds, research on lobster disease, and NOAA research on ocean acidification. 
View our Oceanographic data portal
Auxiliary Machinery Equipment Lab

The Auxies Lab is  a "hands-on", wrench-turning experience where students disassemble and reassemble the machinery. Those same pieces of machinery are then required to be fully functional and operate in a four-hour time block. The students will work on: centrifugal pumps, reciprocating pumps, air compressors, pneumatic control systems, valve actuators as well as hydraulic simulation. The student can calculate flow output, rated horsepower and volumetric efficiency through actual measurement of the machinery they put back together.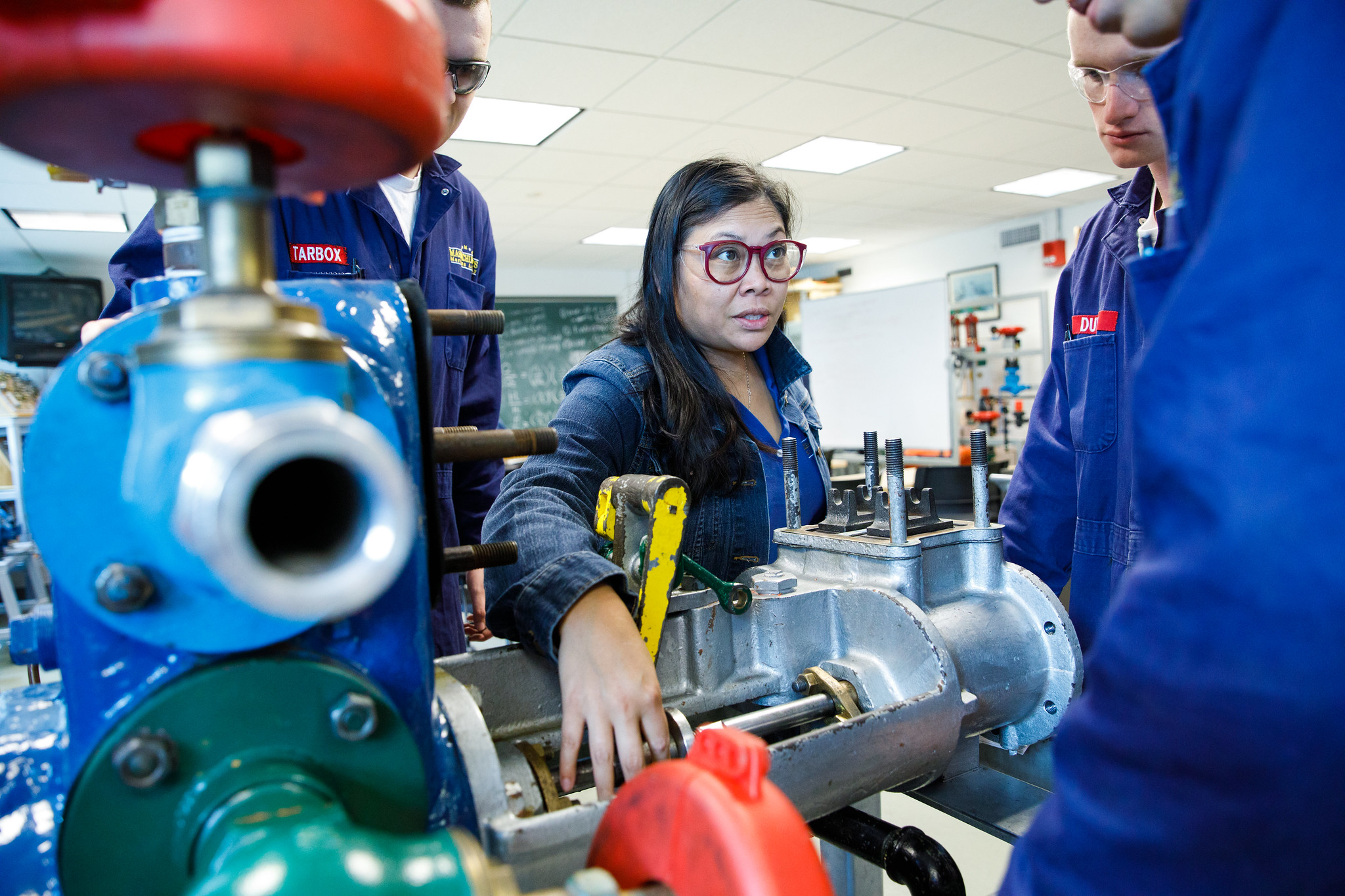 A cadet favorite, the Diesels Lab has cadets pulling pistons, removing heads, changing out bearings, setting timing, and other hands-on maneuvers to endure the engines are dismantled before reassembling and running. The roar of a running engine is considered a success at the end of each class. 

The Electrical Machinery Lab is where cadets get hands-on experience with electric circuits and wiring, AC and DC motors, generators, power distribution systems, and transformers. The theoretical and practical aspects of the operation and maintenance of electrical machinery, both ship and shore-side, is taught in this lab. 

Students perform circuit board building exercises using breadboards to plug in electronic components and create operational analog and digital devices. Waveforms are measured and analyzed. A series of sequential labs have been created to allow the students to develop and build upon previously learned and tested lab exercises.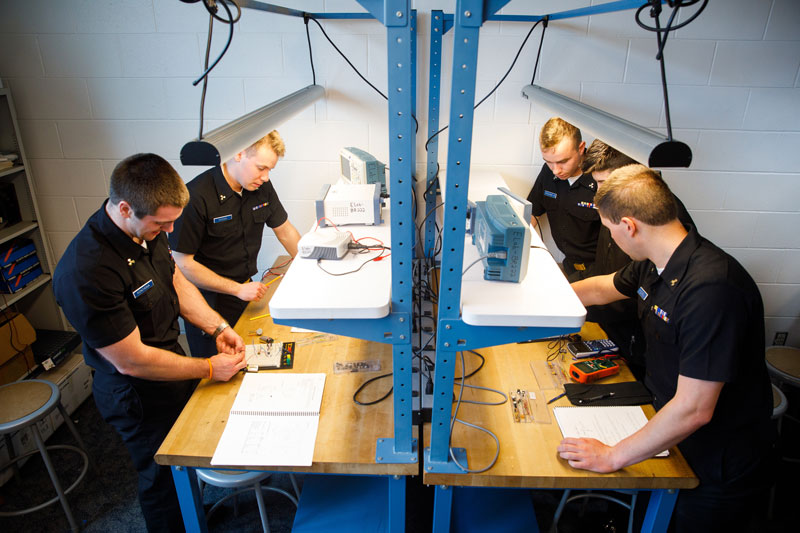 The state-of-the-art Marine electronics and Navigation Simulator is used to train cadets and professional mariners in the use of Electronic Chart Display Information Systems (ECDIS). 

Cadets can simulate the operation of high pressure steam boiler plants, operate marine propulsion slow speed diesel engine rooms, or gas turbine propulsion plants. The lab also offers other unique engineering software programs used by our cadets to model, test, and design engineering system components. 

Cadets see an opened-up, large-scale LM 2500 gas turbine compressor and combustion engine to fully understand the rotating components and precision clearances. A smaller fully operational gas turbine engine uses kerosine for fuel and spins at 80,000 rpm. 
Machine Tool Technology Lab

Cadets learn to operate a lathe machine and the state-of-the-art CNC machines, as well as develop their programming and tool set-up skills in this lab.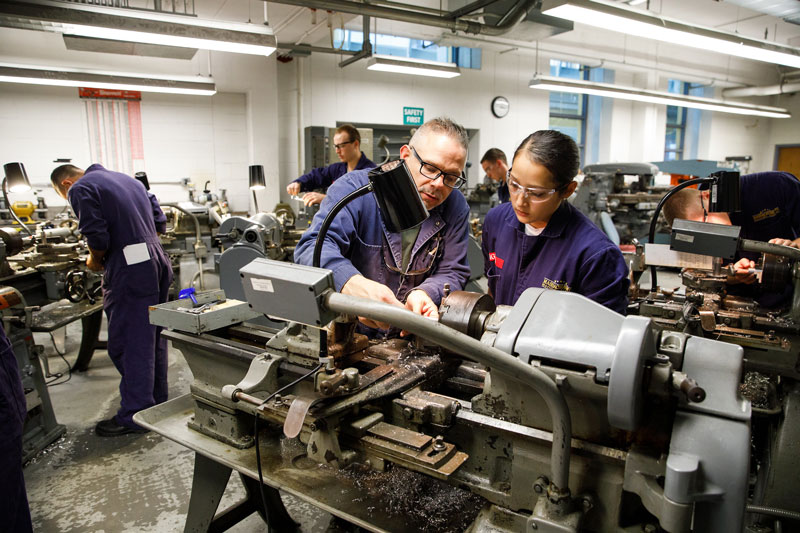 The Wartsilla Tug Simulator provides Marine Transportation students with excellent tools for both ship assistant training tasks and professional training in tug and barge operations, including simulation training in mooring operations (ship-to-ship and ship-to-pier); anchoring operations; and tug and towing operations.
 

Our Welding Lab allows cadets the ability to learn the intricacies of various welding processes. Students learn how to stick weld (SMAW), TIG weld (Tungsten Inert Gas), MIG weld (Metal Inert Gas), Oxy/Acetylene Weld and Braze, and use Plasma Cutters. Students practice developing skills in flat, horizontal, vertical, and the overhead welding process.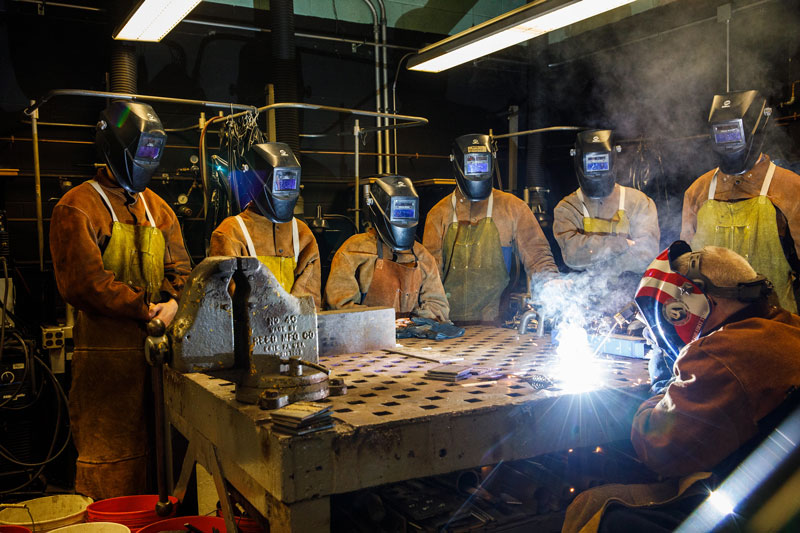 This boiler lab is used by engineering cadets of all three engineering majors. Students learn the steam cycle with actual, hands-on experience with a real boiler.