Commencement Parking Map
Since the campus will be heavily trafficked during Commencement weekend, and parking will be at a premium, we offer the following information to assist you: limited parking will be available in the Gymnasium Lot and Lot "C".
RED PARKING TAG – Accessible Parking
For those requiring accessible parking, passes are available for spaces inside the campus gate (closest to the Parade Field) to enable easier access.. Please note that entry to this area will be closed at 0845 for safety reasons. 
BLUE PARKING TAG  - Gym Lot
YELLOW PARKING TAG - Lot C - Academy Drive
For those families intending to arrive in more than two vehicles, additional parking will be available in the municipal parking lot located just off-campus adjacent to the train station.  Campus Shuttles will be running throughout the day.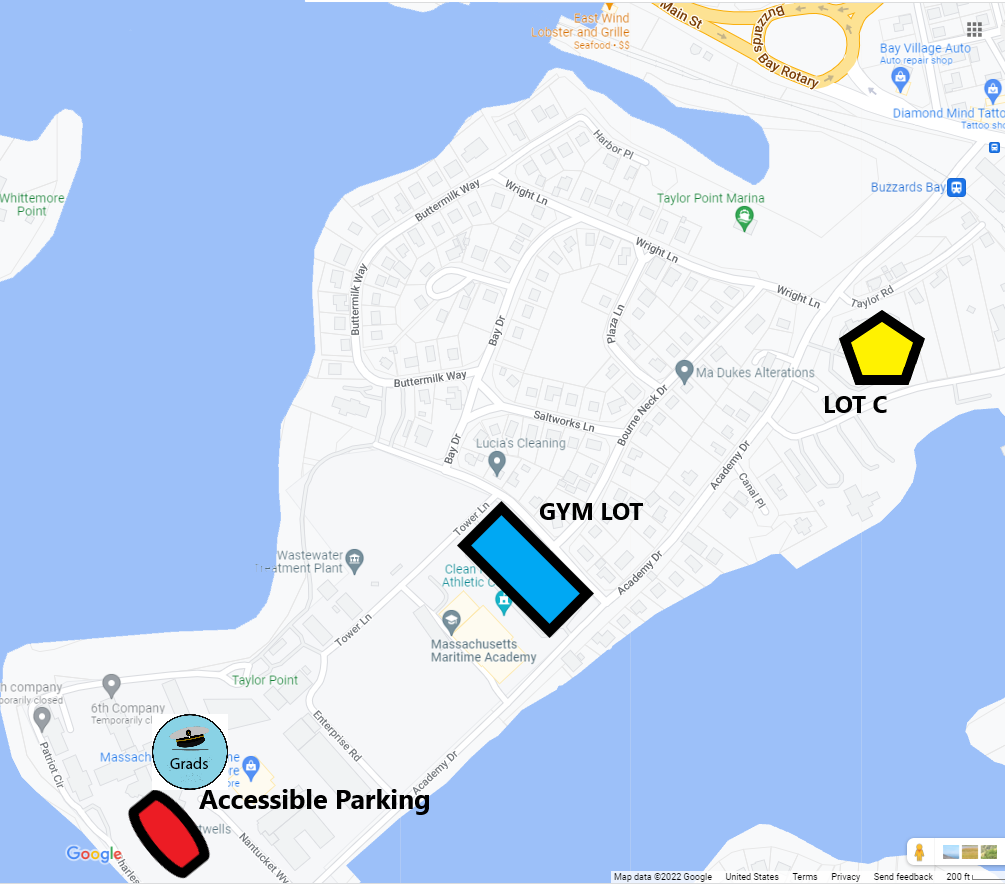 Directions
From the North/Boston
Take I-93 South and Route 3 South
Take Exit 1A towards Route 6 West - Buzzards Bay/Falmouth/Scusset Beach Rd
At the rotary, take the 3rd exit onto Main Street
At the set of lights in 1.5 miles, take a left onto Academy Drive
From the South
Take I-95 North towards Providence, RI
Follow I-195 East to Route 25 East
Take Exit 10 (Old Exit 3) towards Route 6 West- Bourne/Hyannis
At the rotary, take the 3rd exit onto Main Street
At the set of lights in 1.5 miles, take a left onto Academy Drive
From the West
Follow I-90 East
Take I-495 South to Route 25 East
Take Exit 3 (Old Exit 2) towards Route 6/Route 28 – Onset/Wareham
In 4 miles, keep straight in the right lane of the Buzzards Bay Rotary
At the set of lights take a right onto Academy Drive