Massachusetts Maritime Academy's current training ship has had just two captains.  That's it – just two!  Throughout Sea Term 2023, you have gotten to know Captain Michael J. Campbell who has served as Master of the TS Kennedy since 2017.  Today, we shine a spotlight on Captain Thomas L. Bushy.  Tom served as Master of the vessel, first as the, TS Enterprise, and then as TS Kennedy. In fact, he was responsible for selecting the ship for the Academy.
---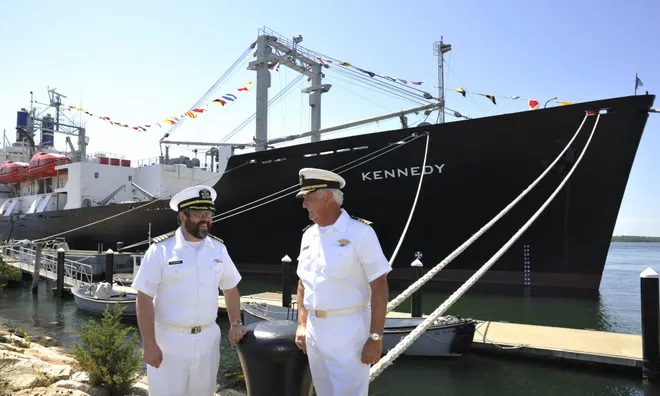 ---
Even as a young boy, Tom Bushy was drawn to the sea.  He began working at a local marina in Clinton, Connecticut when he was just thirteen years old, serving as a deck hand on large yachts. 
Thanks to the positive influence of a mentor, Tom decide to attend Massachusetts Maritime Academy.  At the time, the Academy had just two majors, Marine Engineering and Marine Transportation.  Tom chose the latter and never looked back.  In an interview with a local newspaper in 2000, Tom shared, "I chose to go to a maritime college. I didn't even apply to any other type of college, and I told myself if I didn't get in, I would join the Navy."
---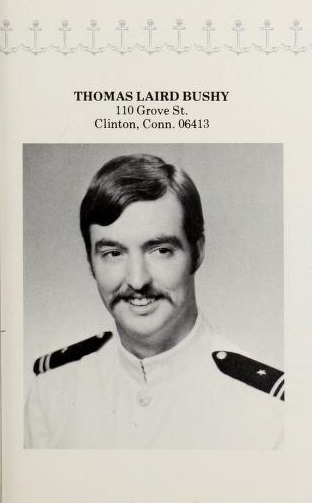 ---
Immediately after graduating from the Academy in 1974, Tom went to work for Sealcraft, a company that was exploring the energy potential of Georges Bank. He later was employed by Gulf Oil Corporation, working his way up from a mate to a captain.
In 1981, Tom returned to Massachusetts Maritime Academy.  For the next thirty-five years, he touched the lives of countless cadets as he worked his way up from a professor to the Master of the TS Kennedy. Tom also served as the Vice-President Of Marine Operations. 
---
---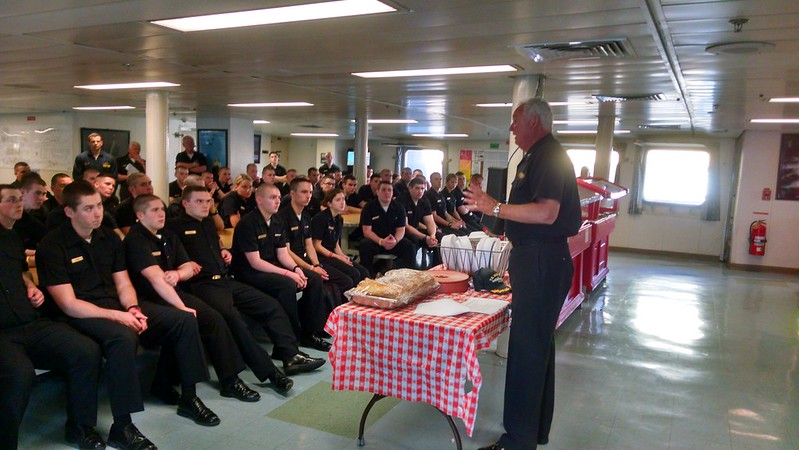 ---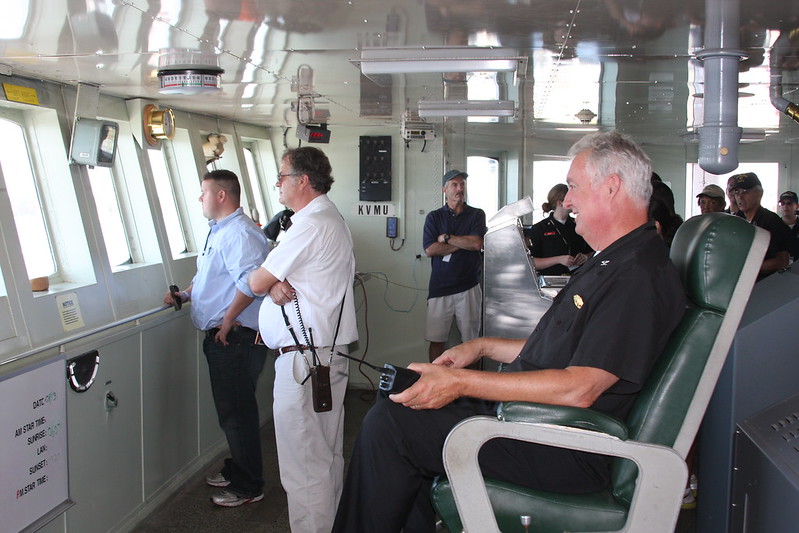 ---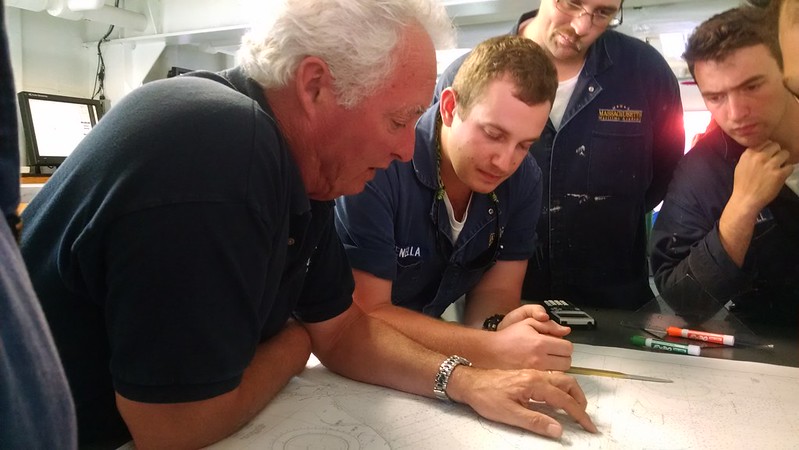 ---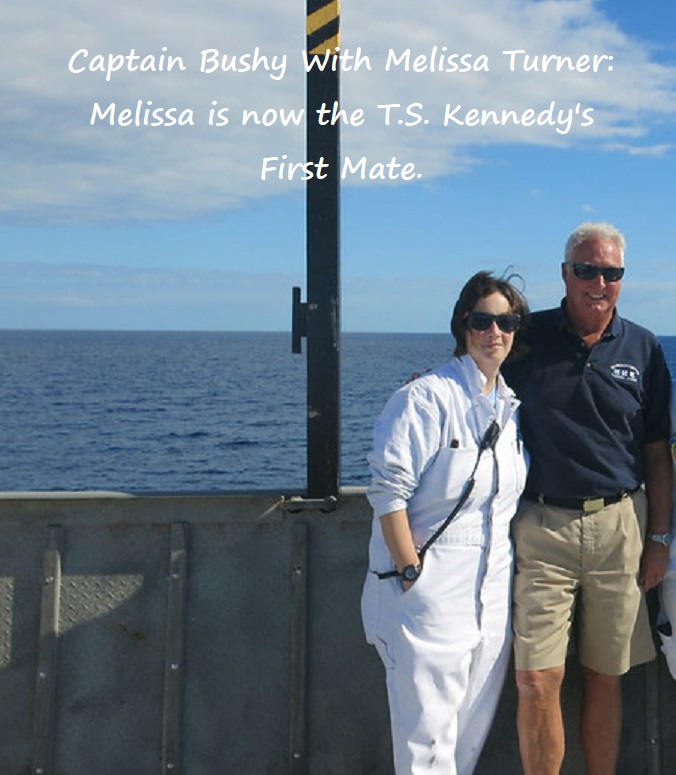 ---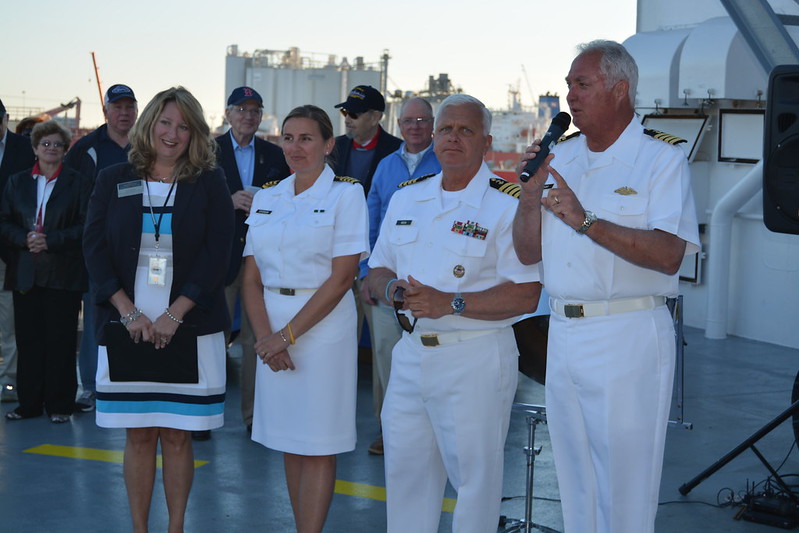 ---
Even while working at the Academy, Tom remained active in the field, shipping out during the summer months.  In 1991, he took a job as a captain of one of the Maritime Administration's Ready Reserve Force (RRF) ships to transport supplies to the Desert Storm troops in the Persian Gulf. 
During that time, Tom and his wife, Peggy, raised three sons, Thomas Jr., Michael, and Joseph, in North Falmouth, Massachusetts.
Tom is remembered for his larger-than-life personality, his talent for telling an extra-long story than you actually want to listen to, his infectious laugh, his dedication to educating the next generation of mariners, his ability to make tough decisions, and his love of everything related to Massachusetts Maritime Academy.  Upon Captain Bushy's retirement, Rear Admiral Francis X. McDonald, described him as a "dynamic and successful leader." 
---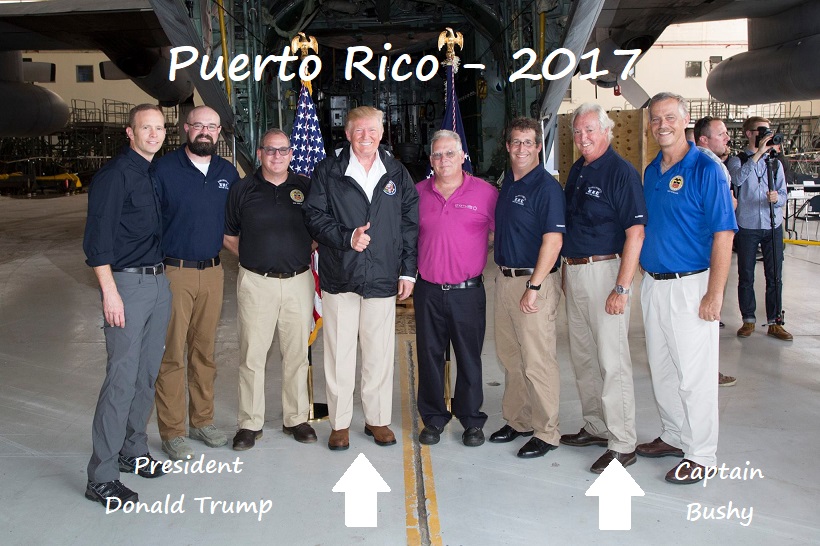 ---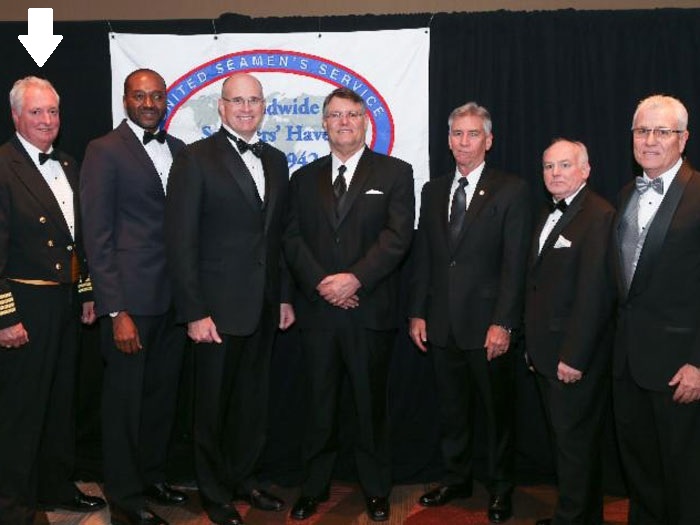 ---
---
On the occasion of the TS Kennedy's final Sea Term with the Academy, we asked Tom to share some memories.
 
The Cape Bon Is Selected To Be The Academy's Next Training Ship

"The search selection of the Cape Bon as a replacement for the aging TS Patriot State was officially ended on April 4, 1999 when I sent a letter to RADM Bresnahan.  The selection was made between two ships, the Cape Bon in Suisun Bay Reserve fleet in California and the Del Valle in the Beaumont Reserve fleet in Texas. The selection ad hoc committee included Chief Engineer Bill Butler, Chief Mate Jim Taddia, Deputy Commandant of Cadets Joseph Domingos, Captain Jerry McGourthy of Marine Transportation, Commander Brad Lima of the Marine Engineering department, and Professor Malcolm MacGregor of the Marine Safety and Environmental Protection department.
---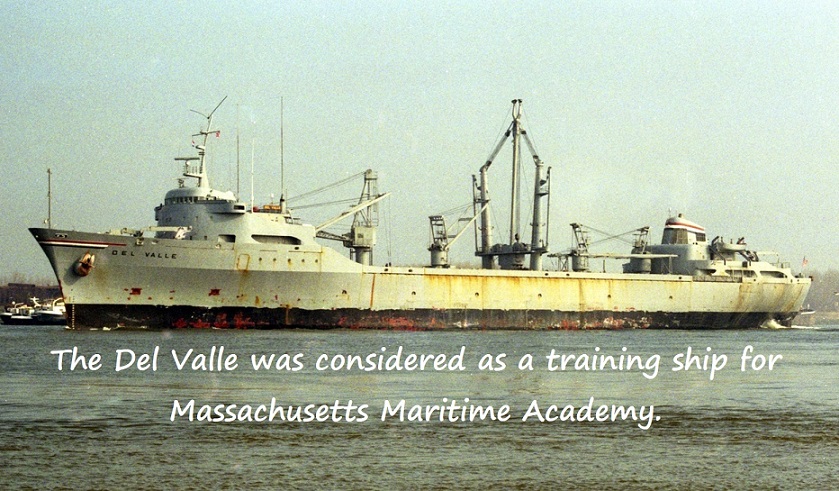 ---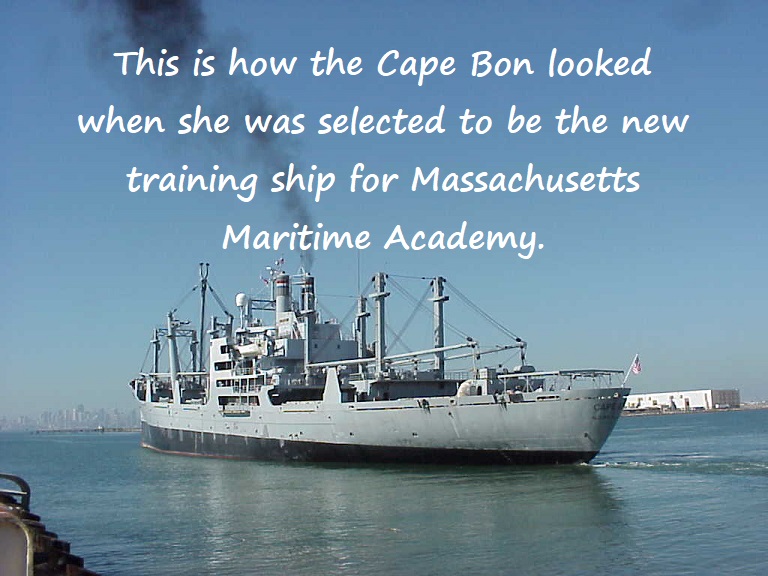 ---
Both ships had been surveyed by MARAD, Chief Butler and myself, and tentative conversion plans had been drawn up from two architectural firms - Tidewater in Norfolk, Virginia, and John Lehman in Philadelphia, Pennsylvania. 

The Del Valle, had a forward house at the bow, it was a little smaller, and her engine room was tiny - but cargo hold conversion was neatly laid out over four cargo holds with no superstructure interruptions.  But Cape Bon was bigger in all aspects - and we wanted to make a ship capable of carrying over 600 people."
 
 The Cape Bon Is Christened The TS Enterprise
"It really was sad day after all as Rear Admiral Bresnahan had recently been diagnosed with stage four brain cancer, and Rick Gurnon had to step up and take part in the ceremony.  It was cloudy and cold, and some of the elderly ladies accompanying their husbands let me know about it afterwards. 

But the cadets performed perfectly - while a contingent ran up the gangway on the "Bring Enterprise Alive Command", they were joined by a hundred more that we hiding below decks.  Within seconds radars were spinning; lights were activated, flags hoisted, the whistle blew and the cadets were smartly manning the rails.  It was impressive."
The TS Enterprise's First Sea Term
"I recall our first Sea Term in 2004.  After borrowing Empire State VI for five years, it was such an accomplishment o be aboard our own ship. We sailed to Panama and the Equator.  It was fun - but a lot of work.  The engineering systems were a nightmare for the part time engineers.  Bill Butler nearly pulled his hair out!"
 

The TS Enterprise Is Christened The TS Kennedy
"The $10 million to complete the conversion was specifically passed by Congress due to Senator Kennedy's poor health. The guest of honor at the christening was Joseph Kennedy - Bobby's son.  Joe was at the time an Assistant District Attorney in Barnstable County.  I spoke to him often leading up to that day.  Very level headed young man.  I visited him in his office in Washington twice with cadet contingents as we were seeking funding for a new class of training ships for all the Academies."
---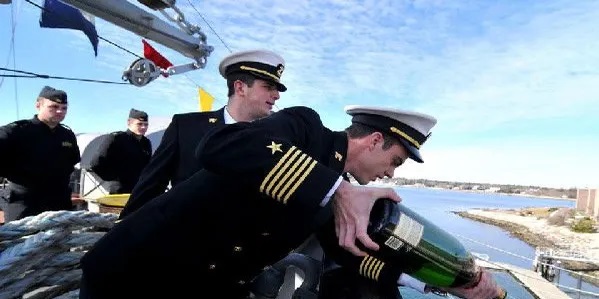 ---
Facing A Challenge Aboard The TS Kennedy
The Enterprise had a real shortage of officer staterooms. When the Kennedy conversion was completed, we added 18 rooms - ten of which had private baths (heads).  Oh, the infighting over what group of officers (staff, faculty, ship's crew) should get the new rooms. As it turned out I made the call, and placed most of the faculty in the new rooms, which included a small recreation lounge.  They were happy - and the other groups settled for many of the old Cape Bon rooms that has shared head arrangements.

Saying Good-Bye To Special Features
"Engineers will never see a full steam plant again, which is a form of process engineering - unlike turning a key to starting it up.  Deckies will have a new "training bridge" which is cool - but the dynamics between the operating bridge (and officer/crew) will require significant compromise.  And deckies will never see a yard a stay cargo gear system again."
As we prepare to bid farewell to the TS Kennedy,
let's remember to raise a toast to
Captain Thomas L. Bushy!
---
---