Ahoy, Followers -
As I have told you, I have been given a great honor.

To celebrate the final voyage of the TS Kennedy as Massachusetts Maritime Academy's training ship, I have been given the key to the video vault.  
You wouldn't believe the treasures that I have found!
 I have dusted off every video taken aboard our training ship as both the TS Enterprise (2004-2008) and the TS Kennedy (2009 - present).
Imagine my excitement when I found not one, but two videos of Shaft Alley!  
First Assistant Engineer Griffin Baker enjoyed watching the videos with me.
He explained, "The shaft is how the power from the high & low pressure turbines gets delivered to the propellor which drives the ship. Typical sea speed is approximately 60 RPM, in my experience."
The first video was taken on March 8, 2008.
The second video was taken on July 2, 2012.
---
---
---
As you can see in the recent photo below, the shaft is painted in blue and gold, the school colors for Massachusetts Maritime Academy.
---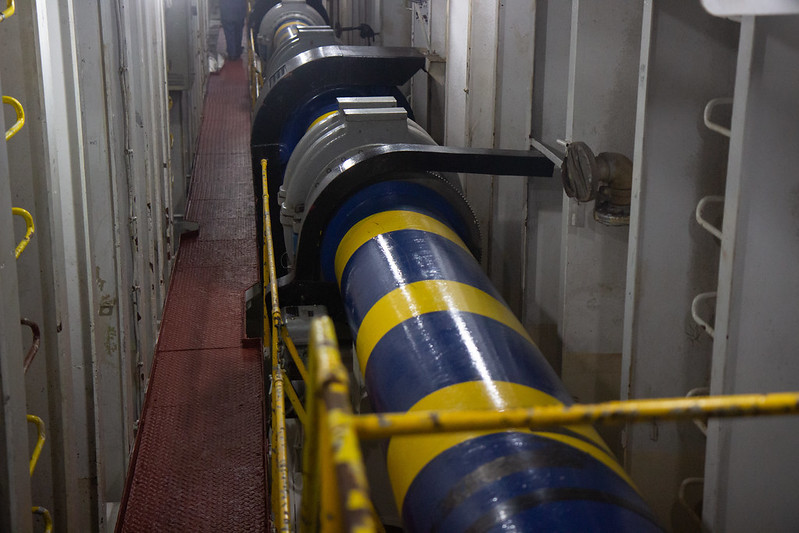 ---
Wasn't the sound of the spinning shaft noisy? 

You can understand while cadets and crew members wear hearing protection while working in this area of the ship.
I will keep hunting for videos to share with you.
Your favorite historian on the TS Kennedy,
Little Buc