Good morning, Followers –
Yesterday, I received an email from Kristi Hawkes, a kindergarten teacher at Bournedale Elementary School in Bourne, Massachusetts.  The school is just a few miles from Massachusetts Maritime Academy.
Ms. Hawkes wrote,
"Our kindergarten class at Bournedale Elementary, your neighbors in Bourne, have been having so much fun following the voyage! We wanted to wish everyone aboard the TS Kennedy a Happy Valentine's Day and share some illustrations of the ship. You might see some of these faces welcoming you back this weekend!  Thanks for sharing your adventures with us! I think you may have inspired some future cadets!
The email was accompanied by this photo of students holding a banner wishing, "Happy Valentine's Day!" to everyone aboard the TS Kennedy.  I have already shown it to some crew members who have stopped by my office.  Because cadets and crew members will have to wait until Sunday celebrate Valentine's Day with family members and friends, this photo is extra special.
---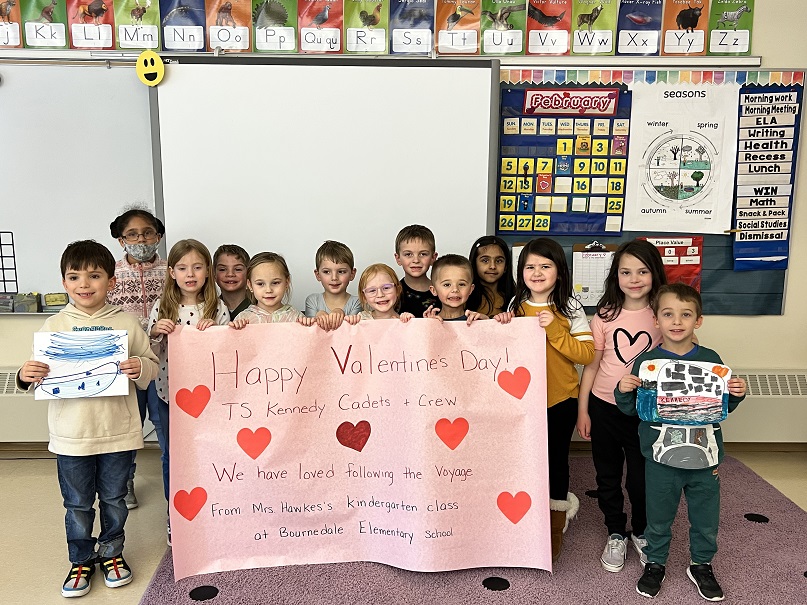 ---
I am happy to hear that some kindergarten students plan to welcome the TS Kennedy home on Sunday.  The ships is scheduled to dock at Taylors Point at 8:30 AM.  Prior to that, we will transit the Cape Cod Canal from Cape Cod Bay.  We will pass under the Sagamore Bridge, the Bourne Bridge, and the Railroad Bridge.  The weather will be ideal for students and their families to line the Cape Cod Canal or to visit the campus of Massachusetts Maritime Academy. 
---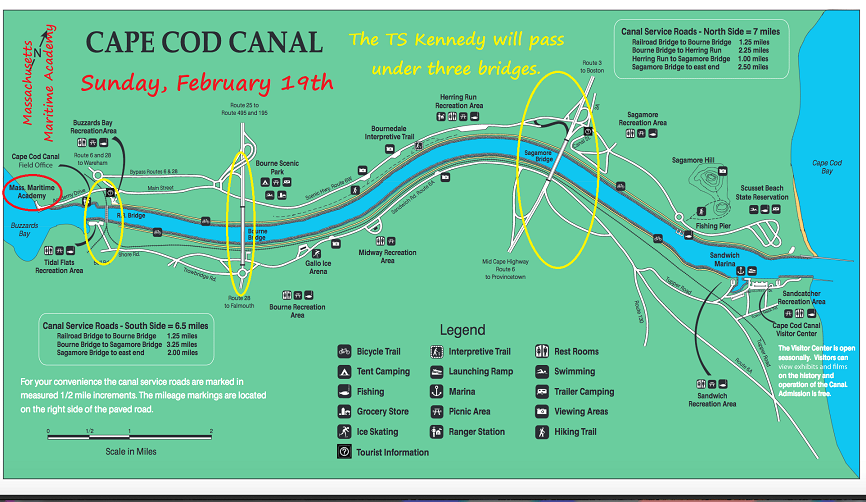 ---
It is great to hear that there may be some future cadets in the Kristi Hawkes's class. If I did my math correctly, they will be part of Massachusetts Maritime Academy's Class Of 2039. 
Wishing these kindergarteners and all of the students participating in the Follow The Voyage-Share The Experience Program a Happy Valentine's Day!
Sincerely,
Captain Michael J. Campbell
Master, TS Kennedy