Good morning, Followers –
The TS Kennedy is homeward bound!  Our next stop will be Taylors Point in Buzzards Bay, Massachusetts. 
Everyone had a great weekend in Florida.  Many cadets spent their liberty with family and friends who had driven to Fort Lauderdale or flown in for the weekend.  The fourteen cadets who are Florida residents acted as tour guides for their shipmates.
We were happy to have prospective students from Florida attend the Academy's annual Shipboard Open House.  This is a Sea Term tradition organized by the Admissions Department that faculty, cadets, and crew members look forward to.  Each year, cadets volunteer their time to share their experiences with visiting middle school and high school students.   If you attended the Shipboard Open House, I hope that you will explore this website to discover what Sea Term is all about.  I look forward to seeing you as a Massachusetts Maritime Academy cadet in the years to come. 
On Saturday evening we welcomed Massachusetts Maritime Academy alumni, generous donors, members of the Academy's Board Of Trustees, and many, many special guests for an evening reception on the Helo Deck.  I don't want to begin mentioning names of those in attendance as I am likely to accidentally leave someone out.  As always, Dining Service Director Bob Cobb and the Chartwells team worked tirelessly to prepare and serve a wide assortment of delicious food that the guests raved about.  No detail was overlooked. 
I haven't forgotten my promise to all of you to share a photo of me in my dress white uniform.  When Sea Term 2023 began, I told you that you would have to wait until our final port to see a new photo of me in my special occasions attire.  I have sent a photo to Mrs. Franks so that she may add them in with this log. 

In this photo, Captain Campbell stands with Captain Elizabeth Simmons, the Academy's Vice President Of External Affairs.
---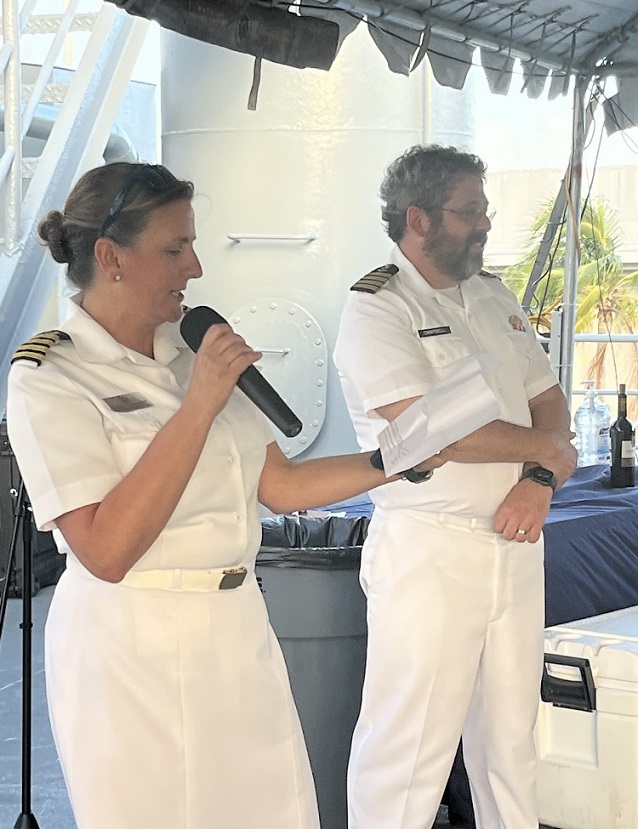 ---
In a recent email, a high school student asked me to describe the Deck Logbook that is used aboard the TS Kennedy's Bridge.  He had heard that all ships are required to maintain a legal and permanent record of a ship's life and operation, and was curious about what information is written in it.
Our Deck Log Book is of critical importance.  It is a record of the TS Kennedy's movements and activities throughout her voyage.  In any legal proceedings related to the training ship, the Deck Log Book would be the only document accepted as evidence.  The Deck Log Book is a confidential document that may not be read, copied, or photographed without my permission. 
---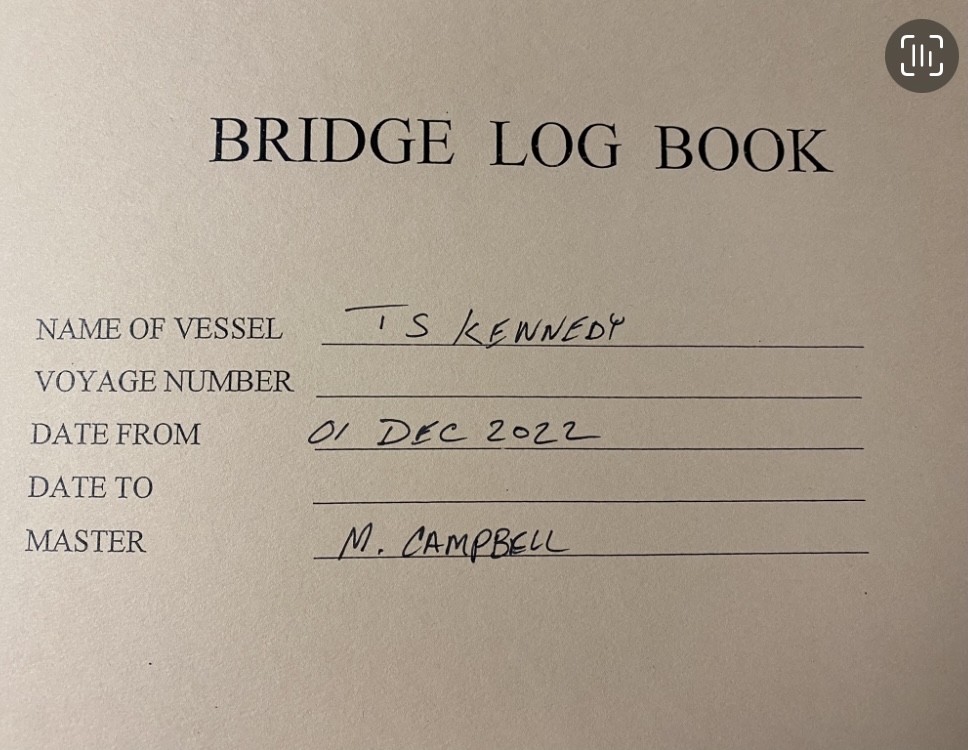 ---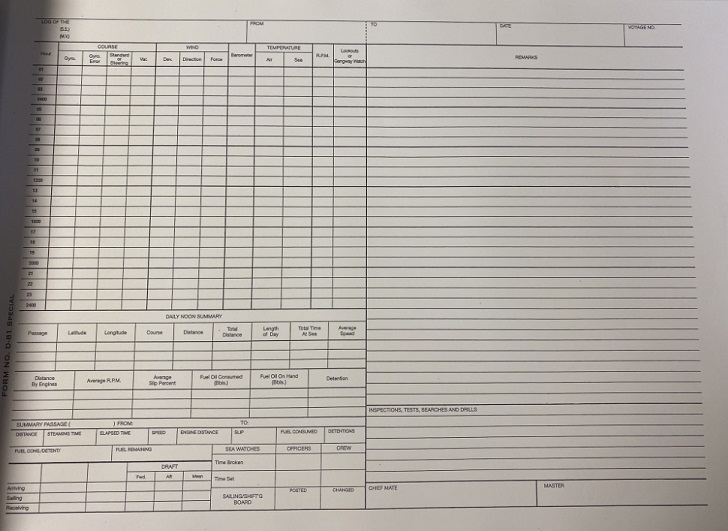 ---
Due to its importance, cadets are not allowed to write in the official Deck Log Book.  Entries are made by the Officer Of The Watch every four hours.  The Officers sign their name and rank beside each entry.
Because this is a training cruise, however, a second book has been created specifically for cadets.  The pages of Cadet Deck Log Book are identical to the official Deck Log Book.  Throughout Bridge Watch, cadets make entries in the Cadet Deck Log Book as the Officers make entries in the Official Deck Log Book.  During class time, Third Class cadets are provided with sample log book entries and have an opportunity to write entries on their own. 
Entries in the Official Deck Log Book are made in black ink.  Some special entries are required to be made in red ink such as arrivals, departures, drills, and inspections.  You are probably use to erasing errors on your papers and reports.  Erasing is not allowed in the Official Deck Log Book.
I am sure that your teachers stress neatness when you are working on important assignments.  Neatness is key when making entries in both the Official Deck Log Book and the Cadet Deck Log Book.  Unlike a notebook that you may use in class, post-it notes may not be added and pages may not be removed and discarded if a mistake is made.  Proper nautical terms must be used at all times.
The top of each sheet in the log books includes the ship's name, where the ship is traveling from and to, the date, and the voyage number. 
The left-hand side of the log sheets include: the course, the wind direction, barometer reading, temperature, names of people in watch positions, the daily noon summary, and data related to fuel and water.
The right-hand size of the log sheets include: changes in course, changes in speed, information about Pilots who join the ship, time zone changes, changes in weather, and any accidents or fires.
There are many more details that are added to the pages – too many to list here.  As you can see, this is a very comprehensive document.  You can be sure that I read over the entries very carefully before signing my full name at the bottom of each page. 
I will ask that a photo of the Official Deck Log Book be included with this log so that you may see the size of the book and where it is kept.
---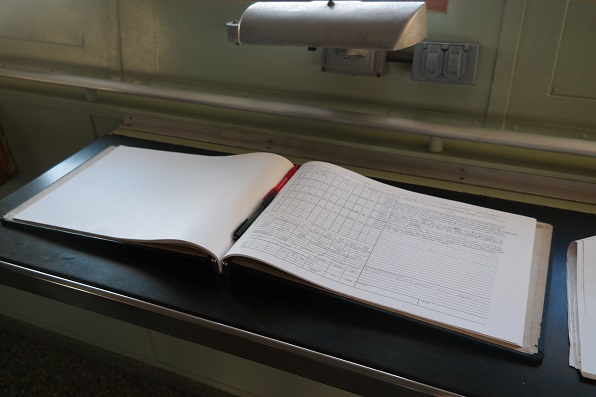 ---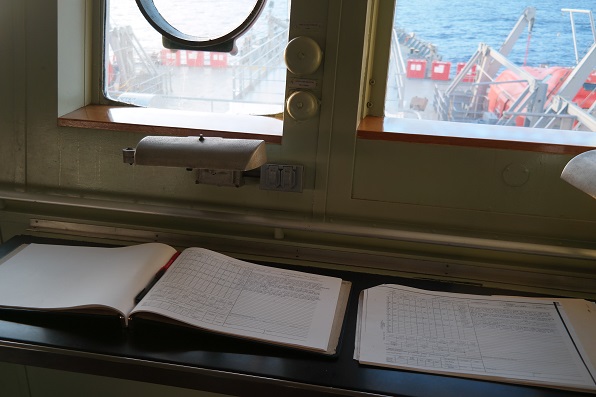 ---
I hope that you and your family will line the Cape Cod Canal to welcome us home on Sunday.  The TS Kennedy is scheduled to dock at Taylors Point at 0830.  The ship will begin its transit of the Cape Cod Canal after 0700.  As always, times are subject to change. 
Sincerely,
Captain Michael J. Campbell
Master, TS Kennedy