Welcome back to my blog, Followers!  Most people think life onboard a ship is always fun and exciting, but this isn't entirely true. We all have responsibilities and jobs that must get done that might not be our favorite to do. I'm sure everyone reading this can think of a few things in their own life that isn't their favorite to do like the dishes or cleaning your room. Whether we are in port or far out at sea, these jobs still must get done just like at your house. One thing that helps is teamwork, everyone on the ship takes turns doing the job throughout the day.
As the loading of the ship continued, I was assigned the position of Master At Arms for Tuesday and Wednesday.  On Thursday, I had laundry watch. On Tuesday my first shift started at 0715, those paying attention might notice in my last blog I said I had the 0800-12:00 shift and I did, but the shifts start 45 minutes earlier than the posted shift time, which confuses me too. When you are doing these shifts, it is important to stay vigilant and always pay attention because although the job is boring at times, it is a very important job that keeps the cadets safe. During my shifts, I had to report multiple things into the logbook like a leak into one of the hallways and one medical emergency. The most often problem was helping lost cadets.  Most of them were looking for the gym.
---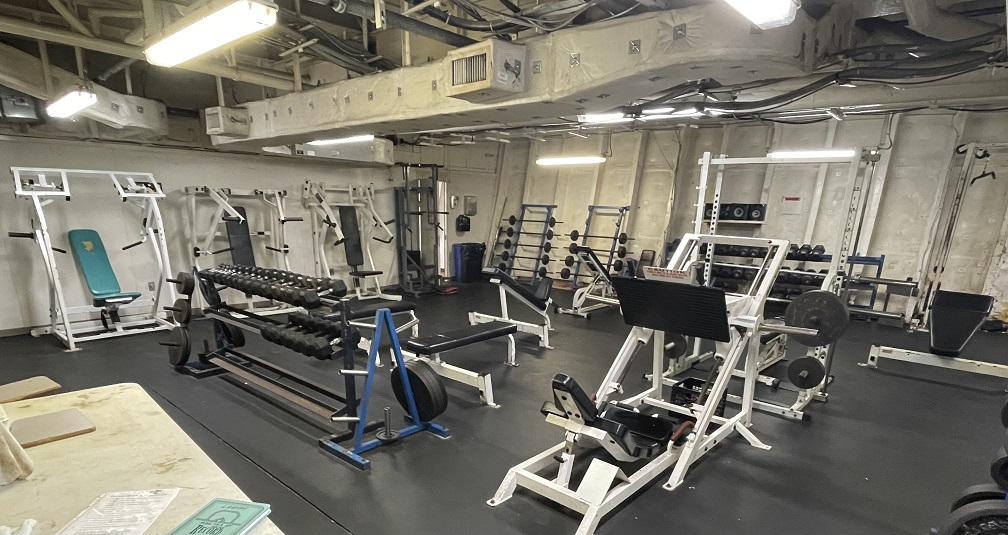 ---
With over 450 cadets living on the TS Kennedy this Sea Term, there are going to be a lot of dirty clothes that will need to be washed and dried. So, we have a large cadet laundry room equipped with rows and rows of washers and dryers for us to use. It surprises most people when they learn we have a laundry room watch which means 24 hours a day there is a cadet stationed there. This is because the laundry room is one of the spaces a fire could easily start in, or we could have flooding from a burst water pipe. During my laundry watch on Thursday, I filled out the logbook and monitored the space.
---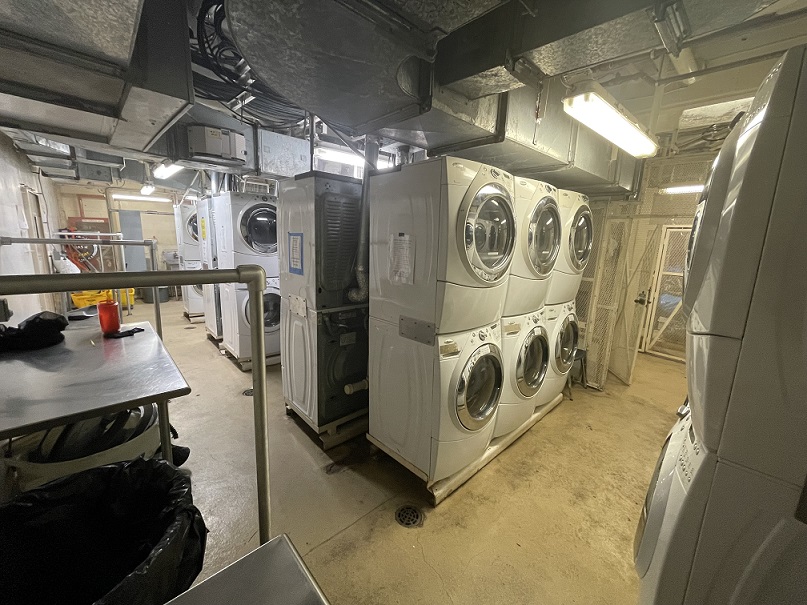 ---
Also, on Wednesday, we have a fire drill, then an abandon ship drill.  We had two more drills on Thursday to prepare for the drill on Friday.  That's the one that the Coast Guard will watch and grade us on. The drill starts with a blast of the ship's whistle for 10 seconds. Even when I know this is coming, I still jump from how loud it is. Then an announcement for where the fire is and where the firefighters should meet. Also announced was that the group I am in would be providing for the firefighters, so I grabbed my life jacket and went to my emergency station. I am at a damage control locker which is like a closet full of firefighting equipment. My job was to provide extra air bottles if needed that were stored inside. I've mentioned that the Kennedy has firefighters, but who are these firefighters? It's not like we can just call the local fire department when we are out at sea. So, the TS Kennedy has a group of seniors that have gone through extensive firefighting training that are led by staff members. For these seniors, their training even consisted of going into a real building that was on fire. After the simulated fire was put out, we went into an abandon ship drill.
Abandoning ship is something no one ever wants to have to do in their whole carrier, but we train for it so if we must abandon ship we know how to. The TS Kennedy is equipped with both lifeboats and life rafts. I am in a life raft on the starboard side of the ship, near the bow. Inside the life rafts are things like food, water, paddles, and even sea sickness medicine.
What's Coming Up? 
On Friday, I am back to the job of Master At Arms, but this time from 1600 - 2000 and 0400 - 0800. Then on both Saturday and Sunday, I will be on maintenance. Then we depart for the high seas on Sunday!
I know this blog was long, but hopefully, you enjoyed it.  I will be back next week for more once we depart and are at sea.  Please email me any question you have for me.  I would love to include the answers in an upcoming blog.
---
 Thanks for another outstanding blog and great photos, McArthur!  Never apologize for a long blog.  Your followers appreciate every word.  They are eager to gather information about every aspect of living, learning, and working aboard the TS Kennedy.  The detail that you add to your blogs helps your followers feel like they are on the TS Kennedy with you.
Followers, please email McArthur your questions to: ftvsubmissions@maritime.edu.