Welcome back, Followers –
We are quickly approaching Aruba where we will be docked from Friday to Sunday. This past week at sea has been uneventful for me with my week filled with mostly cleaning and Master At Arms shifts.

Keeping the TS Kennedy clean is a top priority onboard that involves everyone. When you are out at sea the last thing you want to happen is to get sick because then you cannot perform your assigned duties. While at sea we clean our hold (room) every night.  We do everything from mopping the floors to scrubbing the showers, making sure everything is clean and sanitary.
The Hold Captain goes to the Supply Locker to pick up cleaning supplies.  It is similar to going to a store - except there is no charge for the items.  
Read the Supply Locker Instructions.  Read the list of supplies that every hold must hove.
---
---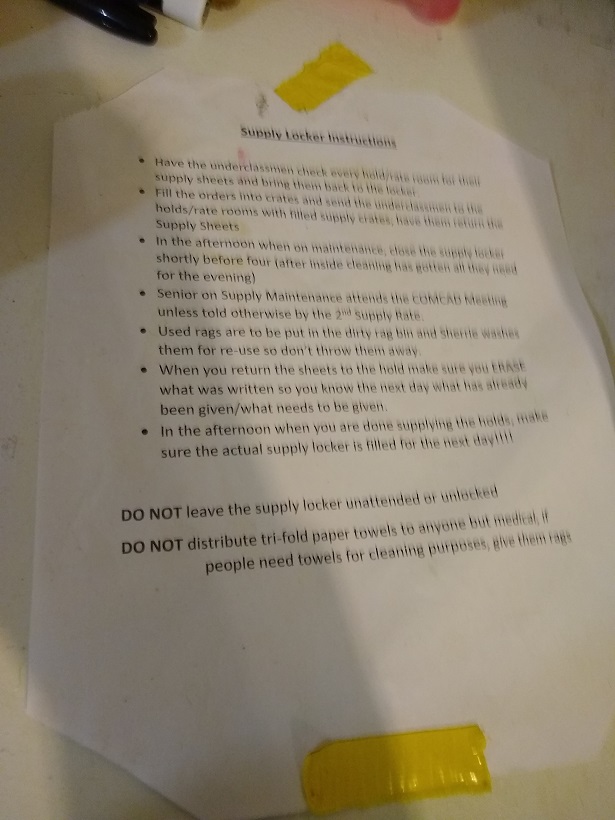 ---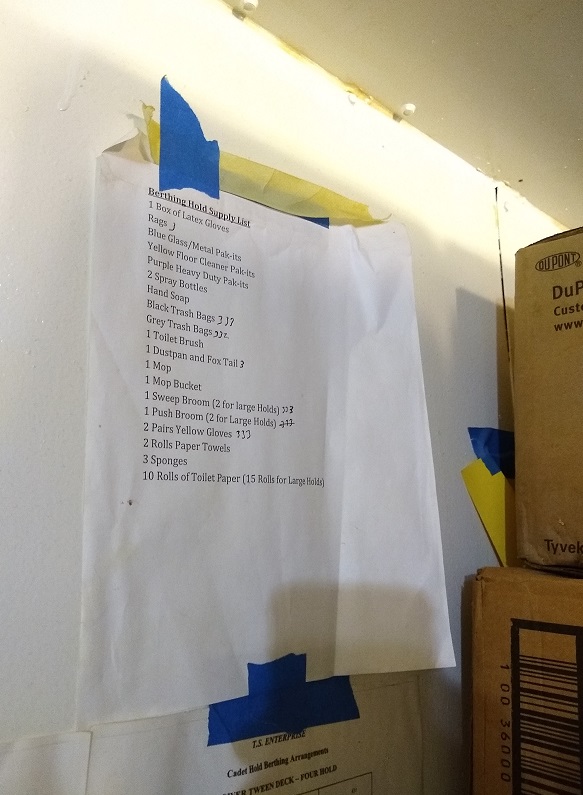 ---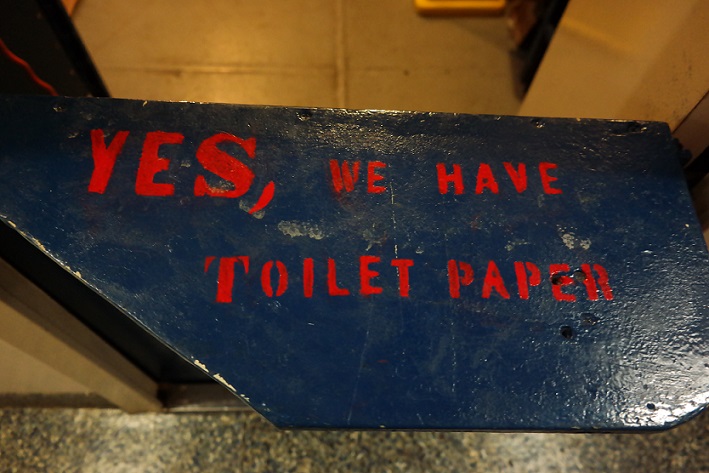 ---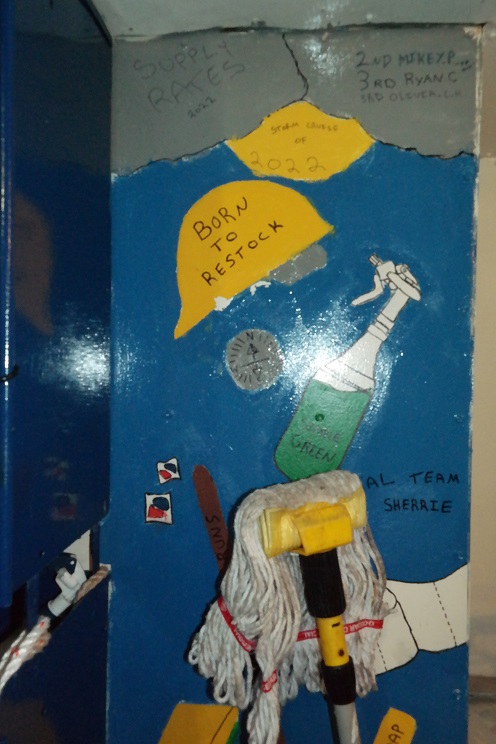 ---
We do this to combat germs onboard and to maintain a safe hold for us to live in. With people getting up all throughout the night for watch, it is important not to leave your things on the floors, so no one trips over them. If you are onboard and you do get sick or injured the TS Kennedy has a hospital suit with great medical staff that are equipped with all the equipment and medicine they may need to get you back on your feet.
           
On Wednesday, we had a fire and abandon ship drill, while at sea you always want to remain prepared, so we practice our drills while under way. Then on Thursday in between my Master at Arms shifts all the sophomore engineering cadets went to take their two engineering tests. The first test was we had was to draw out an engineering system that is in the engine room, but the catch being we didn't know which one we would be drawing beforehand. There was lots of anticipation on which we would have to do because some are more complicated than others. The way they decided which one we would be drawing is by spinning a wheel with about eight options on it. One cadet went up and spun the wheel to decide which one we all would do. As the wheel spun the entire room waited to see what it would land on, it felt like it was never going to stop spinning but then it slowed and landed on one of the easier ones. The entire room erupted with cheers as we had avoided having to take a much harder test. Although we did not have to do the harder test everyone had been studying for some time and was well prepared to take anyone of them.
---
---
The second test was the Cadet Oilers written exam. I did not have to take this test due to passing it earlier in the year. This test was 10 questions each requiring a written essay style response a page long. Cadets onboard had been studding for this for some time as it encompasses a large amount of marine engineering material.

Coming Into Port:
Before every port, the cadets onboard will gather for a pre-port meeting. In these meetings the staff will tell us any important information about the port we are visiting or any local things to be on the lookout for. In the Barbados, pre-port meeting we learned that they drive on the left side of the road and that it is illegal to wear anything with a camo pattern on it. Also, in Aruba we must watch out for an endangered rattle snake species. They will also go over the times we have to be back onboard the ship every night and some safety items.
---
This sign is posted in Barbados, warning residents and visitors about wearing camouflage. 
---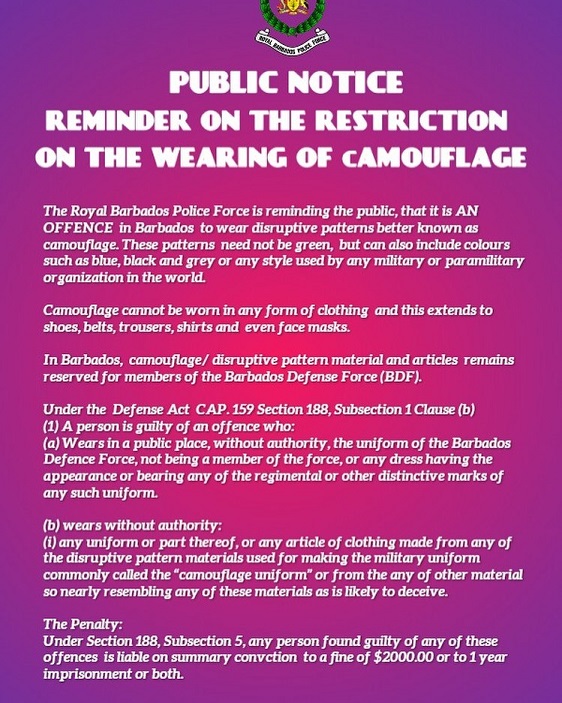 ---
Coming Up:
The TS Kennedy will be docking in Aruba on Friday morning.  Aruba is the port, that I get to leave the ship all three days. Then next week I will be in training which is hands on learning supplemented with some classroom time.

If you have been enjoying these blogs, please feel free to send in any questions or comments you may have. I'll be back on Monday with another blog.
---
We all love your blogs!  When you mentioned a cadet spinning a wheel to see which system 3/C MENG cadets would illustrate,  all I could picture was Wheel Of Fortune.

It is very interesting to know that wearing clothing with a camo pattern in illegal in Barbados.  
Your followers want to know:
A.  How is mathematics used aboard the TS Kennedy?
B.  What do knots do cadets learn?  How are the knots used aboard the ship?  
C.  Can you send photos about your Voyage Plan?  Can you tell us more about your Voyage Plan?
D. Have you ever been in the Fast Rescue Boat?
 
Enjoy Aruba!  Thanks for your hard work!  You rock!