During Sea Term 2023, all 4/C cadets will solder copper tubing in the Engine Lab.  Some cadets have had experience with soldering, either in high school or at home.   For most, however, it will be a new experience.
First, cadet will cut, prep, and make a soldered joint.  Next, they will work as a group, to fabricate the soldered copper tubing.  Finally, the finished product will be put to the test with fresh water to assure that the pipes are leakproof. 
The cadets will be provided with a tubing cutter, a tape measure, propane or a gas bottle and nozzle, tubing cleaning brushes or abrasive paper, a striker, lead-free soft solder, flux paste, and wet and dry rags. 
---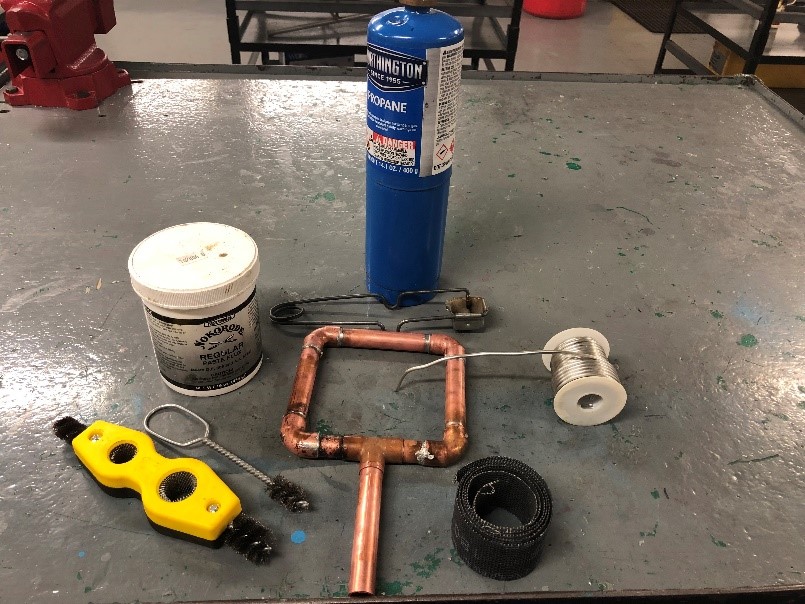 ---
Are you curious about what a striker is and how flux paste will be used?  You're not alone!  Many cadets are learning this vocabulary for the first time as well. A striker is a type of torch lighter that makes sparks without an open flame.  Flux paste is used to join two metals together during the soldering process.  It is impossible to successfully solder without flux paster.  The addition of the paste assures that the soldering doesn't weaken during day-to-day use.
As you've heard time and time again, safety is the #1 priority aboard the TS Kennedy.  All cadets must don safety glasses and gloves before beginning this activity.  The safety glasses protect the eyes should the hot solder spatter.  Wearing gloves protects hands against burns.  A fire extinguisher is always on hand because the torch could spark combustible materials nearby. 
---
Click on this link to  see Training Rate 1/C John Hall demonstrate the propane torch used for soldering.  John is from Davie, Florida.

https://drive.google.com/file/d/1__blVrEuWKoWH4En7shomMh_H2RDxYTn/view?usp=share_link
---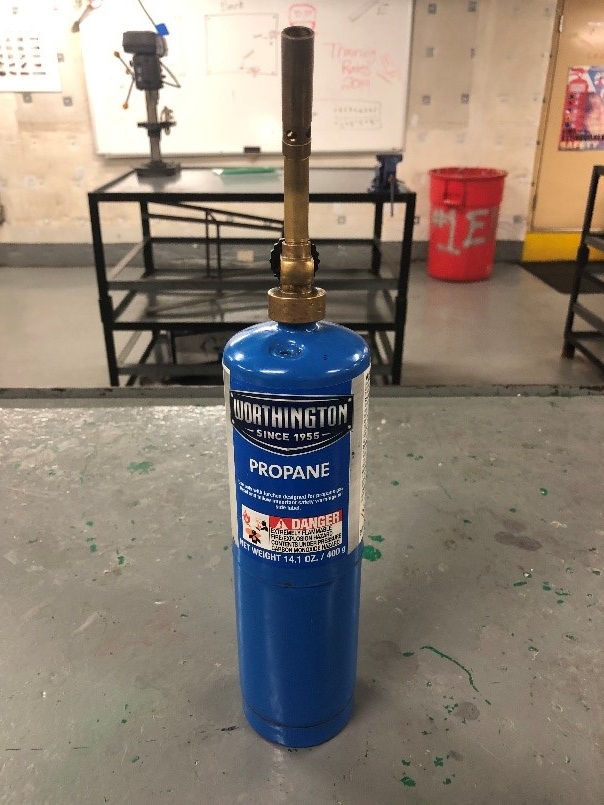 ---
Are you wondering why cadets need to learn soldering?  The answer is simple: when a pipe or line needs repairing, Captain Campbell can't pick up the phone, call a plumber, and expect he/she to get to the TS Kennedy when she is miles from shore.  Cadets are trained to be independent and solve any problems that occur.  Knowing how to solder rigid copper tubing is a skill that will come in handy.    Copper tubing is used for hot and cold potable water, compressed air lines for pneumatic controls, hot water heating systems, refrigeration gas lines, sea water cooler machinery supply lines, and chilled water air conditioning. 
---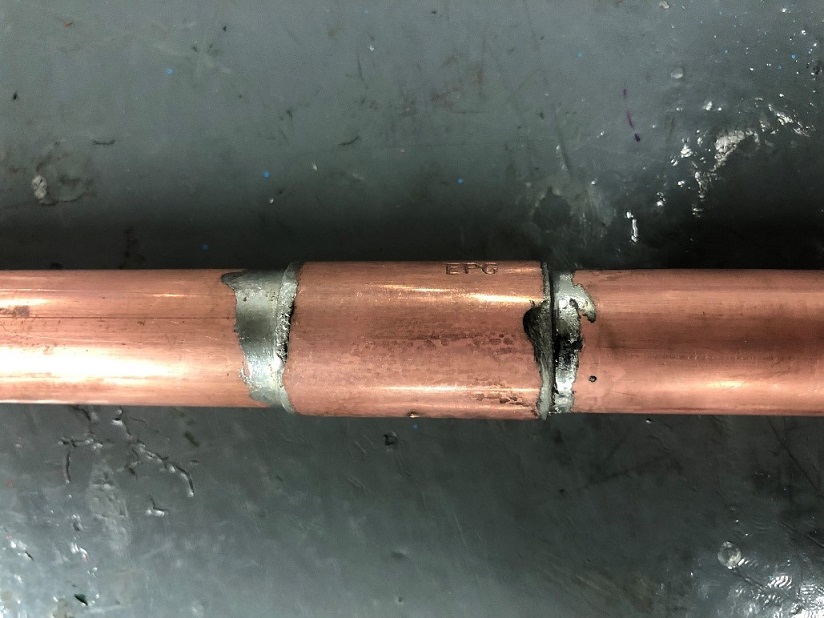 Teachers And Parents:  While our cadets try to master soldering, we invite students in high school to work with a teacher or an adult to learn this useful skill.  It is important that students should never experiment with soldering on their own.  If student do tackle soldering, we'd love to have you share a photo or video.  The cadets will enjoy knowing that student back on land is mirroring what they are doing aboard the TS Kennedy.  The photo may be emailed as a JEPEG attachment to ftvsubmissions@maritime.edu.  In the body of the email, teachers should include their name, school name, grade level, and the city/state where the photo was taken.  We'd also welcome student paragraphs describing their experiences learning to solder and discuss any challenges that they faced.