Office Location
Kurz Hall, 1st Floor
101 Academy Drive
Buzzards Bay, MA 02532
Office Hours 
8:00 a.m. - 4:00 p.m. Monday - Friday
Contact Information
508-830-6410
careerservices@maritime.edu
Mailing Address
Career Services
101 Academy Dr. 
Buzzards Bay MA 02532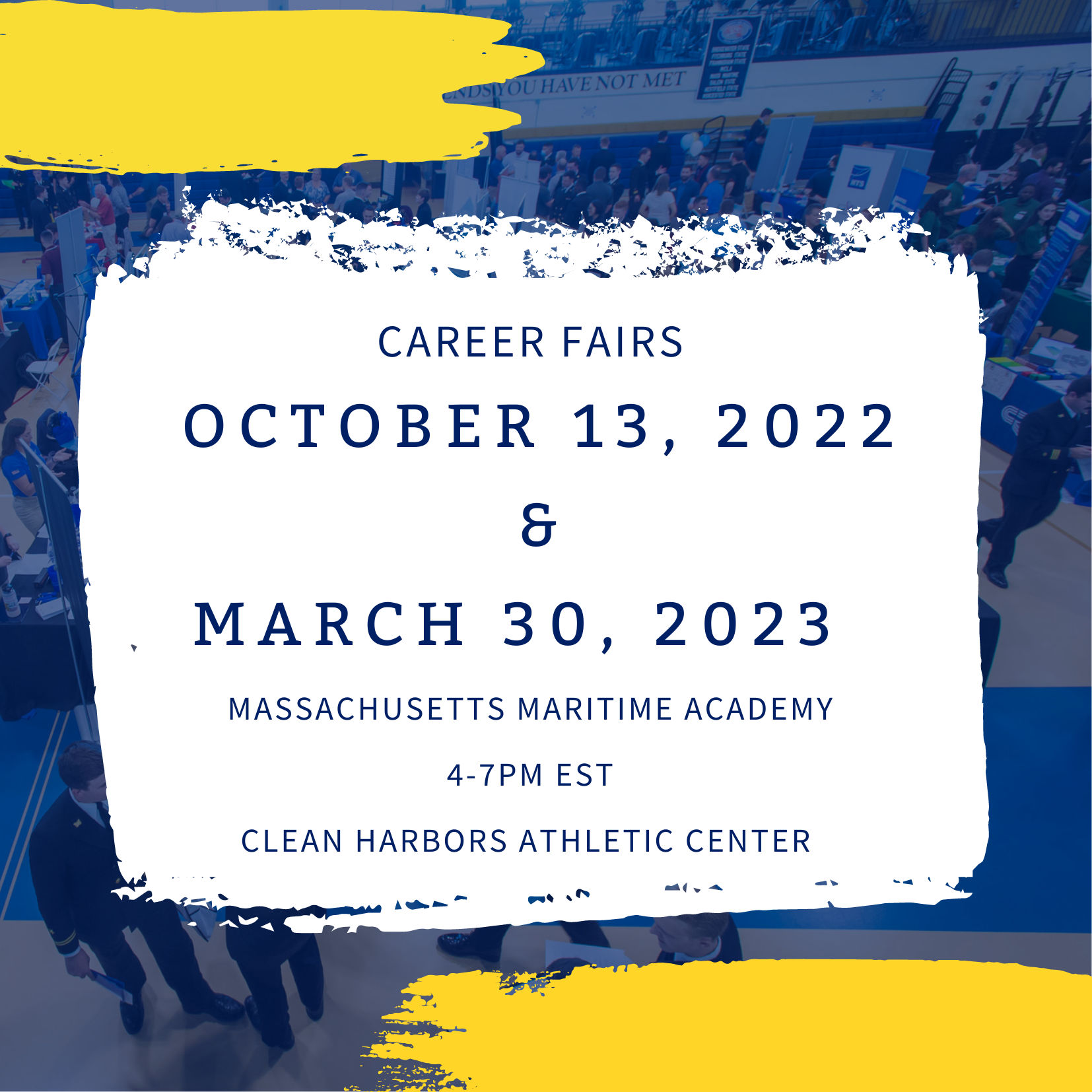 Emergency Management (EM) Expo
Thursday, October 27, 2022
The EM Expo is designed for organizations specifically interested in Emergency Management students, or those students enrolled in the Homeland Security Minor.
Cost to Attend:

General: $400 
Government agencies and non-profit organizations: $25
United States Armed Forces: Fee is waived 

All spaces include a 6' table, a tablecloth and 1-2 chairs (no electricity available)
For the health and safety of our campus community, all visitors must comply with the Campus Visitor Policy. 
If you need additional information or have any questions, please contact Career Services at careerservices@maritime.edu
Existing Employers
Enter your current username and password
If you forgot your account information, enter your email address and click Find My Account to reset your account information
New Employers and 1st Time Users
Click on Create Account
Enter a unique email, username and password
Follow the prompts to create company and recruiter profiles.
From the Dashboard, request to come on campus for events.
 
Some organizations who have visited MMA in the past to meet students in our Emergency Management Program:
America Corps

Association of Continuity Professionals (ACP)

Boston Public Health Commission

City of Quincy

Executive Office of Public Safety and Security

Fathom5

Federal Bureau of Investigation (FBI)

Federal Emergency Management Agency (FEMA)

FEMA Corps

Homeland Security Investigations

Massachusetts Emergency Management Agency (MEMA)

Massachusetts State Police

Middlesex Sheriff's Office

New Hampshire State Police

NH Dept of Safety/Homeland Security and EM

Pilgrim Security and Consulting

Portland Police Department

Secret Service

Seekonk Police Department

Southeastern New England Defense Industry Alliance

South Shore Health

Town of Bourne

Town of Chatham

Town of Plymouth

Town of Weymouth
12:00-1:30 pm          Lunch (on campus)
1:30 pm                     Information Session 
1:30 pm                     How to Develop a Co-op Program
2:00 pm                     Campus Tours
3:00 pm                     Booth setup 
4:00 - 6:00 pm          Career Fair - Clean Harbors Athletic Center
6:00 pm                      Employer Reception
For a list of Accommodations within 30-minutes from campus, please click here:
Contact hotels directly to find out about rates and discounts for MMA friends & family.