Bucs4Bucs
May 11th

Bucs4Bucs Day - May 11th - is going to look a little bit different this year. In light of the current circumstances, we continue to reshape Bucs4Bucs Day to bring our MMA family together in action even when we cannot be physically all together. There is power in participation and power in our network of alumni, cadets, parents/families, friends, faculty, and staff. Save the date for May 11, 2021.
We ask that you join us in doing three things
Make a gift to support our cadet (plus if you are an alumnus/a this will count towards the Maritime Challenge),
Commit to doing something kind for someone else or volunteering,
Wear your Buc gear with pride.
We are asking each of you again to show what Buccaneer Pride means to you! Last year we had a great turnout from all over the world! Join us again this year and share what you do using #bucs4bucsday and #massmaritimealumni or email your photos and to advancement@maritime.edu.
 
Bucs4Bucs day is a day to demonstrate and celebrate the way that the MMA Community comes together to support each other.  Here are some ways that you can get involved.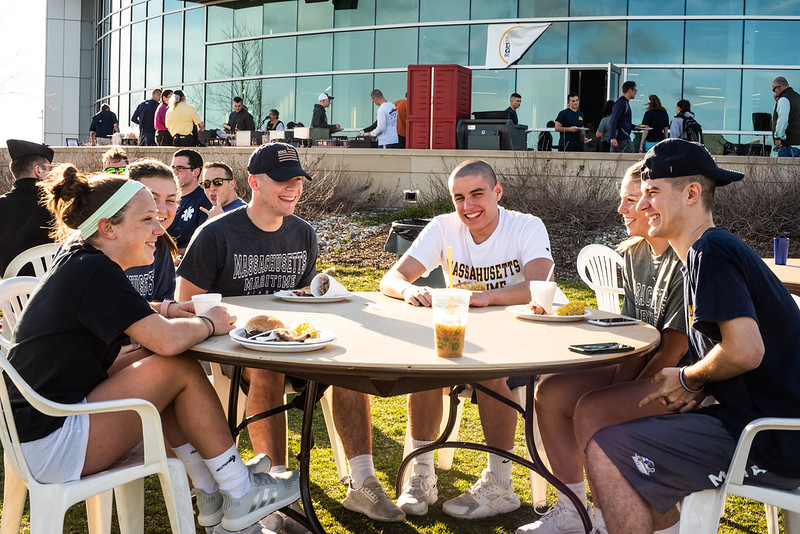 Support MMA
Attend one of our virtual events

Create a video honoring someone and challenging others to participate with their

best gift to MMA

.

Make a gift to MMA 
Reach out - Do you know a current cadet, reach out and see how they are doing during the final week of classes?
For Cadets
Attend one of our virtual events

Check on a classmate or friend who is studying at home this semester

If you are a part of the Big Brother or Big sister program reach out to your little
For Anyone
Go for a walk on your local beach or trail and pick up trash (with gloves)

Participate in

The Do Good Challenge.

Set up a neighborhood food drive.

Support a local business.
For Kids
Chalk some encouraging words on your sidewalk or driveway (if the weather is good)

Create a fun drawing and send to

https://colorasmile.org/

Cut out, decorate and hang a heart from your front window