Uniform Fittings

Cadets are fitted for uniforms prior to their arrival at the Academy and receive their "seabag" on day 1 of Orientation. Throughout Orientation, cadet candidates are taught by their cadre how to care for, iron, and wear their uniforms.
Location
All in-person fittings will be completed in the Follett's Bookstore, located in Kurz Hall at Massachusetts Maritime Academy, and done in accordance with all proper health and safety protocols.  Please note that you should arrive no sooner than 10 minutes before your scheduled appointment to help avoid overcrowding.  Upon arrival, you can park in front of Flangan Hall (Admissions) in our guest spaces or spaces directly adjacent to the softball field. You can then proceed up Nantucket Way to Kurz Hall.  If you are planning to come with any guests they must remain in the vehicle at all times.  You will be the only person allowed out of your vehicle for the fitting. 
 
1. Choose a time
Wednesday June 2 from 0800-1800
Thursday June 3 from 0800-1800
Friday June 4 from 0800-1800
You can register for a single 20-minute time slot on whichever days works best for you here.  Please note that you MUST sign up for an appointment to be fitted.  

2. Share your information with the bookstore
You'll need to share a few things with the Bookstore to get started. 

3. Print your fitting guide-sheets
Print out a copy and fill out the top part of the guide-sheet labeled "Cadet Information".  This is the same information you will submit via the Google Form above.  Do not fill out any information other than the Cadet Information section.  Please bring this form with you to your fitting.  
Please do your best to select an in-person fitting appointment. For cadets that are unable to travel for an in-person fitting, we will be offering virtual uniform fittings.  These will take place on June 8 (male fitting), June 9 (female fitting), and June 10 (anyone else that needs to fit).  These will be completed via Zoom meetings at 1900 each night.  If you are planning to attend a Zoom fitting, please register here. Those attending a  Zoom fitting will be mailed a small package with the documents and tape measure necessary to complete your fitting.  All cadet candidates must register for an in-person or virtual fitting no later than 1600 on May 28.  If you have any questions, please contact the bookstore at 508-830-6488.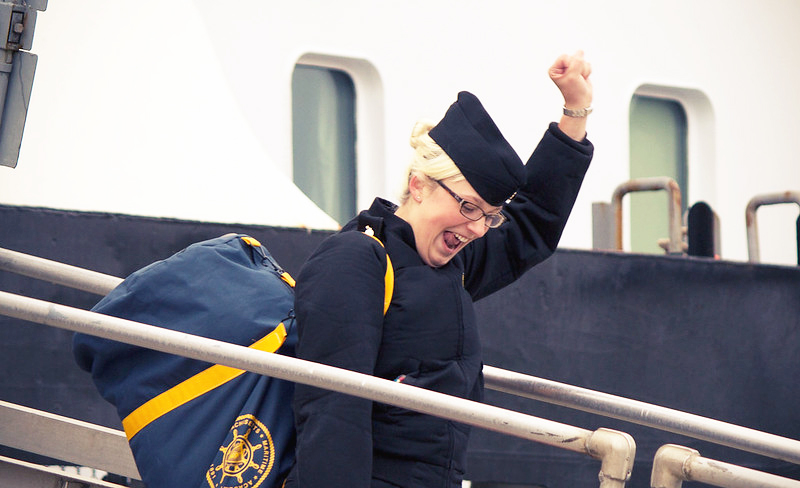 Your seabag is a part of your bill. The bag and its included items are considered a single unit. Due to sanitary and other reasons, once you accept it, its entirety is non refundable.