Learn how to prepare for Orientation.
 
You'll be immersed into a culture of maritime customs and traditions.
 
Our two-week orientation program prepares cadet-candidates for regimental life. This is done through a detail-oriented approach. Team building and military-style drills are accompanied by physical and mental conditioning. Cadet-candidates are taught accountability for themselves and their shipmates. This program builds a sense of duty toward academic studies, the Regiment, and the industries they are looking to join.
Important Message for Families Attending Orientation Graduation
To: Cadet Candidates Orientation 2021
Please share this message in full with members of your family who will be bringing you to campus this Saturday and/or plan to attend your Orientation Graduation on Friday, August 27th. We are excited to welcome you, our cadet candidates, and your families to campus for Orientation on Saturday, August 14, 2021. As you know, all cadet candidates and all returning cadets have complied with our COVID 19 vaccination requirement. As our Health Services team continues to closely monitor the emerging variants and public health indicators, the Academy will require all guests to campus (including parents and families) to be vaccinated and prepared to provide proof of vaccination status beginning Monday, August 16, 2021.  We also ask anyone with COVID 19 symptoms to refrain from entering campus.  I am sharing this information with you to both ask for your parent/family member(s) compliance with vaccination or masking for move-in this Saturday and to set the expectation in advance for Orientation Graduation on August 27, 2021. 
Again, I look forward to seeing all of you this coming Saturday. 
Commander Steve Kelleher
Commandant of Cadets
August 14
Check-In
Youngies will arrive on campus with personal gear and check in with the Admissions department and their assigned company staff.
Cadet Candidates should report to campus for 0800 hrs.  After check-in, everyone will make their way to Clean Harbors Stadium to kick off Orientation 2021.
August 14-27
Orientation
The Academy's indoctrination program, known as "Orientation," will be the most rewarding experience of your life.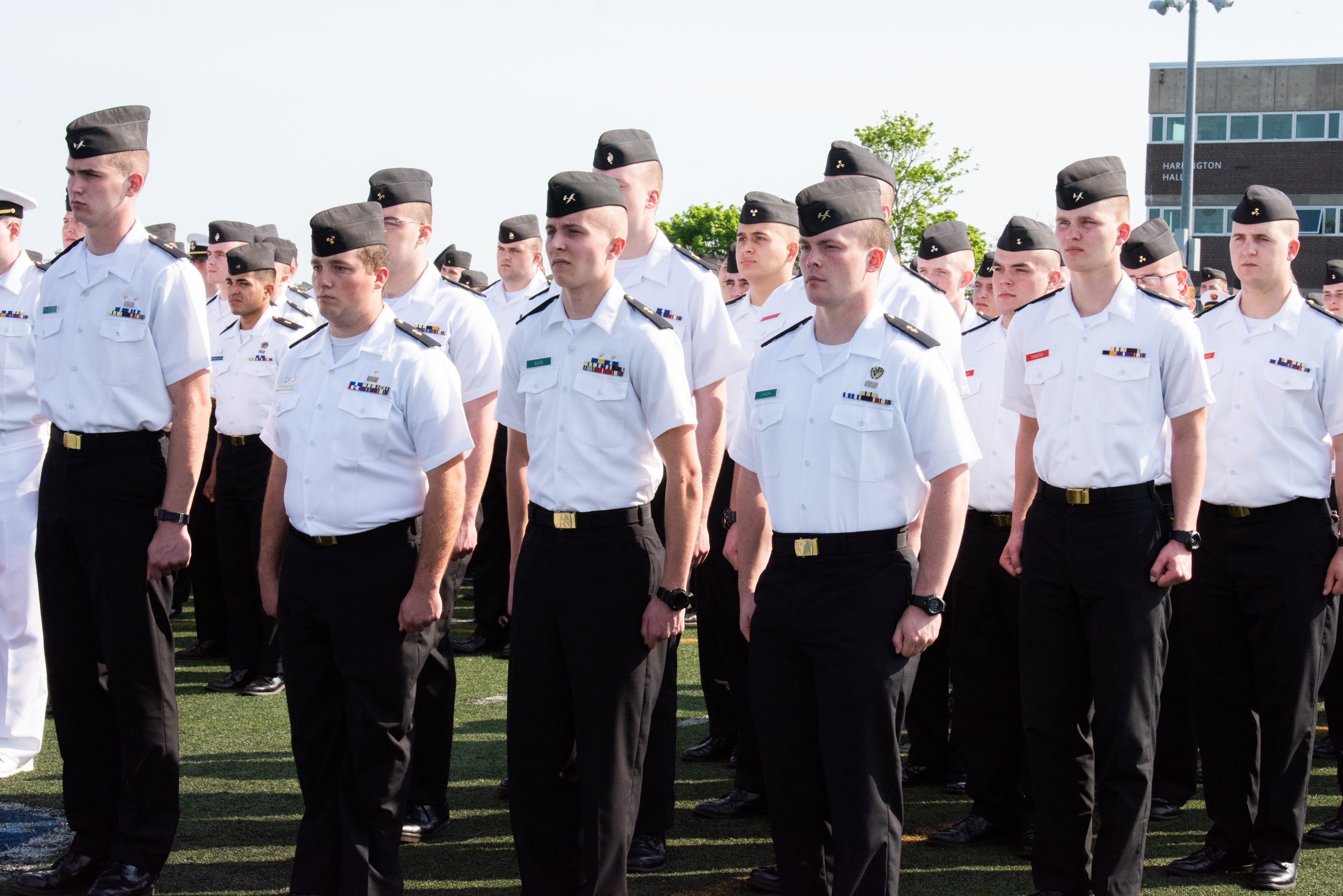 August 27
Orientation graduation + marching competition
Orientation Graduation will begin with the Marching Competition at 1830 hrs (6:30PM) in Clean Harbors Stadium and then the graduation ceremony will commence at 2000 (8:00PM).  Please note, all guests must be fully vaccinated and ready to provide proof of vaccination status.
August 31
Return to campus for the fall semester
Youngies are expected to return to campus at 1600 hrs (4:00PM) to check-in for their fall academic semester.
Summer Fitness Plan

As you look ahead to Orientation in August, it is recommended that you take part in a summer fitness program to prepare your body for the daily rigors of Orientation. If you have any health conditions, concerns about safely participating in an exercise program, or have never been physically active, you should first consult with doctor and/or our Health Services Department.

Goals to meet prior to Orientation should include the ability to run 1 mile.
Minimum standards
Males: 9 minutes
Females: 10 minutes
If you're just beginning, here's an example of a jogging program that may be performed 3-4 times/week to get you started:
| Week 1 | Week 2 | Week 3 | Week 4 | Week 5 |
| --- | --- | --- | --- | --- |
| Walk 1/4 mile | Jog 1/2 mile | Jog 3/4 mile | Jog 1 mile | Job 1 mile + |
| Jog 1/4 mile | Walk 1/4 mile | Walk 1/4 mile |   |   |
| Walk 1/4 mile | Jog 1/4 mile |   |   |   |
| Jog 1/4 mile |   |   |   |   |

Push-ups and sit-ups are exercises that may be performed daily provided you're not overloading the exercise.
Minimum standards
Males: 30+ within 2 minutes
Females:  15+ within 2 minutes
If you're unable to perform this number of repetitions, the following are ways to increase your ability to perform a set number of repetitions:
Perform the push-up from your knees rather than your feet

Perform the push-up with your hands on an elevated surface

Perform as many reps as possible, rest, repeat until you're able to perform 10 reps in 1 set

Once you're able to perform 10 reps, perform additional sets of 10 reps

Sit-ups can be improved by performing a number of different abdominal strengthening exercises, however, you should be able to perform sit-ups with your feet supported by another person or device. Don't forget the importance of staying hydrated when exercising!
Minimum standards
Males: 40 within 2 minutes

Females: 30 within 2 minutes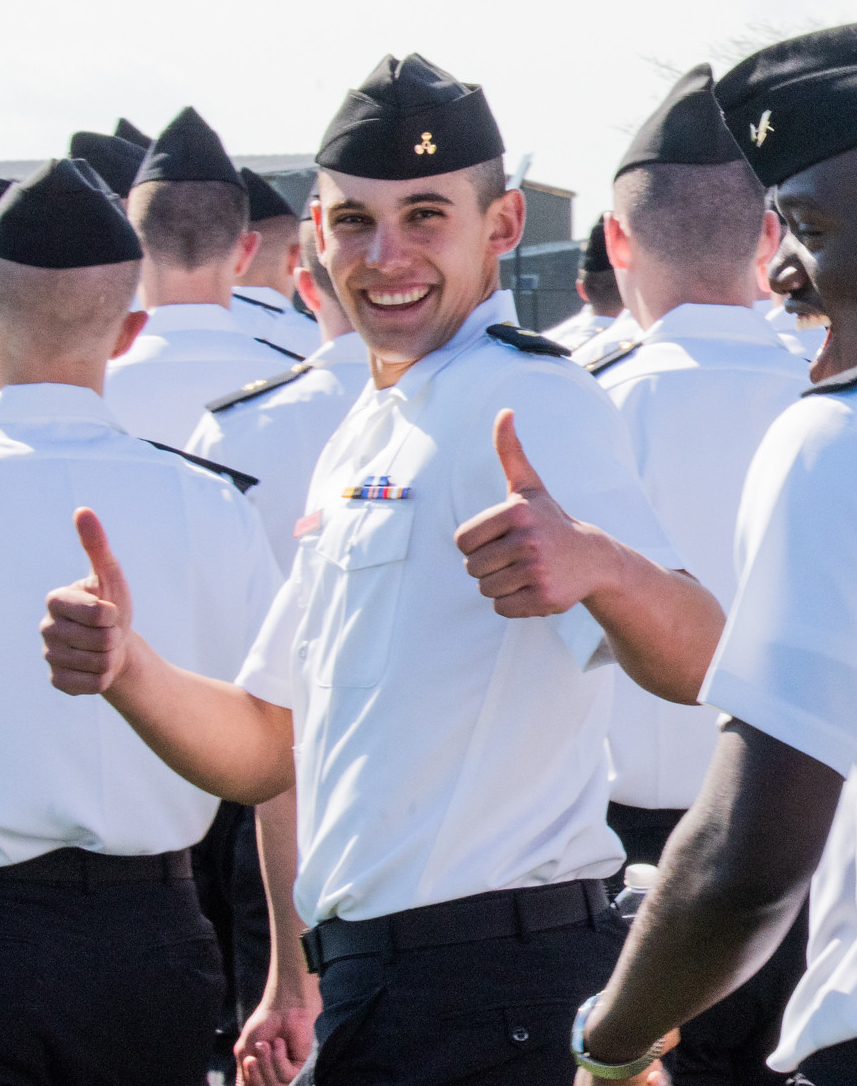 Female
Hair must be a natural color and shall not fall below the lower edge of the back collar nor 2 inches beyond the front of the ears.  Hairstyles shall not interfere with the prescribed standards of military smartness on the proper wear of the cover or hats. 
If hair is longer than described above, it must be pulled straight back into a neat bun at the nape of the neck.
THE FOLLOWING REGULATIONS ARE APPROVED FOR TEXTURED HAIR: 
When multiple braids/cornrows consisting of more than 2 braids are worn, each braid shall be of a uniform dimension, small in diameter (1/4 inch), no more than 1/8 inch of scalp between rows and tightly interwoven to present a neat, professional and well-groomed appearance.  Multiple braids may be worn lose or may be pulled straight back into a bun. 
Cornrows must be symmetrical fore and aft, leaving no hair unbraided.  Cornrows ends shall not protrude from the head.  Rows must end at the nape of the neck and shall be secured with rubber bands that match the color of the hair.  Cornrows may end in a bun.
Male
Report with a clean cut haircut evenly to a length not exceeding one eighth (1/8") on top.  (Clipper size #1).  No facial hair or sideburns.  
Athletic shoes
All Cadet Candidates must arrive wearing a pair of sneakers.  Sneakers should be all or mostly white and reasonably broken in.  Do not bring new sneakers that have not been broken in.  Your sneakers will be worn a lot from day one.
---
Bathing suits
Males must bring plain mostly navy or black swim shorts. Females must bring a mostly navy or black one-piece bathing suit.
---
Batteries*
6 AA & AAA batteries
---
Bedding*
One dark, solid colored blanket is required.  Sheets and pillow cases will be provided in your sea bag.  Bring one standard sized pillow.
---
Cars
Freshmen will be allowed to have a car on campus during Orientation only. 
---
Combination lock*
One combination lock (memorize the combination before arriving).
---
Fans
Small desktop fans are allowed; do not bring window size fans.
---
Glasses/Contacts
If you have an extra pair of glasses please bring them.  If contact lenses are worn, bring a spare set and/or pair of glasses.
---
Jewelry
No jewelry of any type will be worn, including nose/body piercings. This includes watches, however they are permitted and recommended after Orientation. Makeup is also prohibited.
---
Ironing Board/Iron
A regular size ironing board and iron is required for Orientation
---
Mail
Mail is not allowed during Orientation, but is accepted afterwards.  If something of urgent nature needs to be sent (i.e., glasses, contact lenses, meds, etc.) contact LT Jordan at njordan@maritime.edu or call 508-830-5170.
---
Medical
Corrective lenses such as glasses or contact lenses. Be sure to bring an extra pair.  Prescription medications:  Be sure that you have a current, valid prescription for medicines.  This is particularly important for ADD/ADHD medicines or any controlled substances that show up during a drug test. Bring a small lock box for ADD/ADHD medicine.  Epi-pens if prescribed for anaphylaxis associated with an allergy. Bring a back-up Epi-pen.  Carry your Epi-pen in your fanny pack during Orientation. Bring over the counter medicines that you use routinely. This includes allergy medicine, Acetaminophen, Ibuprofen, decongestants, cortisone cream, antibiotic ointments, bandages. Full disclosure of your medical history or current medical condition is expected with our medical staff.  Failure to do so may result in dismissal from Orientation.
---
Money
Cadet Candidates do not need to bring any money for Orientation.  In the instance when a Cadet Candidate might need money to pay for emergency prescriptions or hospital/doctor visits during Orientation, money will be provided to the Cadet Candidate and then subsequently billed.  
---
Over-the-counter medicines
Over the counter medicines are allowed. This includes allergy medicine, acetaminophen, ibuprofen, decongestants, fiber capsules, cortisone cream, bismuth, antibiotic ointments, band aids, etc.
---
Passports
If you do not have a passport or need to renew your passport, please apply for one now.  Current processing times are significantly delayed due to COVID-19. 
Information about obtaining or renewal passports and updates regarding processing times, please visit the U.S. Department of State website: https://travel.state.gov/content/travel/en/passports.html.
Any incoming cadets that already have a passport, please check your expiration date. If your passport is going to expire within six (6) months of January 2022, please renew your passport. Some countries require that your passport be valid at least six months beyond the dates of your trip.  Licensed track majors will be required to participate in the Annual Sea Term, which always includes foreign ports requiring passports as does most of the Experiential Learning opportunities for non-licensed majors. 
You DO NOT need to bring your passport to Orientation.  However, please bring two (2) SIGNED color copies of the bio section of your passport to give to your squad leader. If you have questions regarding passports or any travel requirements outside of the United States, please contact the Office of Intercultural Engagement at Intercultural@maritime.edu.
Personal laptops
Bring your laptop to Orientation. You will be attending virtual presentations from your dorm room on occasion. Laptop Specifications
---
Prescription medications
Be sure that you have a current, valid prescription for medicines (please keep the original prescription bottle). This is particularly important for ADD/ADHD medicines or any controlled substances that may show up during a drug test. Bring a small lock box for medicine. Bring epi-pens if prescribed for allergic reactions (2 minimum). You will be expected to carry one in your fanny pack with you during Orientation.
---
Refrigerators
Are not authorized during Orientation
---
Robe (optional but recommended)
If using a robe, it must be black, navy, or white. This will only be used to go to/from the shower.
---
Shoe/Metal polish*
Leather shoes are polished to regimental standards. Cadet Candidates will report with a tin of black shoe polish, a rag (old cotton t-shirt), and a shoe brush.  In addition, a can of Brasso is required to shine your belt buckle.
---
Shower shoes
Flip-flop style or waterproof sandals are required.
---
Socks
12 pairs of white "mid-calf" athletic socks and 6 pairs of black dress socks without logos. Socks will not be washed during Orientation.
---
Sunscreen
Sunscreen is available throughout the campus during Orientation.  Bring sunscreen with you if you need a special brand.
---
Office Supplies*
1 pocket notebook, 2 black sharpies, 2 silver sharpies, 1 pack of 3x5 lined index cards, and 3 black ink pens.
---
Sweatshirt*
Solid gray or navy crewneck sweatshirt (no logos other than MMA).  Hoodies are not acceptable.  
---
Tobacco products
The entire campus is 100% smoke, tobacco, and nicotine free.  All tobacco and nicotine products (i.e. cigarettes, cigars, chewing tobacco, dip, e-cigarettes, Juuls, vapes, etc.) are strictly prohibited.  
---
Toiletries
Bring your own personal toiletries.  Hair dryers, clippers and electric razors are not authorized during Orientation.
---
Towels
4 white regular size bath towels.
---
Undergarments
Two-week supply, at minimum, of white underwear and white crew neck t-shirts. It is not uncommon to use two pairs per day.  Underwear, undershirts and socks will NOT be washed during Orientation.  Issued PT gear (blue shorts, blue shirts, gold shirts) will be sent to the laundromat multiple times during Orientation. *Try to stay away from 100% cotton items that retain moisture. Fabrics that wick moisture are highly recommended to avoid rashes and chaffing. Compression shorts are allowed as long as they are shorter than PT gear shorts so as not to be visible. These do not need to be white.
---
Additional suggested items
It is highly recommended to purchase 2 additional blue PT shirts and 2 additional yellow PT shirts, and at least one extra pair of PT shorts.*
Other additional suggestions include a lint brush, talcum powder, anti-chafing lubricant, extra pens and pencils*, pocket notebook*, and highlighter*.
---
Not Allowed
Mini-fridges, TV's, radios, clock-radios, or similar electronic devices are not allowed during freshman year.
Cellphones, notebooks/classroom supplies, "civilian clothing", and contraband bin for snacks/clothes/personal items are permitted after Orientation Graduation. The contraband bin should be 27 gallon size in clear or solid color.
*Starred items may be purchased and mailed to you, provided your order is placed no later than the 1st of  August 2021, and  provided stock is available. Please contact the Bookstore at 508-830-6488.